Meet Coed U.S. National Team Member Millery Null!


University of Alabama senior Millery Null is a two-time member of the coed U.S. national team who has put in countless hours of practice and hard work throughout her cheerleading career to make her dreams come true. With multiple national and world championship titles under her belt, we can't wait to see what this dynamite athlete has in store for the future!


Meet Coed U.S. National Team Member Millery Null!
Tell us about your cheerleading history...

I was a competitive gymnast for about five years where I established a lot of my tumbling skills. I began cheering in seventh grade, shortly after finishing up my gymnastic days. As soon as I reached junior high, I tried out and made the squad at West Lauderdale. I was brought up as a seventh- and eighth-grader to compete on the varsity team for competition.

This is where I fell in love with competitive cheer, and from then I continued to cheer until I graduated high school in 2014. After high school graduation, I went on to fulfill my lifelong dream and cheer at the University of Alabama. I am now a fourth year on Alabama coed. I also was a part of the U.S. national coed team in both 2016 and 2017.


West Lauderdale High School
East Mississippi Cheer All Stars
University of Alabama
Coed U.S. National Team
What are your favorite tumbling and stunting skills?

My new favorite stunt is the Diamondov. It is recently a popular stunt, and I was able to compete the stunt with USA this past April. My favorite tumbling pass is my "go-to" specialty pass, which is an Arabian through to full. My new favorite basket is a side sumi 1 1/2.


How great is it to be on one of the top cheerleading teams in the country AND cheer for one of the top football teams in the nation?

I have always enjoyed cheering for football, so the University of Alabama was not only my top choice for cheerleading but for the game day experience as well. Every time I get the opportunity to run out the best college football team in the nation, I get chills knowing (Crimson Tide head coach) Nick Saban is only inches behind me. I have also gotten to travel multiple places with the team through the playoffs and national championship games.


Favorite memory about cheering for Alabama?

I have two favorite memories while cheering at the University of Alabama. First, was in 2015 when our team won UCA College Nationals. It was something awesome to experience because the all girl team won as well. We made history being the first school to win both the coed and all-girl D1A divisions in the same year.

Secondly, was this past December when we traveled with the team to the SEC Championship in Atlanta, Georgia. It was my birthday, and my mom showed up at the game and surprised me! I had no idea she was coming. It was the greatest birthday present ever!



Who is your biggest inspiration?

My biggest inspiration would have to be Laura Posey. She was one of my high school coaches, and growing up she was always the one to push me the hardest. She has such a strong passion for cheerleading and loves each and every one of her athletes. She never backed down and always pushed me harder. A lot of the reason I have gotten where I am today is because of her!



Talk about your experiences as an athlete on the U.S. national team.


Being a part of the U.S. national team was something I had always dreamed of. Although it was a huge goal of mine, I never thought that I would actually reach it. Training for two weeks flies by and eventually you have to say goodbye to your new "super friends."


I gained so many lifelong friends through that experience and learned so many new things from USA. That team and the coaches will always be special to me.
You were an alternate on the coed U.S. national team in 2016 and competed on the mat this past year. How did you work to make sure you would be chosen to be on the mat this year?

My first year on the coed U.S. national team I was an alternate. That year, I learned exactly how the team worked and what it really took to be a part of the best team in the country. I took away so many great things from that year, and it only pushed me to want to work harder to make the team and be on mat the next year. My partner, Ben Ingallina, and I worked hard, and he helped me to reach my full potential. This year, I was able to make the team for a second year and compete on the mat.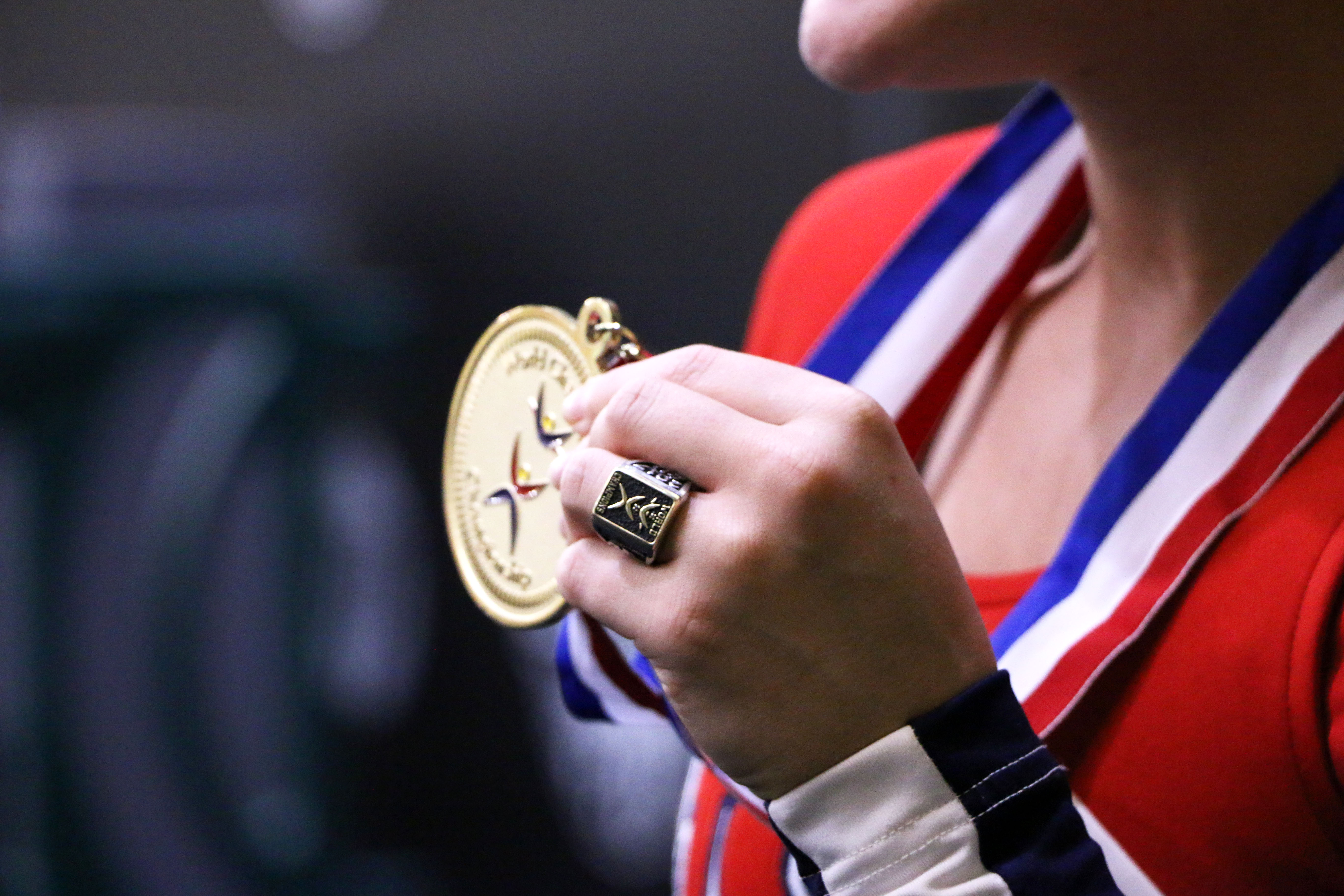 Millery shows off her ICU gold medal and championship ring after awards.


What are your favorite memories from being on the U.S. national team?

My favorite memory about USA would be getting to stand on the podium with our gold medals around our neck, singing the national anthem while holding our flag. Nothing can compare to the feeling of success and bringing home another gold medal for the USA.

The friendships that you gain make it so special. Although we are only together for two weeks, we always keep in contact with each other and even try to meet up from time to time when our paths cross.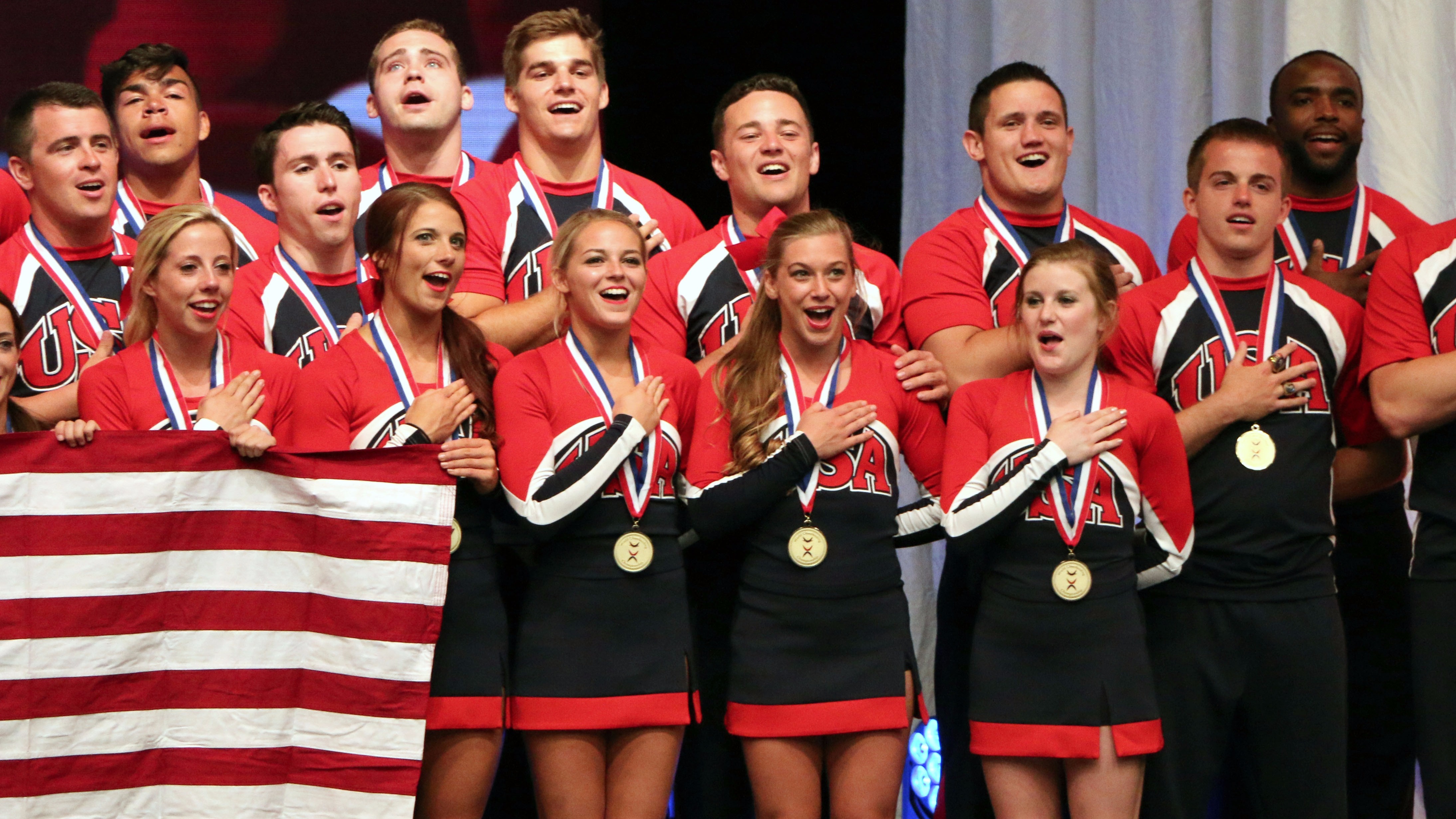 The Coed US National Team sings the National Anthem at the ICU World Cheerleading Championship.
Christa Sanford was one of your coed U.S. national team coaches and is now your coach at Alabama. How excited are you to have her with you this next school year?

The whole time I have been cheering at Alabama I have had the privilege of just being around Christa at the gym. She was my coach for USA both years, and now she will be coaching me on my fourth and final year at Alabama. I think it is going to be great having her there this next school year. Christa is the best at what she does, and I cannot wait to be coached by her longer than the two weeks that we usually have preparing for the ICU. I can't wait to continue this journey with her and the new team!



Do you have any big plans for your cheerleading future?

In the future, I hope to finish off my senior year at Alabama strong, graduate in May of 2018 with my degree, and potentially be a part of USA one more time. My major is sports broadcasting with a minor in communication studies, and I would love to pursue my degree within the cheerleading industry.




Can't Get enough of USA Cheer? Watch the USA Coed: Going For Gold Trailer!