Champions Always: Eisenhower Dance Prepares For The New Season
They dance with beauty and grace and in 2017 earned two national championship titles for their trophy case.

The Eisenhower varsity dance team put an exclamation point on an amazing season in February as the Eagles took home the crown in the Large Varsity Jazz and Hip Hop divisions at the UDA National Dance Team Competition in Orlando, FL. The squad from Shelby Township, MI, went undefeated the entire regional and national season.


To ensure another successful season, Eisenhower has already hosted its tryouts and is beginning to prepare for 2017-18.


We are very excited for this year's team. Although we lost seven great seniors, we gained a lot of hardworking, fun personalities.
The incoming varsity squad is made up of two freshmen, five sophomores, seven juniors, and four seniors for a total of 18 athletes.


All four Eisenhower seniors started together as freshmen on varsity and won the school's first hip-hop title in 2015. They have been on the varsity team together all four years.

Here is what Eisenhower head varsity coach Rachelle Kiehle had to say about her dedicated seniors…


Captain Shelby Fenn
I have had all three Fenn sisters on my team since 2009. All of them, including Shelby, have great work ethic. Shelby will be a great leader this year through her amazing dance ability and hard work. She is also super creative when it comes to hip-hop tricks, so I can turn to her for a lot of ideas.


Captain Maria Chodnicki
Maria is the team sweetheart. She is willing to help anyone whenever they need outside or inside of practice. She will make a great captain and leader through her ability for teammates to connect to her and reach out to her whenever they need.


Nina Dal Pra
Amazing athlete and cares about this team with all her heart. Although she is talented at both styles of dance, she slays in hip-hop.


Sophia Carlesimo
Flexible, flexible, flexible. Everyone knows Soph for her ability to bend her body in amazing ways. Sophia is a determined athlete and hard worker.


Kiehle is in her 11th year coaching varsity at Eisenhower. In her first season, the squad placed fifth in jazz, and the Eagles have worked their way up to the top ever since.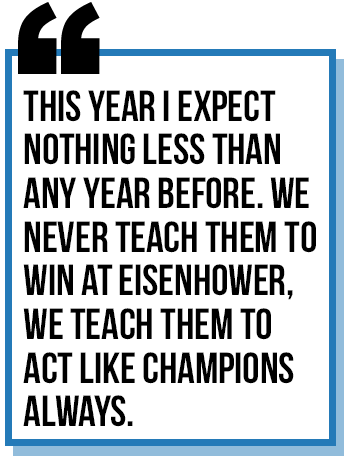 "I am super proud of everything they have accomplished and the team is very humbled to know their alumni helped to build their program -- one being their assistant coach, Jamie Crudo, who was on my very first varsity team as a freshman," Kiehle said.

Eisenhower currently holds two Large Jazz titles and two Large Hip Hop titles. The Eagles have held a spot in the top three for jazz since 2009 and the top four for hip-hop since 2014.


"I think what makes Eisenhower special is that as a program we do all our own choreography and even allow our teams to have some input," Kiehle said. "I think It makes it special for them when they can take ownership. When it comes to hip-hop, we sit down as a team to come up with creative tricks and visuals. Then the coaches finish it out by putting a creative choreography twist on it.


"To us, a champion is an ambassador for their school, works hard always--even when times get tough, and always pushes to be better than they were the day before."


Brighten up your inbox!
Sign up for the Varsity TV newsletter for all the latest updates and get exclusive content like this delivered directly to your inbox.