All About Alli! US Coed Coach Shares Favorite Cheerleading Memories
Rings, Rings, and MORE Rings!

Alli Lumpkin is living the cheerleading dream! From winning multiple rings while cheering at the University of Kentucky to coaching the U.S. national team to its next title, Lumpkin has done it all. With multiple adventures behind her, we can't wait to hear what has made her stick around in the cheerleading world.



All About Alli!
Varsity TV: Give us a little background of your cheerleading career. How did you get started? 

Lumpkin: I started cheering for little league football and basketball when I was in kindergarten. I was also involved in gymnastics. I cheered for my middle school in Kentucky, Glasgow Middle School, and began a competitive cheerleading program in eighth grade. I continued cheering for school through my junior year of high school at Glasgow High School. My sophomore year, I started cheering at a competitive program called Cheer Force in Bowling Green, KY. My senior year, I moved to Birmingham, AL, and cheered for ACE All Stars of Alabama. I was on the large coed team, Warriors, for my senior year.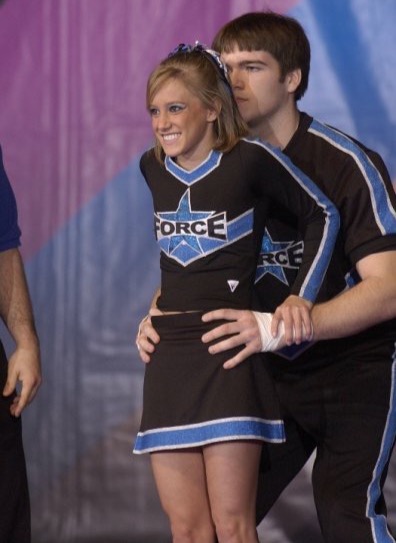 Alli's Cheerleading Titles:
2006: UCA NHSCC Partner Stunt Champions

2008: UCA College National Champion at the University of Kentucky

2009: UCA College National Champion at the University of Kentucky

2010: UCA College National Champion at the University of Kentucky

2011: Gold Medal with the USA National Coed Team 

2012: Gold Medal with the USA National Coed Team

2012: Gold Medal representing the USA in the Partner Stunt Division at ICU

2014: Silver Medal representing the USA in the Partner Stunt Division at ICU

2016: Gold Medal coaching USA Coed 

2017: Gold Medal coaching USA Coed




Tell us about your years as a University of Kentucky Wildcat:

I had dreamt about being a UK cheerleader for what feels like my whole life. The first time I curled my hair and put on that little blue skirt and red lipstick I felt like I was at the pinnacle of my cheerleading career. Which, at the time, I was! I made Blue Squad my freshman year and continued for the next three years. I met some of my best friends during my years at UK. Each year held new challenges and obstacles with learning new positions, taking on new roles, but all of that helped me to grow as an athlete.

During my four years at UK, the football program was on the rise. We went to a bowl game each year, and that was so fun. I was able to go to many SEC and NCAA basketball tournament games and even got to cheer at the Final Four. I loved cheering games! The Big Blue Nation has an amazing fan base, and the atmosphere inside Rupp Arena is like none other. Competing for UK was exhilarating. I loved every aspect of it. I loved practice, I loved taping, and I loved performances.

UK cheer has a lot to live up to each year, and the program sets such high expectations. We always had creative minds on our team that helped us bring creativity to skills with entries and transitions. We loved the challenge of coming up with something new each year. My four years at UK were the most fun four years of my life so far!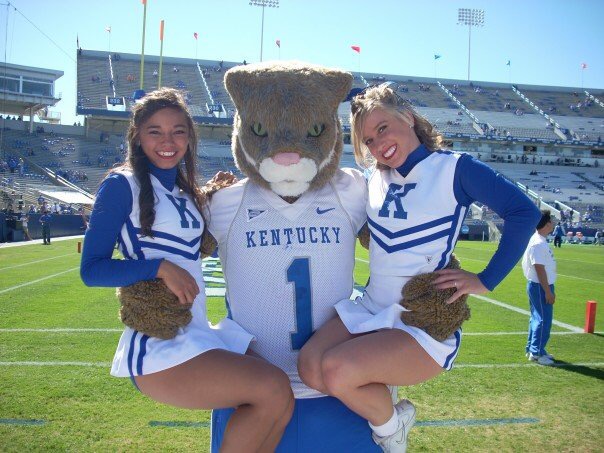 What were some of your signature stunting and tumbling skills?

My signature stunting skills were back handspring full-up land in one-arm stretch, double-ups, one arms, and stretch-to-stretch tick-tock full arounds. My signature tumbling skills were Arabian through to full, full through to full, two to full, and one to full. 



What other teams do you coach currently?

I coach at Gem of Champions, which is an all-star program in DIberville, MS. We currently have five teams. My husband, Jeremy, and I also coach Jones County Junior College in Ellisville, MS. This will be our first full season with them. I am also one of the coaches for the U.S. national coed team. I have been a part of the coaching staff for three years now.



What about cheerleading has sucked you in and kept you a part of the industry for so long?

Cheerleading has been such a big part of my life for so long, I can't imagine being too far away from it. Cheerleading has come so far just in my lifetime, and it continues to develop and grow each year. The industry is blooming. It is constantly changing, so that keeps things interesting while also offering the opportunity to continue to learn. I would think a job would be pretty boring if there wasn't always more to learn. I love learning and adapting new coaching styles. I love learning from the great minds that have had such an influence in the growth of our sport.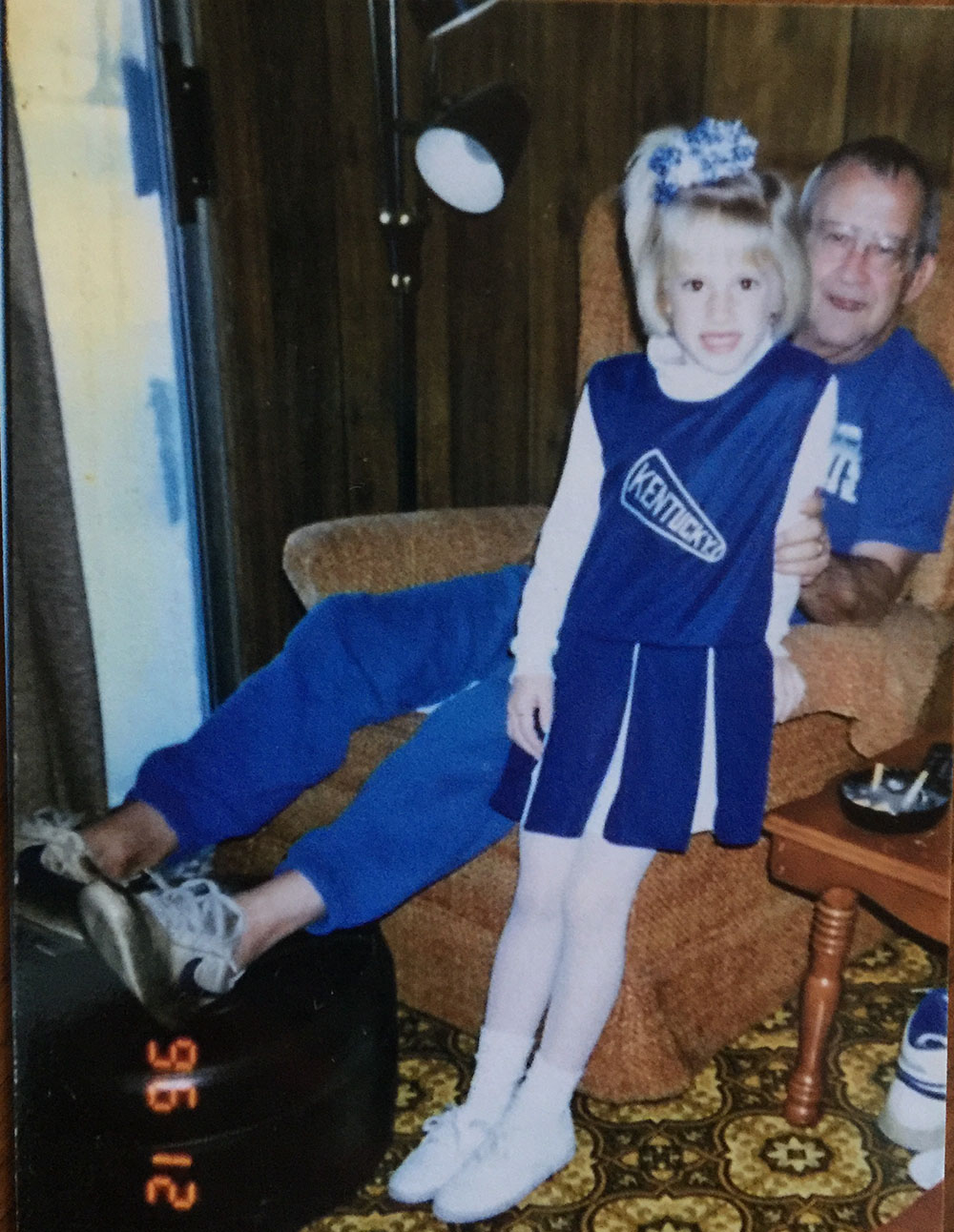 When did you know you wanted to become a coach?

I don't know if there was one particular moment. I had a coach, Tom Jones, who helped me grow as an athlete, recognized my potential, understood my goals, and did everything he could to prepare me to meet those goals. I would not be where I am today without his coaching and guidance. I wanted to be someone like Tom. I wanted to guide other athletes along the path of their goals and being able to reach them. Cheerleading has given me some amazing experiences. Towards the end of my college career I thought how awesome it would be to help other athletes become better cheerleaders and in turn have the chance to experience all of the great things cheerleading can bring. 



You have had the opportunity to coach some of the greatest athletes in the world through your time with USA. What is that experience like?

It never fails, no matter how talented you think someone is during the U.S. national team tryouts, you are able to see them get even better by the time they compete. There are so many athletes from MANY different colleges and backgrounds. They come from UCA and NCA backgrounds. They have different leadership styles. But, they all have one goal. ZERO on the mat and to show the world what the best cheerleading in the world looks like.

I love seeing all of the athletes come together and form a bond so quickly. In the short amount of time, they have to train together. They become closer than they imagine. That is one thing that makes the U.S. national team experience so special. All of the athletes bring different things to the table. Some are very vocal leaders; some lead by example. Some have a brilliant mind for creativity and that combined with the knowledge and ability of such difficult skills makes for one heck of a routine. I consider myself pretty lucky to be surrounded by such talented athletes who are passionate about our sport and take such pride in representing our country.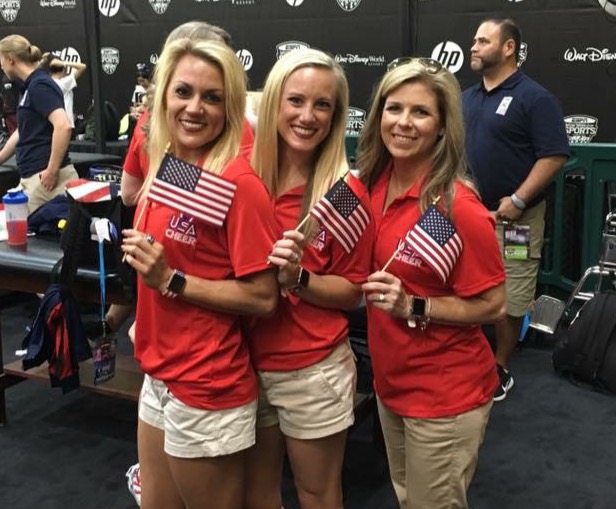 You were a member of Team USA before you became a coach. How do you think being an athlete on the team first has helped you as a coach?

Training is hard. It pushes you past your limits. And remember, ALL of the athletes come from very successful programs, but training for the ICU World Championships is mentally and physically trying. I have never been more sore than I was during my training for USA. The days are long. The practices are hard. You get beat up. But you are so eager for that gold medal feeling. You are so eager to hit the floor with the best athletes in the world and perform the best routine together. You never want to settle. You never want to stop pushing for harder, more creative, cleaner elements. I think remembering those feelings helps me to push the athletes harder. The skills they are performing now are HARD. They are difficult. Their bodies hurt. But, I know they want to put the best on the floor and would not want us to back off from what we think they can accomplish.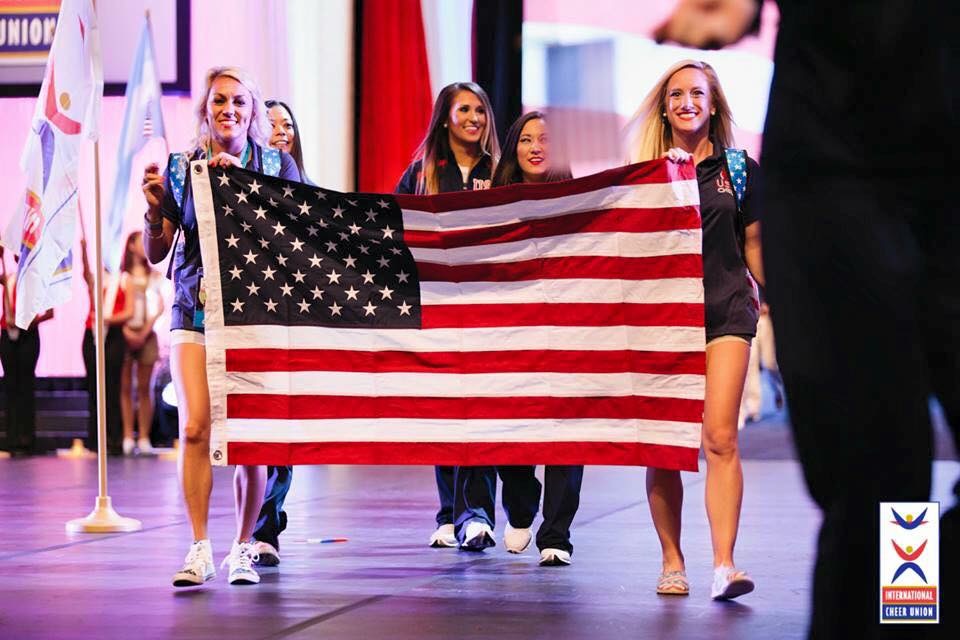 Photo By: International Cheer Union



What would you say is your coaching philosophy?

Perfection before progression and proper progression is the key to success. I believe the stronger your foundation the greater your chances of success. If athletes will buy into that philosophy, they will go through their cheerleading career safely and with the ability to achieve their goals.



 What are some of your favorite cheerleading memories as an athlete? As a coach?

I have so many favorite memories, it is hard to choose! My favorite wins as an athlete would have to be my first national championship with the University of Kentucky and when Jeremy and I won the gold medal in the partner stunt division at the ICU World Championships. Some of my other favorite memories include meeting my lifelong friends through the years at UK and on USA, cheering at the NCAA Final Four, my first year on the U.S. national coed team, just to name a few.

As a coach, my favorite memory so far was when the U.S. national coed team won the gold medal in 2016. That was my first win as a coach. A few more favorites have to be the first time taking a team to NCA College Nationals, my first season as an all-star cheerleading coach, and when I got the call from LeRoy (McCullough) asking me to be a part of the U.S. national team coaching staff.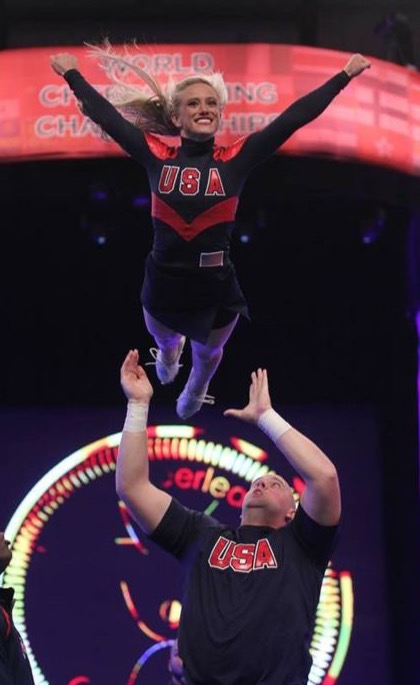 What is the most rewarding part of your job as a coach?

The most rewarding part of being a coach is watching an athlete accomplish a goal. It might be the first time they do a correct round off or when they make their dream team in college, the joy, the excitement, the pride that they exude makes my heart melt every time.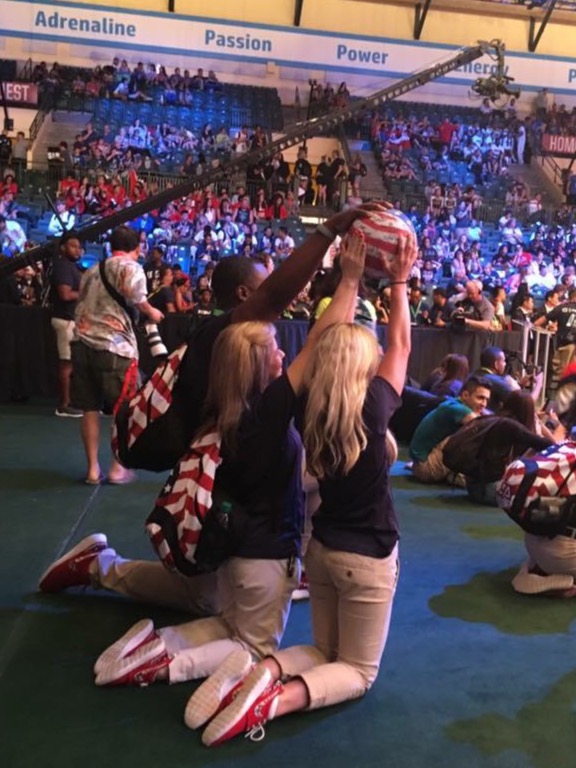 Any fun facts about your life in the cheer world?

I was a TERRIBLE flyer up until my sophomore year of high school. It took me FOREVER to be good at baskets, whether it was a kick double or flipping baskets.

I also got to escort Lebron James to half court in Rupp Arena to be the celebrity "Y" for the K-E-N-T-U-C-K-Y spell-out.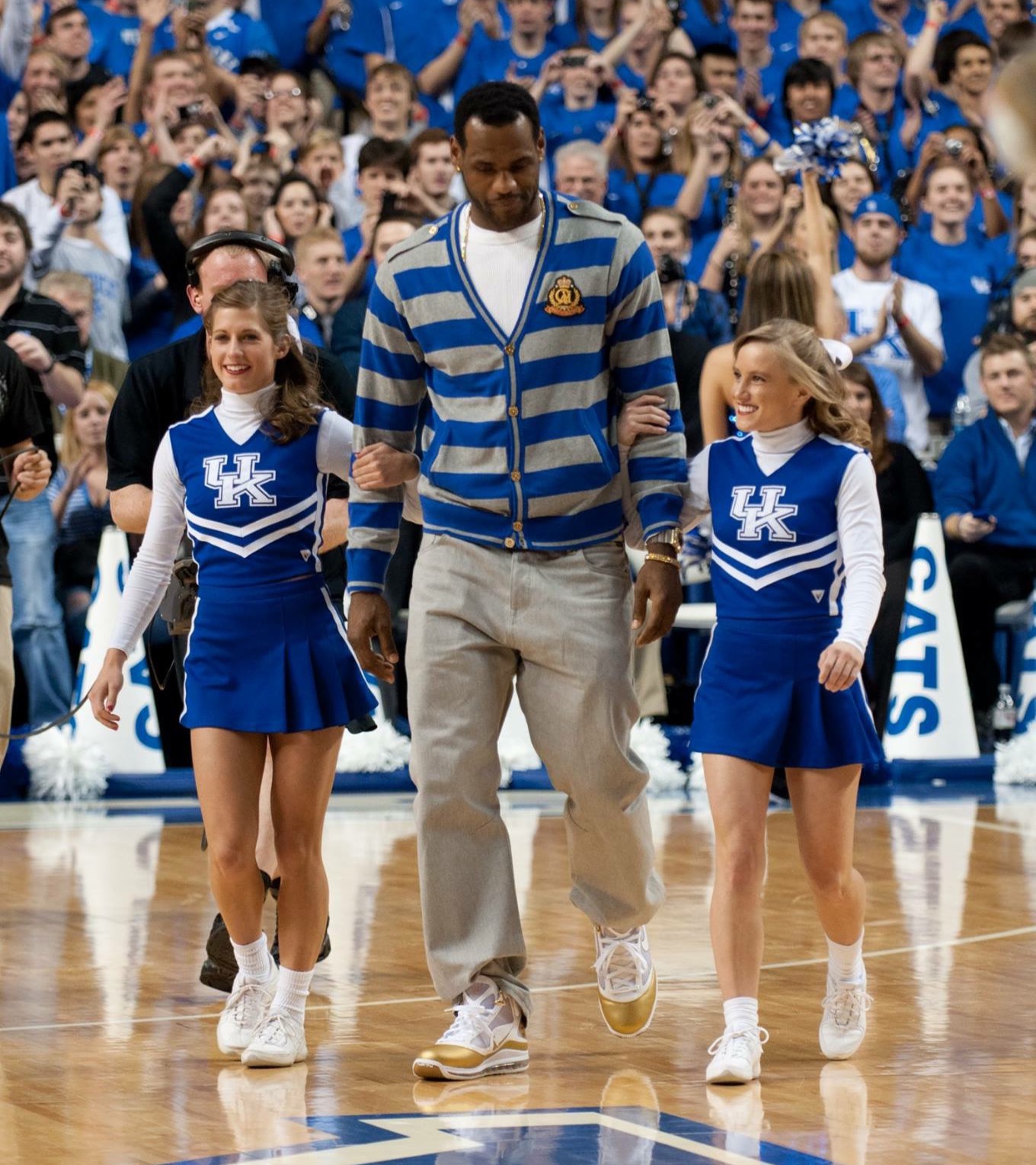 Be sure to check out the USA Coed: Going For Gold Trailer! Episode 1 COMING SOON!