History will be made at UCA & UDA College Cheerleading and Dance Team National Championship when the first-ever game day champions will be named.
Teams competing in this brand new division will take their sideline traditions to the mat to display how they lead their community and fans at their schools.
During the championship, teams will perform their traditional school's fight song, a situational sideline and a game day timeout. The athletes are encouraged to use signs, flags, megaphones and poms to encourage the crowd to cheer along.
The preparation for the championship started at UCA & UDA College Spirit Camp this summer. Spirit squads learned game day timeout routine, prepared a sideline and perfected their traditional school fight song.
Each performance is limited to 3 minutes and should include skills that influence crowd participation. Teams will be evaluated on their ability to lead the crowd, proper game day skill incorporations, execution of skills, motion technique and the overall routine.
2018 Game Day Divisions
Cheer Game
Day

Dance Game Day

Division IA

Division IA

All Girl Division IA

Division I

Open All Girl

Open

Open Coed



Tune in to ESPN3 starting at 8:15 PM ET to watch your favorite collegiate spirit squads take the mat in the first-ever College Game Day Championship.
After the competition, you can watch Game Day division routine archives and stay up with all results live from Orlando, Florida, at UCA & UDA College Cheerleading and Dance Team National Championship.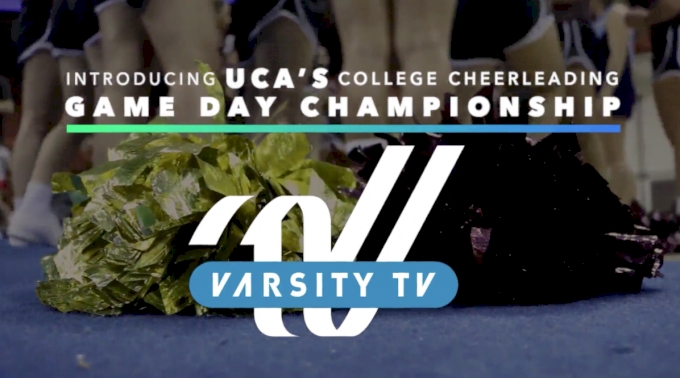 How To Watch
Join Varsity TV PRO now to stream live Varsity TV competitions & events anytime, on any device!
TV: Available on Roku & Apple TV 4 — download the FloSports TV app now.
*FloCheer PRO subscribers, you can use your existing login to access to all Varsity TV premium content, live streaming competitions and events.