It's fashion week in the all star cheer world. Varsity All Star Fashion released the 2018 Design Book this week, and everyone can't stop talking about the new innovative trends.
The release of the Design Book is the first time that the newest collection is unveiled. In addition to the excitement of the first look at the newest trend-setting styles, one of the biggest surprises each year is the reveal of the cover. This year's cover girl is Kylana Whitley from Spirit of Texas A-Team.
The day before the Design Book was released, Whitley received a phone call letting her know that she would see herself on the cover of this year's catalog. She was elated, honored, and completely shocked to hear this exciting news. This was her first year as a Varsity Fashionista and she never imagined that she would have this incredible opportunity.
The entire SOT program is so proud to see Whitley on the cover. She exemplifies what it means to be a role model to younger athletes and is beautiful inside and out.
Absolutely love seeing this amazing girl on the @VASF_Updates cover. So much beauty inside and out! We're very proud of the young woman you've become @KylanaWhitley 💜 https://t.co/HVvADNwYjn

— Spirit of Texas (@Spirit_ofTexas) February 21, 2018
Kylana was with her mom and sister when she heard the big news. Her sister, Kanai, cheers on Spirit of Texas Junior 4 Royal Gurlzzz and hopes to follow in her big sister's footsteps one day.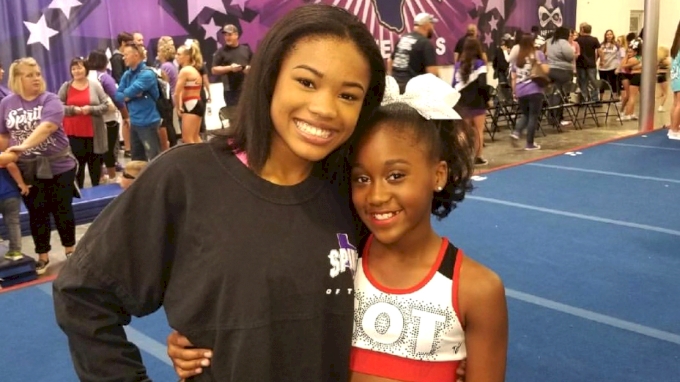 Kylana and her younger sister Kanai.

Being a Varsity Fashionista has been one of Whitley's most memorable experiences of her cheerleading career. She has loved meeting the other fashionistas and has even gained some new best friends along the way.
Kylana and her fashionista friends at the NCA All-Star Nationals.
Meet Kylana Whitley
Years cheering: 11
Most memorable cheerleading moment: Winning Worlds with A-Team
Favorite Tumbling Pass: Two to whip double
Years on A-Team: 5
Favorite Stunt: The inversion in A-Team's routine this year.
Favorite thing in the 2018 Design Book: The Spirit of Texas practice wear.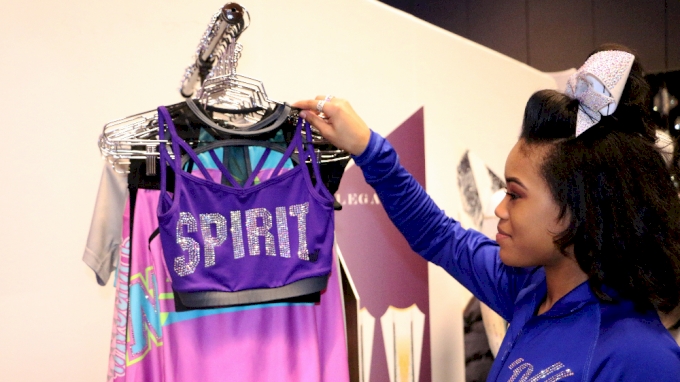 Kylana's favorite design from this year's collection.
In addition to celebrating the release of this year's collection, Whitley is competing for a national championship title at NCA All-Star Nationals February 24-25. A-Team has a history of success at this event and they are ready to put on a show for the arena on day two.
ICYMI: Watch A-Team's Day 1 performance at NCA All-Star Nationals
You can watch Kylana LIVE from Dallas as she takes the mat in the Arena with A-Team at 5:13 CT PM. Don't miss your chance to watch A-Team compete for another championship title on the final day of NCA All-Star Nationals.
---
How To Watch
Join Varsity TV PRO now to stream live Varsity TV competitions & events anytime, on any device!
TV: Available on Roku & Apple TV 4 -- download the FloSports TV app now.
*FloCheer PRO subscribers, you can use your existing login to access to all Varsity TV premium content, live streaming competitions and events.