From their name, to what they preach to their athletes at practice, Excite! Gym and Cheer has prided themselves on creating both great athletes and great people.
Every year Excite incorporates a new program wide theme to help reiterate the gyms main values. In more recent years, the program focused on family oriented themes, but this season, they decided to do a "Bee" theme.
During their travel camp this summer, the coaches and athletes discussed who they wanted to "bee."
"Character happens when no one is watching.' This character is what we value most in our program," said director Alison Howard. Excite has used this theme to bring out the best in their athletes inside and outside of the gym.
"Our theme really stands for what we want to "bee"; bee positive in people's lives, bee the example and bee the one who does the right thing," explained Alison.
They have also incorporated their theme into practices by using the phrases "Bee better at" and "Bee confident in" and then having the athletes from each team finish the sentence.
"These themes help to keep us united as a program and on the same page during the stressful parts of the season."
Excite! Gym and Cheer brought their theme to ACA this passed weekend where they randomly clipped yellow clothespins to other athlete's bags that read "BEE AMAZING!"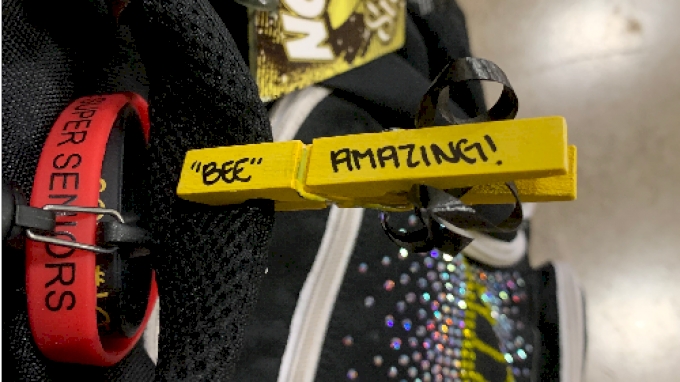 With four teams competing this weekend at ACA, every team took the floor as one putting on clean and entertaining performances. Amongst some of the programs other great performances, Excite's Small Junior 3, Rush, proved themselves Day 2 with a strong performance and scored a 97.00, bumping them from 6th to 2nd place.
Through their incredibly unique theme, coaching philosophies and love for their kids, they have managed to not only successfully create well-rounded individuals, but they also created some unstoppable athletes. With every one of their eligible teams receiving a bid to The Summit 2019, Excite! Gym and Cheer is ready to take their theme and their great character to The Summit.