It's time for YOU to decide what School teams you would like to be featured on Varsity TV during the upcoming season! School cheer fans will nominate FIVE fan-favorite teams who will be highlighted in exclusive in-depth features.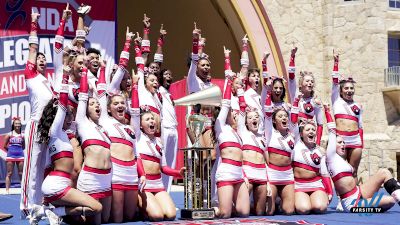 Trinity Valley Claims First Advanced Small Coed NCA Championship Title
May 23, 2022
Trinity Valley Community College made a statement in 2022 as they brought not one, but two Advanced Coed teams to Daytona Beach, Florida, to compete for championship titles at the NCA & NDA Collegiate Cheer and Dance Championship.
The Cardinals made history as they made their debut in the Advanced Small Coed Junior College division and took home the championship title with a 96.3982! Varsity TV caught up with Head Coach Vonate Johnson in Daytona to hear about the program's addition of a small coed team and their journey to the top.