Find Videos
Filter Videos

2543 Videos

Division

Junior Small

361

Senior Small

334

International Junior

254

Youth Small

191

Junior Medium

181

Senior Small Coed

164

Senior Medium

144

Youth Medium

88

Senior Medium Coed

75

International Senior

40

International Open Coed

36

Junior Small Hip Hop

34

Youth Small Hip Hop

28

Senior Large Coed

26

Junior Small Jazz

25

Junior Small Pom

24

Mini Hip Hop

23

Youth Small Coed Hip Hop

23

Junior Small Coed Hip Hop

21

International Junior Coed

19

Youth Small Pom

19

Junior Small Coed

17

Junior Small Contemporary/Lyrical

16

Junior Small Restricted Coed

16

Mini Small Pom

16

Youth Small Contemporary/Lyrical

16

Mini Small Jazz

15

Senior Large

15

Junior Large Pom

14

Senior Variety

14

Round

Semi Finals

1190

Finals

796

Wild Card

513

Program

Top Gun All Stars

53

Cheer Athletics - Plano

33

The Stingray All Stars

30

ICE

29

Cheer Central Suns

28

Adrenaline Allstars

24

Champion Cheer

24

Cheer Extreme - Raleigh

23

Steele Athletics

22

Brandon All-Stars

21

Dance Dynamics

21

Pittsburgh Pride All Stars

21

Studio 22

21

Legendary Athletics

20

Platinum Athletics

19

ATA

18

All-Star Revolution

18

Bullitt Athletics

18

Midwest Cheer Elite

18

Peak Athletics

18

Rockstar Cheer

18

Cheer Athletics - Charlotte

17

Velocity Dance

17

Macs Allstar Cheer

16

Music City All Stars

16

The Vision Dance Center

16

Ultimate Dance & Cheer

16

Cheer Athletics- Frisco

15

CheerVille Athletics

15

New York Icons

15

Performance Type

All star-cheer

2013

All star-dance

486

Cheer

27

Dance

27

Level

Level 3

483

Level 2

473

Level 4

426

Level 1

312

Level 5 Restricted

149

Level 4.2

97

Level 5

80

All Star

27

Content Type

Performance

2499

Full Replay

27

All Access

5

Interview

5

Preview

5

Highlight

2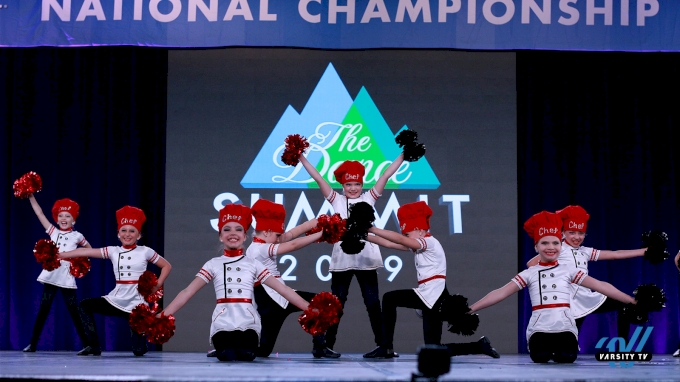 Unlock this video, live events, and more with a subscription!
Get Started
Already a subscriber? Log In
Building All Star Athletes: Peak Athletics Mini Pom
May 5, 2019
All athletes start somewhere and at Peak Athletics, their studio is working to build strong leaders and great athletes from the ground up.
Varsity TV caught up with one the coaches from Peak Athletics team to hear more about why they love the Mini Pom.
[WATCH] Peak Athletics Chefs Mini Pom
---