Find Videos
Filter Videos

1724 Videos

Division

L2 Small Junior

168

L1 Small Youth

150

L3 Small Junior

130

L3 Small Senior

118

L1 Small Junior

105

L4 Small Senior

105

L2 Small Youth

87

L2 Small Senior

85

L4 Small Senior Coed

70

L4 Small Junior

62

L3 Small Senior Coed

53

L5 Small Senior Restricted Coed

53

L1 Small Senior

51

L42 Small Senior

51

L2 Medium Junior

50

L5 Small Senior Restricted

48

L3 Medium Junior

32

L3 Small Youth

32

L42 Small Senior Coed

28

L1 Medium Youth

24

L4 Medium Senior

22

L3 Medium Senior

21

L4 Medium Senior Coed

20

L1 Medium Junior

19

L2 Medium Youth

17

L2 Medium Senior

15

L3 Medium Senior Coed

14

L4 Medium Junior

10

L42 Medium Senior Coed

10

L5 Junior Restricted

8

Round

Semi

718

Wild Card

521

Finals

455

Program

Cheerxperience

13

Diamond Athletics

12

Iconic All Stars

11

Terre Haute Cheer University

11

California Pride

10

Element All Stars

10

Hanover Elite

10

TAI

10

Texas Elite

10

Thunder Extreme

10

Carolina Spirit Athletics

9

Cheer Nation Athletics

9

Cheer Revolution

9

GU Shamrocks

9

Matrix All Stars

9

Airborne Elite All Stars

8

Fury Athletics of Madison

8

Idaho Cheer

8

LA Cheerz Allstarz

8

Las Vegas Elements

8

PA Heat All Stars

8

South Georgia Allstars

8

All 4 Cheer

7

All Star Patriots

7

Alliance Cheer Elite

7

Big 10 Cheer

7

Castle Cheer Factory

7

Champion All Stars

7

Champs Central

7

Cheer Craze All Stars

7

Performance Type

All star-cheer

1694

Cheer

17

All star cheer

1

Level

All Star

17

Level 4

3

Level 5

2

Level 3

1

Content Type

Performance

1694

Full Replay

17

Interview

4

Preview

4

All Access

3

Highlight

2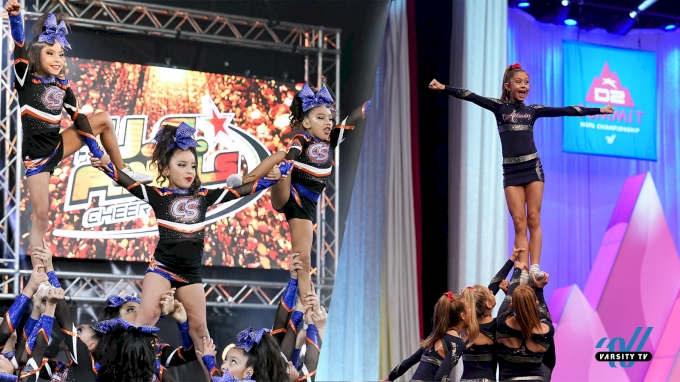 Unlock this video, live events, and more with a subscription!
Get Started
Already a subscriber? Log In
It's The Final Day Of The 2018-2019 Season!
May 12, 2019
It's the final day of the 2018-2019 season and all star cheerleaders everywhere are performing one last time with the hopes of earning a championship title.
Tune in to Varsity TV to watch thousands of performances LIVE from The U.S. Finals Las Vegas and The D2 Summit 2019!
---