2023 The League at UCA International All Star Championship
Next Up For The League Live Show: UCA International All Star Championship
Next Up For The League Live Show: UCA International All Star Championship
Get set to talk all things The League this Saturday on The League Live Show streaming LIVE from the UCA International All Star Championship in Orlando, FL!
Mar 6, 2023
by Leanza Pieroni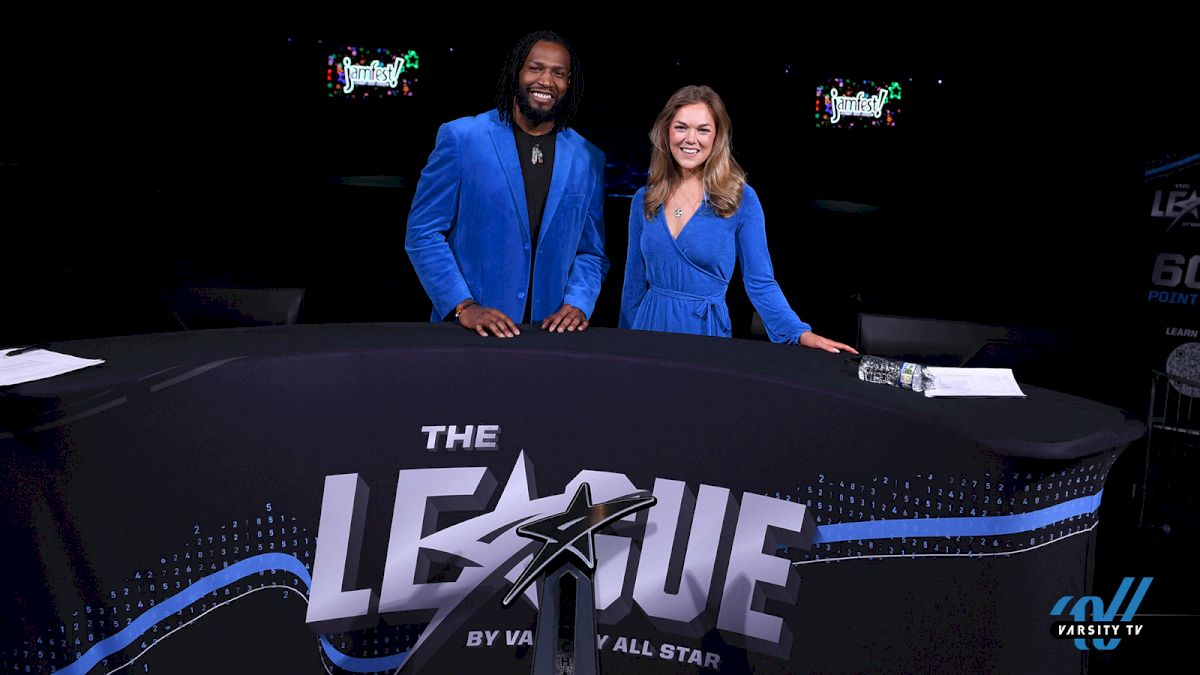 Get set to talk all things The League this Saturday on The League Live Show streaming LIVE from the UCA International All Star Championship in Orlando, Florida!
Hosts Maddie Garner and Chuck Lott will be on-site in the Sunshine State to break down the current standings and discuss everything you need to know about this exciting new season-long points race!
Fans watching live on Varsity TV will have a chance to be included in a virtual giveaway! Headed to the competition in Orlando? Be featured live inside the State Farm Field House!
The League Live Show at UCA
When: March 11, 2023, at 2:00 PM ET
Where: The State Farm Field House at the ESPN Wide World of Sports Complex at the Walt Disney World Resort in Orlando, FL
The League Live Show: Watch HERE
The League Standings: View Here
---
Get ready for our next 𝗟𝗲𝗮𝗴𝘂𝗲 𝗟𝗶𝘃𝗲 𝗦𝗵𝗼𝘄! 😎 Be sure to tune in on Saturday, March 11th at 2:00PM EST to see @maddie__gardner and @itschucklott at UCA's International All Star Championship! 🏆https://t.co/pnerNMRtbd pic.twitter.com/OVq5MaB6Vu

— Varsity All Star (@VarsityAllStar) March 7, 2023
Meet The League Live Show Hosts
Maddie Gardner
Maddie Gardner is a television host and former all star and collegiate cheerleader. She graduated from the University of North Carolina at Chapel Hill with a degree in broadcast journalism. While there, she also captained the Varsity cheerleading team.
Her cheer career began at just three years old with most of her time as an athlete spent at Cheer Extreme in Kernersville, NC. She cheered on several teams during her more than ten years with the program, including Senior Elite. She has won two World Championships and several national titles.
Maddie is now a public relations professional after years of experience as a local news anchor and reporter in North Carolina. She's thrilled to be back in the all star cheerleading world hosting and reporting for some of the most prestigious events, The Summit, The MAJORS, and The League.
Chuck Lott
A graduate of Albion College where he holds the school and MIAA conference Triple Jump record, Chuck Lott spent over a decade as a UCA instructor, coach, and cheer competition announcer across the country before landing in New York.
Chuck made the jump to hosting sports events with St. John's University and became a regular at Madison Square Garden, handling In-Arena Host duties for college basketball and is the first and only host for the Big East Men's Basketball Tournament.
Chuck was the in-stadium voice (PA Announcer) for the Premier Lacrosse League for 3 seasons. He is a fan favorite at MetLife Stadium, serving as In-Game Host for The New York Guardians in 2020 and the New York Jets in 2021. He also served as In-Game Host for The Charlotte Hornets in 2021-2022 which made him host in The NFL & NBA in the same season!
Now, you can catch Chuck on ESPN commentating for UCA College Nationals and the National High School Cheerleading Championship (NHSCC), and on The League!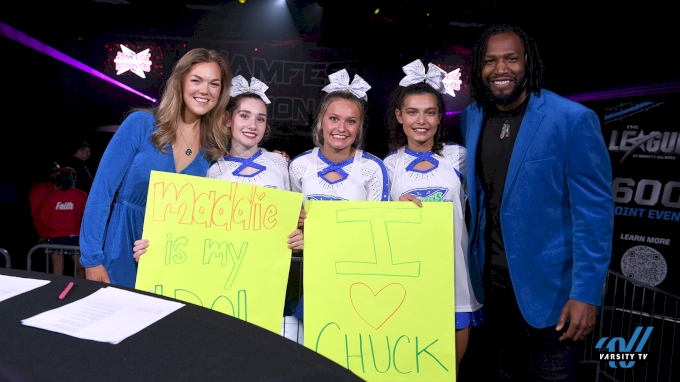 ---
The League is the official points system for the sport of All Star cheerleading.
Every team who competes at a Varsity All Star Event this season will be included in The League. Team standings are determined by the Points System displayed here. At each Varsity All Star event your team completes, your team will earn points based on the assigned event and placement point value.
At the end of the season, your top 5 Varsity All Star event scores will be used to calculate your final standing. In total, 120 winners will be recognized from 1st – 3rd place across each region. One champion will be crowned in each of the 5 regions across the 8 eligible divisions, meaning 40 champions will be awarded. Champions will win cash and prizes!
Click here to learn more about The League
---