Be better than you were yesterday
The University of Delaware spirit squads are working hard to prepare for
UCA & UDA College Nationals
. For the first time this year, four teams are attending from UD's program, which consists of 19 coed cheerleaders, 22 all girl cheerleaders, eight mascot team members and 16 dancers. We caught up with spirit coordinator Rob Ellery to find out what we can expect from the coed squad in Orlando, Florida when we watch them compete
LIVE on Varsity TV on Jan. 14-15
!
The fast-paced nature and flow of our routine is very strong this year. There is always something happening. We find creative ways to move from each element which makes our routine very visual. Our pyramids set us apart from other teams in our division. We try to be as creative as possible and step up the difficulty every year.
Classes may have ended a few weeks ago, but the Blue Hens have been working twice as hard in the gym with two-a-day practices up until December 23. After enjoying a few days off during the holidays, Delaware picked up its practice schedule where it left off and will continue with two-a-days until winter session begins. In the winter, some team members take classes during the day so they can dedicate their time to practice at night. The Blue Hens also perform at games and nearby competitions to prep for the mat.
The Blue Hens' team motto is "be better than you were yesterday." Ellery said that what stands out the most about this team is that it can find something to learn from every rep, which helps team members grow and recognize what they can do better.
Even with changes to the routine, this team's drive never stops, and they roll with the punches. None of our male elite stunters cheered before college. We have had great success finding athletic, motivated guys on campus and training them to be valuable assets to our nationals team each year.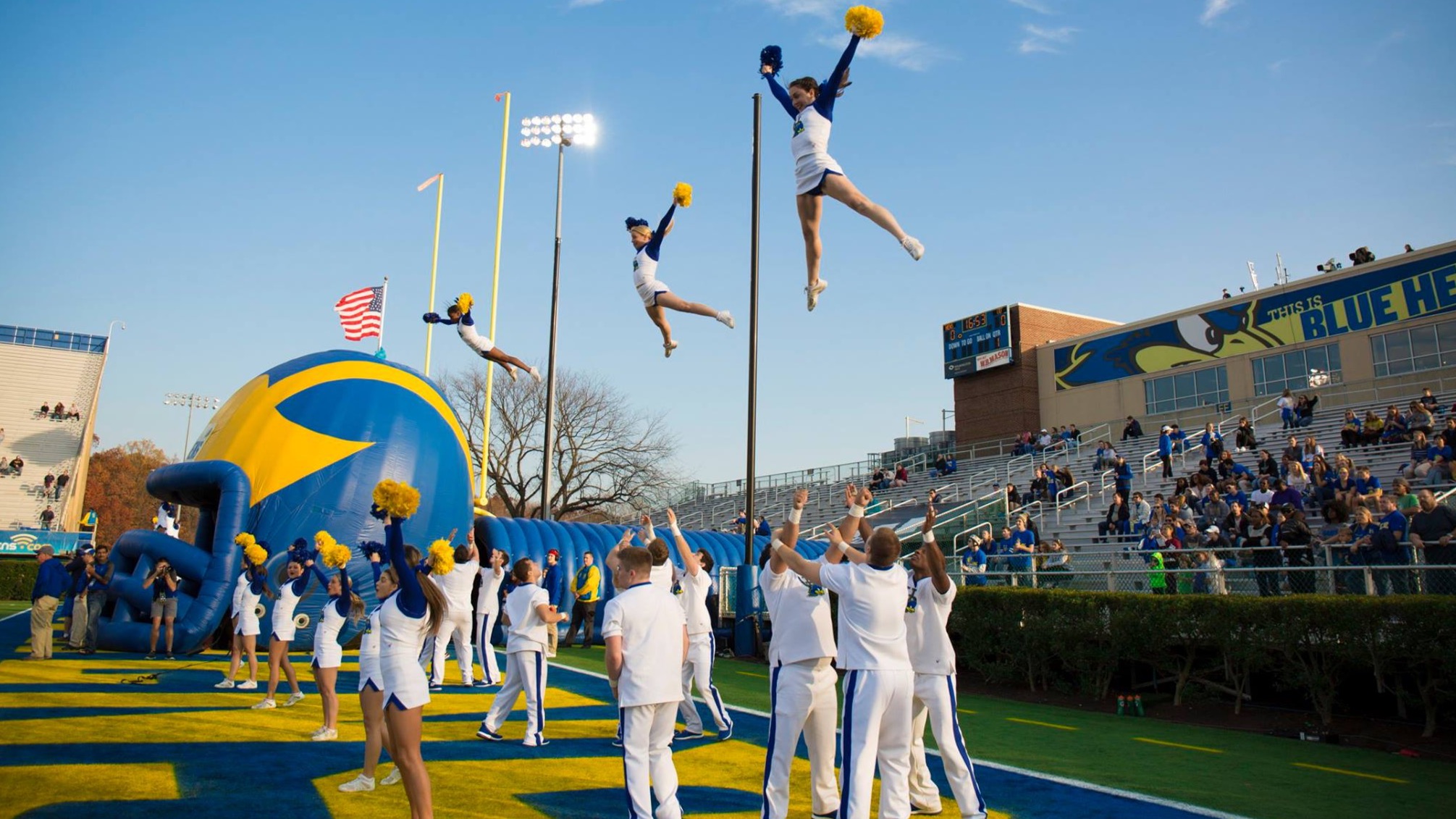 Watch them compete live at the
UCA & UCA College National Championship
January 13-15!
All photos by Aaron Davis


Get HYPED for 2017 UCA & UDA College Nationals!
How To Watch:
Join
FloPRO
now to get exclusive access to the UCA & UDA College Cheerleading & Dance Team National Championship live stream!
ON TV:
Available on Roku and Apple TV 4 (via FloSports app)
STREAMING:
Available only on Varsity TV
Yearly
FloPRO
subscription includes access to
FloCheer
and the ENTIRE FloSports network of sites.
JOIN NOW