Teams from across the country will be traveling to Orlando, FL next weekend for the 2017 UCA & UDA College Cheerleading & Dance Team National Championship! It's going to be a memorable weekend with the most elite college teams in the country competing for the national championship title! Here are 5 reasons why you need to watch all the action LIVE:


1. Who Will Win A Back-To-Back Title?
These teams took home the gold in 2016. Can they do it again in 2017?
Division IA Coed - University of Kentucky
Division IA All Girl - Indiana University
Division II Coed - University of West Georgia
Open All Girl - Nassau Community College
2. Getting Ready To Apply To College?
This is a great opportunity to watch nationally ranked schools that you may be interested in. You might not realize that schools that aren't on your radar compete nationally. After tuning in for two full days of coed and all girl cheerleading, your prospective school list might quickly change!
3. College Level Baskets
You won't see baskets like this at other events. College teams have different rules than high school and most all star teams. You're going to see some of the most elite skills with some crazy height!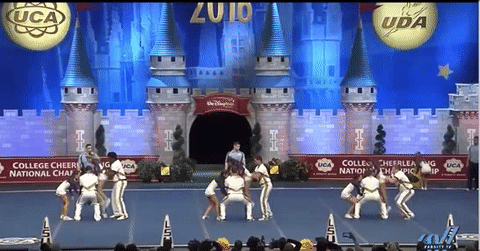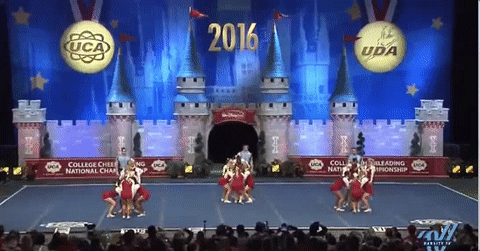 4. D1A Finals
There won't be an open seat left in the HP Field House on Sunday night! Fans from the biggest division 1 schools in the country will cheer their teams on to a title! You can't miss these routines!
5. Best Of The Best Routines!
Varsity TV is the only place that you will be able to see the top college teams in the country compete live from Orlando, FL! Don't miss out on this action packed weekend!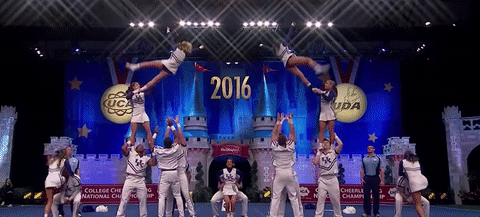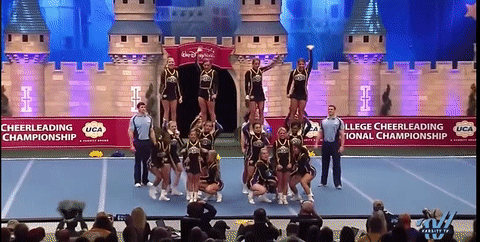 Get HYPED for 2017 UCA & UDA College Nationals!