2017 NCA All-Star Nationals
NCA All-Star Nationals Level 2 Youth Results
NCA All-Star Nationals Level 2 Youth Results
Welcome to the NCA All-Stars Level 2 Youth Results page!
Feb 20, 2017
by Varsity TV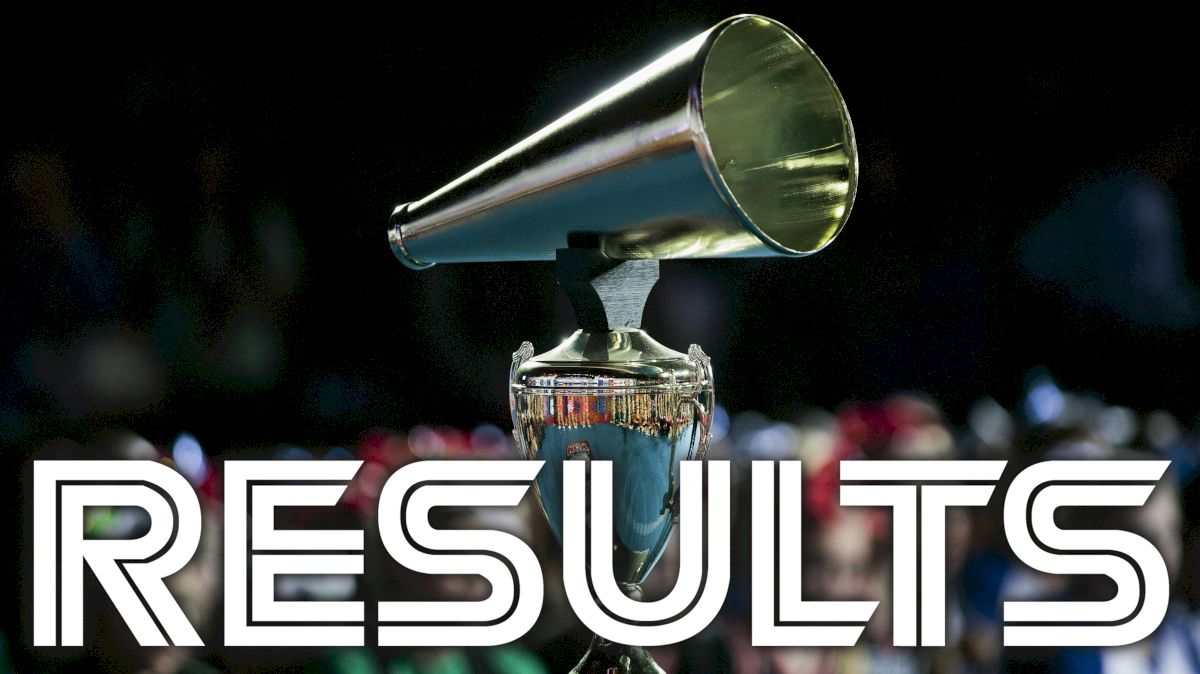 Welcome to the
Level 2 Youth
Results page! Continue scrolling to find your division. Don't see your division or team? Are you sure you're looking in the correct level?
Click here
to head back to The NCA All-Star Nationals Results Hub.
Level 2 Youth Results
Scroll to find your division or click below to jump to the results you are looking for.

L2 Small Youth A
|
L2 Small Youth B
|
L2 Small Youth Div II A
|
L2 Small Youth Div II B
|
L2 Small Youth Div II C
|
L2 Large Youth
---
L2 Small Youth A

FINAL RESULTS
| Rank | Team Name | City | State |
| --- | --- | --- | --- |
| 1 | Stars Vipers Pure Posion | Schertz | TX |
| 2 | Cheer Athletics Ocelots | Plano | TX |
| 3 | Prodigy All Stars Sapphire | Houston | TX |
| 4 | Louisiana Rebel All Stars Glory | Shreveport | LA |
| 5 | Cheer Athletics- Frisco AstroCats | Frisco | TX |
| 6 | Intensity Athletics Amp'd Youth | Murrieta | CA |
| 7 | Cheer Athletics - Charlotte KingdomCats | Charlotte | NC |
| 8 | Champion Cheer Fever | Southlake | TX |
L2 Small Youth B
FINAL RESULTS
| Rank | Team Name | City | State |
| --- | --- | --- | --- |
| 1 | Express Cheer Extravagance | Frisco | TX |
| 2 | Excite! Power | Highland Village | TX |
| 3 | Spirit Xtreme Promise | Southlake | TX |
| 4 | Twist & Shout Youth Victory | Tulsa | OK |
| 5 | Twist & Shout Youth Trust | Edmond | OK |
| 6 | Dakota Spirit Blaze | Sioux Falls | SD |
| 7 | Pro Spirit Midnight | McKinney | TX |
| 8 | GymTyme Illinois Candy Girls | Lockport | IL |
L2 Small Youth Div II A
FINAL RESULTS
| Rank | Team Name | City | State |
| --- | --- | --- | --- |
| 1 | Wylie Elite Strength | Wylie | TX |
| 2 | Bayou Athletics Youth Voodoo | Baton Rouge | LA |
| 3 | Cheer South All Stars Southern Belles | Statesboro | GA |
| 4 | CSA All Stars Heartbreakers | Denham Springs | LA |
| 5 | ICT Cheer Legacy Vipers | Wichita | KS |
| 6 | Texas RockStar Gold | League City | TX |
| 7 | KO Cheer Intensity | Boerne | TX |
| 8 | Cheer FX Lady Frost | Port Arthur | TX |
| 9 | Texas Allstar Cheer and Dance Cyclones | Pflugerville | TX |
| 10 | Crowned Elite Athletics Royal Gems | Savannah | GA |
| 11 | Cheer Northwest Red | Corpus Christi | TX |
L2 Small Youth Div II B
FINAL RESULTS
L2 Small Youth Div II C
FINAL RESULTS
| Rank | Team Name | City | State |
| --- | --- | --- | --- |
| 1 | Premier Cheer Leopards | San Antonio | TX |
| 2 | Cheer-riffic Techniques Red Tails | San Antonio | TX |
| 3 | San Antonio Spirit Team Teal | San Antonio | TX |
| 4 | University Cheer Air Force Inc Snipers | Houston | TX |
| 5 | Wild About Cheer Flawless | Red Oak | TX |
| 6 | American Cheer Force Reign | New Braunfels | TX |
| 7 | Legacy All Stars Fire | Austin | TX |
| 8 | Corpus Christi All Stars Thresher Sharks | Corpus Christi | TX |
| 9 | Heart of Texas Inspire | Waco | TX |
| 10 | American Cheer Elite Blaze | Nacogdoches | TX |
L2 Large Youth
FINAL RESULTS
| Rank | Team Name | City | State |
| --- | --- | --- | --- |
| 1 | All-Star Revolution Courage | Houston | TX |
| 2 | Cheer Athletics Cougars | Plano | TX |
| 3 | Louisiana Cheer Force Ruby Red | Baton Rouge | LA |
| 4 | Woodlands Elite Raiders | Oak Ridge North | TX |
| 5 | Apex Cheer Summit | Stafford | TX |
| 6 | Woodlands Elite Master Chiefs | Oak Ridge North | TX |
| 7 | Spirit of Texas Purple Hearts | Dallas | TX |
| 8 | Adrenaline Allstars Shock | Katy | TX |
| 9 | Top Gun All Stars Y2 | Miami | FL |
| 10 | Cheer Station Rockets | Austin | TX |
| 11 | Laredo All American All Stars Dippers | Laredo | TX |
| 12 | Tribe Cheer Thunderbirds | Oklahoma City | OK |
| 13 | Cheer Factory Royal Divas | Brenham | TX |