2017 NCA All-Star Nationals
NCA All-Star Nationals Level 2 Senior Results
NCA All-Star Nationals Level 2 Senior Results
Welcome to the Level 2 Senior Results page!
Feb 20, 2017
by Varsity TV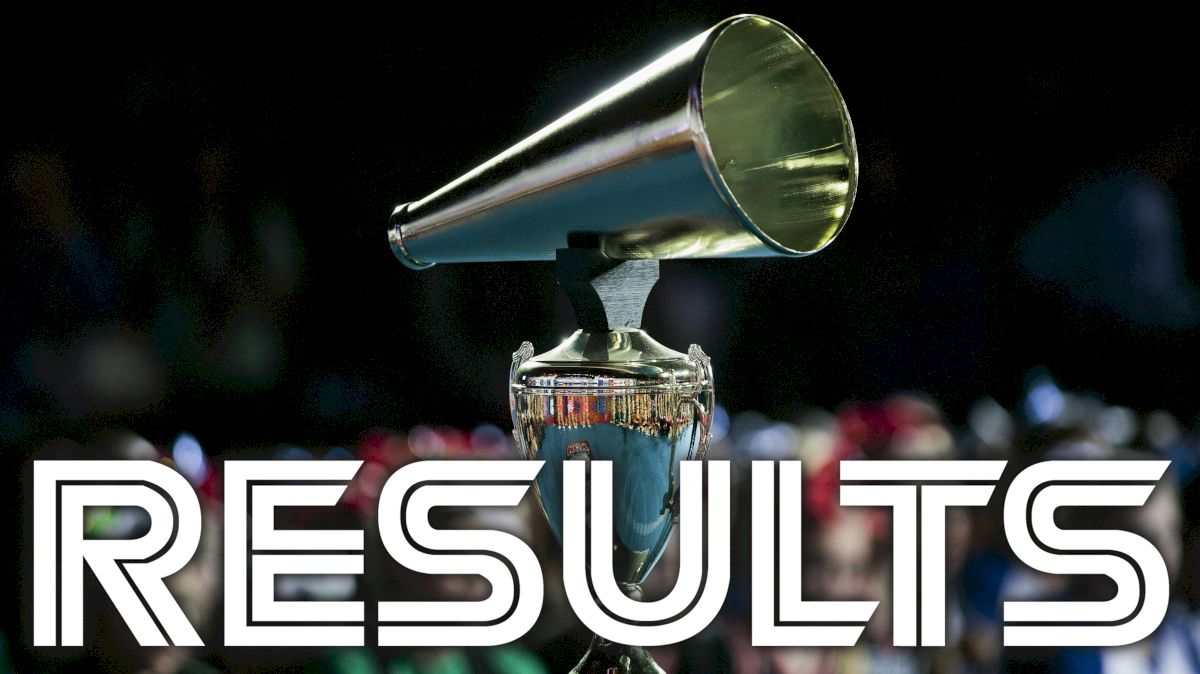 Welcome to the
Level 2 Senior
Results page! Continue scrolling to find your division. Don't see your division or team? Are you sure you're looking in the correct level?
Click here
to head back to The NCA All-Star Nationals Results Hub.
Level 2 Senior Results
Scroll to find your division or click below to jump to the results you are looking for.

L2 Small Senior A
|
L2 Small Senior B
|
L2 Small Senior Div II A
|
L2 Small Senior Div II B
|
L2 Small Senior Div II C
|
L2 Large Senior A
---
L2 Small Senior A
FINAL RESULTS
| Rank | Team Name | City | State |
| --- | --- | --- | --- |
| 1 | Cheer Factor Mirage | Taunton | MA |
| 2 | The California All Stars Bluettes | Livermore | CA |
| 3 | Prodigy All Stars Blizzard | Houston | TX |
| 4 | Nor Cal Elite All Stars Electra | San Jose | CA |
| 5 | ICE Riptide | Aurora | IL |
| 6 | Spirit of Texas Purple Rush | Dallas | TX |
| 7 | Cheer Central Suns Brilliance | Englewood | CO |
| 8 | Zone Cheer All-Stars Vitality | Ponte Vedra | FL |
| 9 | KC Cheer Force | Lenexa | KS |
| 10 | Infinity Allstars Senior Shamrocks | Jacksonville | FL |
| 11 | Ignite Cheer Elite Pacific Diamonds | Queensland | Australia |
L2 Small Senior B
FINAL RESULTS
L2 Small Senior Div II A
FINAL RESULTS
| Rank | Team Name | City | State |
| --- | --- | --- | --- |
| 1 | Woodlands Elite Admirals | Oak Ridge North | TX |
| 2 | Champion Cheer Blaze | Southlake | TX |
| 3 | Cheer Athletics - Columbus OmegaCats | Gahanna | OH |
| 4 | Unity Allstars Lemon | London | England |
| 5 | Louisiana Rebel All Stars Courage | Shreveport | LA |
| 6 | Starlets Cheerleading Pegasus | New South Wales | Australia |
| 7 | Cheer Athletics- Frisco CometCats | Frisco | TX |
| 8 | Texas Lonestar Cheer Company Garnet | Spring | TX |
| 9 | Express Cheer Excentric | Frisco | TX |
| 10 | Shockwave All Stars Strike | Rockville | MD |
L2 Small Senior Div II B
FINAL RESULTS
| Rank | Team Name | City | State |
| --- | --- | --- | --- |
| 1 | Premier Cheer Sabres | San Antonio | TX |
| 2 | Cheer Factory Majesty | Brenham | TX |
| 3 | San Diego Elite Tsunami | San Diego | CA |
| 4 | The Champions All Stars Blaze | San Antonio | TX |
| 5 | Valley All-Stars Platinum | Weslaco | TX |
| 6 | All Star Cheer Express Diamonds | Sarepta | LA |
| 7 | Xtreme Thunder All Stars Tsunami | Duncan | OK |
| 8 | Rockstar Cheer Atlanta South Big Time Rush | McDonough | GA |
| 9 | Sirens Cheerleaders Aria | Canberra | Australia |
| 10 | ACE Cheerleading Rogue | Buffalo Grove | IL |
| 11 | KGDC Double Helix | Olathe | KS |
L2 Small Senior Div II C
FINAL RESULTS
| Rank | Team Name | City | State |
| --- | --- | --- | --- |
| 1 | Revolution Cheer Company Punisher | Casa Grande | AZ |
| 2 | Cheer FX Sub Zero | Brisbane | Australia |
| 3 | Cheer-riffic Techniques Fierce Phoenix | San Antonio | TX |
| 4 | Infiniti Elite Allstars Karma | Greencastle | PA |
| 5 | SoCal Select All Stars Royalty | Poway | CA |
| 6 | United Elite Cheer Rush | Rockwall | TX |
| 7 | Wild About Cheer Fierce | Red Oak | TX |
| 8 | South Beauregard Elite Force | Longville | LA |
| 9 | Diamond Elite All Stars Ice Queens | Denver | CO |
| 10 | CTA Cheer 2Elite | Corsicana | TX |
L2 Large Senior A
FINAL RESULTS
| Rank | Team Name | City | State |
| --- | --- | --- | --- |
| 1 | Cheer Athletics Sabres | Plano | TX |
| 2 | Cheer Central Suns Radiance | Lafayette | CO |
| 3 | Premier Spirit Athletics Lavender Crush | Weymouth | MA |
| 4 | Intensity Athletics Lady Livewire | Murrieta | CA |
| 5 | Cheer Eclipse Electra | Wichita | KS |
| 5 | Tribe Cheer Lady Warriors | Oklahoma City | OK |
| 7 | Apex Cheer Paramount | Stafford | TX |
| 8 | ICT Cheer Legacy Fortress | Wichita | KS |
| 9 | Louisiana Cheer Force Scarlet | Baton Rouge | LA |
| 10 | Cheer Factor Deception | Foxboro | MA |
| 11 | Spirit Xtreme Honor | Southlake | TX |
| 12 | Cheer Athletics - Charlotte MonarchCats | Charlotte | NC |
| 13 | Liberty Cheer Revolution | Midlothian | TX |


L2 Large Senior B
FINAL RESULTS
| Rank | Team Name | City | State |
| --- | --- | --- | --- |
| 1 | Steele Athletics Silver | Denver | CO |
| 2 | LA Xtreme Captains | Alexandria | LA |
| 3 | Biron Elite Cheer Lady Sharks | Houston | TX |
| 4 | Arizona Element Elite Rose Gold | Peoria | AZ |
| 5 | Bayou Athletics Senior Sugarcanes | Baton Rouge | LA |
| 6 | LAX Starstruck | Los Angeles | CA |
| 7 | Alpha Elite Cheer and Tumbling Titans | San Antonio | TX |
| 8 | University Cheer Air Force Inc Phantom | Houston | TX |
| 9 | Extreme Cheer & Tumble Emeralds | Temple | TX |
| 10 | Heart of Texas Endure | Waco | TX |