Journey Ramey is one of the senior leaders on The Ohio State University coed cheer team. As one of the few veteran members on the 2017 team, she's in a good position to support and lead the group through the season, at nationals and at school athletics.

Varsity TV followed Journey and her team through their UCA College Nationals experience to create the original documentary The Ohio State University: Building The Buckeyes. The film will be released Wednesday, March 15th, 2017.



Meet Journey Skye Ramey:

High school & hometown:
Big Walnut High School in Sunbury, Ohio
Where do you cheer:
The Ohio State University
Years on the team:
Three Years
Favorite color?
Pink
Favorite food?
Pizza
What is your favorite movie?
The Notebook
If you could be any animal, what would you be?
I would be a dolphin so I could always be in the ocean
Major:
Speech and Hearing Sciences
What do you want to do after college?
My plan after I graduate in December is to go to grad school somewhere down south to become an Occupational Therapist.
What is your role on the team?
Being one of the oldest on the team now, I feel that I am a leader and someone that others look up to. I try to lead by example, and I think that has allowed me to have a role as a leader. I try to open myself up to others on the team so that they feel comfortable with me and feel that they can come to me for advice with not only cheerleading but also just life and the stress that comes with being a college student.
What is your favorite memory from cheering on the Bucks?
My very first year at OSU we played in the first ever College Football Playoffs and won it all! Before the National Championship game, we played Alabama in the Sugar Bowl in New Orleans. It was during New Years and the streets were crowded and filled with Ohio State fans. I would have to say that game was my favorite, even before the National Championship game. Beating Alabama and running out on the field to celebrate will be a memory I cherish forever.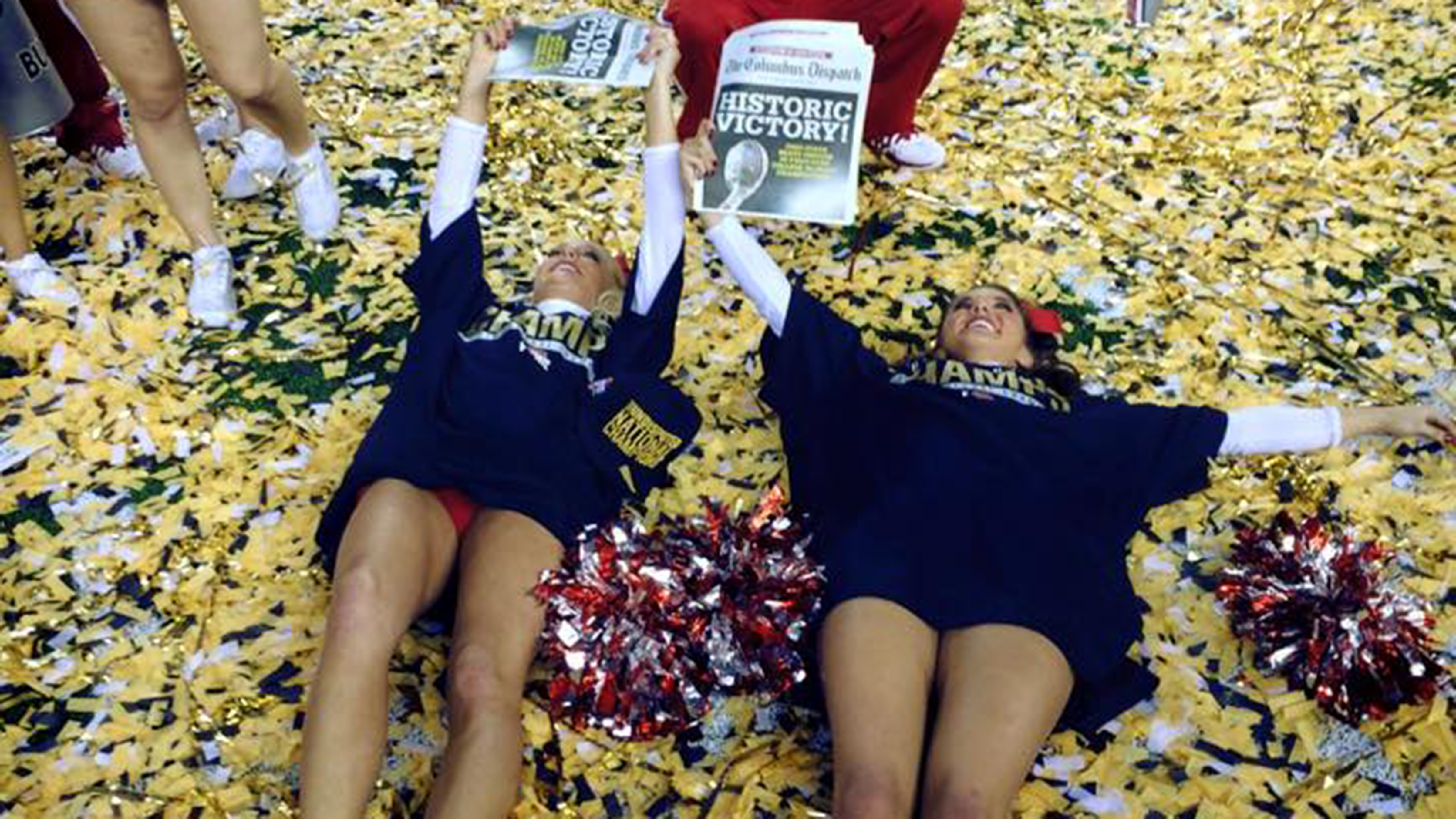 Why do you love The Ohio State University?
When I think of Ohio State, I think of being a little girl who could hardly wait for the weekend to watch Buckeye football with my dad, grandpa, and brothers. I think of every time my family would drive past the stadium we had to yell OH-! All I knew growing up was the Buckeyes and I wouldn't have it any other way. Wherever you travel to, there are dedicated Buckeye fans. The tradition that comes with being involved with this university is so contagious. I don't know how everyone doesn't love Ohio State!
Why did you choose Ohio?
I grew up thirty minutes from Columbus so scarlet and gray runs in my blood. I always knew I wanted to be a college cheerleader and Ohio State had the whole package I was looking for. I love to compete but I also love game day and you get the best of both worlds here.
What coaches have made you into the athlete you are today and why?
I have been cheering now for 20 years and I have been so blessed with coaches along the way. My school cheerleading coaches, Sara Kern-Kildow and Sara Nagra, still to this day are two of my biggest supporters. They never stopped pushing me, and challenging me from the time I came in as a seventh grader till I was a senior. From the time I told them I wanted to cheer in college (even if I didn't notice it at the time) they were shaping me to be exactly that.
The next coach is my all-star cheerleading coach and tumbling coach Mike Render. Everything he ever said to me clicked and he always put 100 percent into my training. I started with him when I was 11 years old and ever since then he has wanted me to be the absolute best I could be and it showed through all the hours he spent with me tumbling and stunting.
And finally Ben Schreiber and Siobhan St. John, my coaches here at Ohio State. They became the coaches my first year here and have been such a positive change for the program. They have taught me so much about college cheerleading and have pushed me farther than I ever thought I could be pushed. They not only coach us to make us the best cheerleaders we can be, but they're constantly working to make sure we are successful after our time at Ohio State is over.
What advice would you give an incoming freshman trying out for college cheerleader?
Be confident. Confidence comes from informing yourself about the program you are trying out for and knowing the skills they are looking for in order to be as prepared as possible. If you have prepared yourself to the best of your ability and you come in with confidence, then no matter the outcome, you know you did what you needed to do.