2017 The Summit
The Summit: Level 1 Results
The Summit: Level 1 Results
Welcome to The Summit Level 1 Results page!
May 3, 2017
by Varsity TV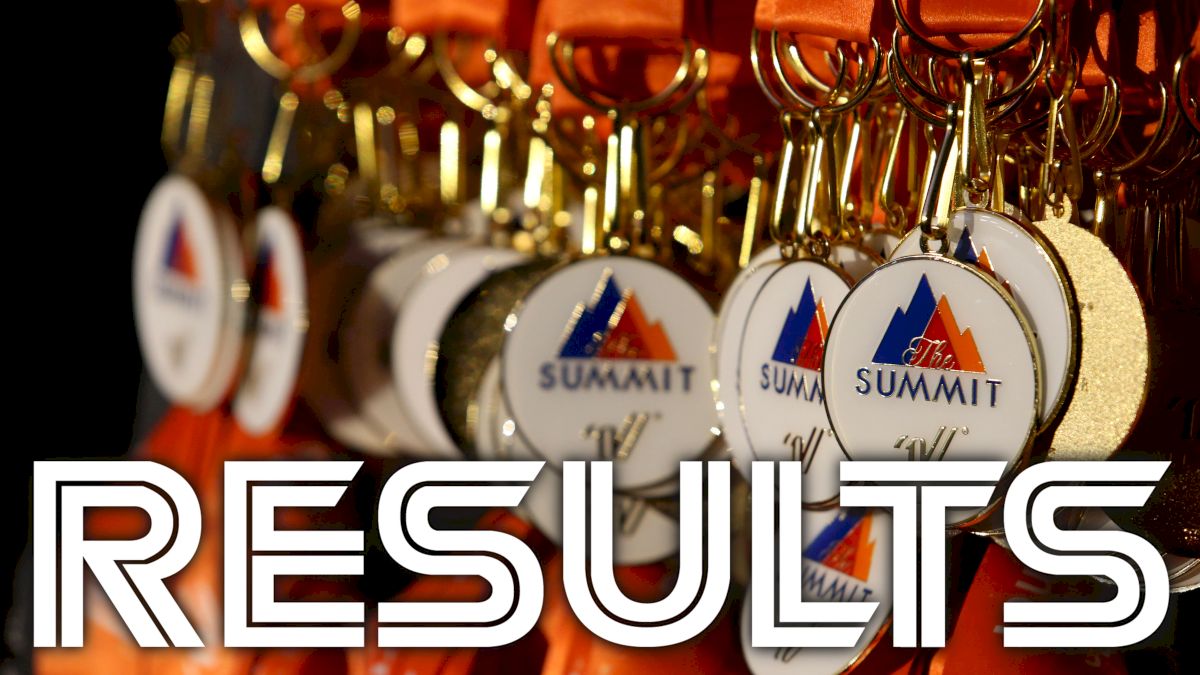 Welcome to the
Level 1
Results page! Continue scrolling to find your division. Don't see your division or team? Are you sure you're looking in the correct level?
Click here
to head back to The Summit Results Hub.

Level 1 Results
Scroll to find your division or click below to jump to the results you are looking for.
Small Mini
|
Large Mini
|
Small Tiny
|
Small Youth
|
Large Youth
|
Small Junior
|
Large Junior
|
Small Senior
|
Large Senior
---


Small Youth
Final Results
| RANK | | TEAM |
| --- | --- | --- |
| | | |
| 1 | | All-Star Revolution - Honor |
| 2 | | Cheer Factory - Inferno |
| 3 | | Stars Vipers - Python Princesses |
| 4 | | Fierce - Cheetahs |
| 5 | | Intensity Athletics - Black Out |
| 6 | | Ignite Athletics - WILDFIRE |
| 7 | | Excite Gym and Cheer - Love |
| 8 | | Rockstar Lake Norman - Quiet Riot |
| 9 | | Cheer Central Suns - Flicker |
| 10 | | The Atlanta Jayhawks - Shimmer |
| 11 | | Pro Athletics - Fierce Kidz |
| 12 | | Bullitt Athletics - Mischief |
| 13 | | Flip City All Stars - Hail |
Semi-Final Results
RANK
TEAM
1
Cheer Factory - Inferno
Advanced to Finals
2
All-Star Revolution - Honor
Advanced to Finals
3
Stars Vipers - Python Princesses
Advanced to Finals
4
Intensity Athletics - Black Out
Advanced to Finals
5
The Atlanta Jayhawks - Shimmer
Advanced to Finals
6
Cheer Central Suns - Flicker
Advanced to Finals
7*
Bullitt Athletics - Mischief
Advanced to Finals
7*
Pro Athletics - Fierce Kidz
Advanced to Finals
9
Flip City All Stars - Hail
Advanced to Finals
10*
Excite Gym and Cheer - Love
Advanced to Finals
10*
Rockstar Lake Norman - Quiet Riot
Advanced to Finals
12
Step One North - Remarkable
13
Cheer Extreme - Richmond - Purple Crown
14
MGA Cheer Extreme Tifton - Comets
15
CheerVille Athletics - Poison Ivy
16
Crimson Heat All Stars - Wildfire
17
Universal Sonics - Secret
18
Rockstar Cheer Atlanta East - Sonic Youth
19
Brandon All-Stars East - Youth Scarlet
20
Florida Top Dog All Stars - Freeze
21
The Stingray All Stars Cartersville - Steam
22
Twist & Shout - Youth Grace
23
Spa City Elite - Youth Fierce
24
Platinum Athletics - Sparkle
25
Sapphire Elite Cheerleaders - Sapphire Youth Prestige
26
East Celebrity Elite - YoEd
27
Cheer St Louis - Virtues
28
Dakota Spirit - Atomic
Wild Card
| RANK | | TEAM | |
| --- | --- | --- | --- |
| | | | |
| 1 | | Ignite Athletics - WILDFIRE | Advanced to Finals |
| 2 | | Fierce - Cheetahs | Advanced to Finals |
| 3 | | Pro Athletics - Fierce Kidz | Advanced to Semifinals |
| 4 | | Top Gun All Stars - Bullet Gold | |
| 5 | | Twist & Shout - Muskogee - Youth Flash | |
| 6 | | Cheer Trixx - Lightning | |
| 7 | | Rockstar Cheer Naples - Heart | |
| 8 | | Full Out Tumble and Cheer - Shimmer | |
| 9 | | Rockstar Cheer Atlanta South - BigBang | |
| 10 | | Cheer Alliance - Sassy Catz | |
| 11 | | Oshkosh Jets - Velocity | |
| 12 | | Desert Storm Elite - Dazzle | |
| 13 | | Tiger Elite - Fierce Catz | |
| 14 | | River City Allstars - Glory Girls | |
| 15 | | Bluewater Cheer Athletics - Storm | |
| 16 | | Victory Cheer - Vision | |
| 17 | | Idaho Inferno - Wildfire | |
| 18 | | Cheer Nation Athletics - Halos | |
| 19 | | Core Athletix Finger Lakes - Code Black | |
| 20 | | ACE Cheer Company - HAT - Omahas | |
| 21 | | Central Florida Athletics - Fame | |
| 22 | | Fire & Ice Allstars - Frost | |
| 23 | | Midwest Cheer Elite - Junglekatz | |
| 24 | | Kids Spot - Emeralds | |
| 25 | | Louisiana Spirit - Crush | |
| 26 | | The Cheer Center - Iris | |
| 27 | | Immortal Athletics - Pearl | |
| 28 | | The Atlanta Jayhawks - Sterling | |
| 29 | | Flipside - Dynamite | |
| 30 | | Premier Athletics Columbia - Flurries | |
| 31 | | Nash Jem Elite All Stars - REIGN | |
| 32 | | UPA - Power | |
| 33 | | LA Dream All Stars - Lady Belles | |
| 34 | | Infinity Athletics - Eden | |
| 35 | | Steamboat All Stars - Blue Ice | |


Large Youth
Final Results
| RANK | | TEAM |
| --- | --- | --- |
| | | |
| 1 | | Cheer Athletics - KittyKatz |
| 2 | | Spirit Xtreme - Believe |
| 3 | | American Cheer - Youth White |
| 4 | | United Rock Nation All Stars - Heroes |
| 5 | | Cheer Eclipse - StarBurst |
| 6 | | ACX Twisters - Chaos |
| 7 | | Premier Athletics - Nashville - Crown |
| 8 | | Cheer Athletics - Frisco - MeteorCats |
Semi-Final Results
| RANK | | TEAM | |
| --- | --- | --- | --- |
| | | | |
| 1 | | Cheer Athletics - KittyKatz | Advanced to Finals |
| 2 | | American Cheer - Youth White | Advanced to Finals |
| 3 | | ACX Twisters - Chaos | Advanced to Finals |
| 4 | | United Rock Nation All Stars - Heroes | Advanced to Finals |
| 5 | | Premier Athletics - Nashville - Crown | Advanced to Finals |
| 6 | | Cheer Athletics - Frisco - MeteorCats | Advanced to Finals |
| 7 | | Calgary Stars Gymnastics & Cheerleading - Cosmic Rays | |
| 8 | | Aloha Cheer Academy - Honeys | |
| 9 | | Louisiana Rebel All Stars - Grace | |
| 10 | | Python All Stars of Columbus - Striped Pythons | |
| 11 | | World Class All Stars - Legacy | |
| 12 | | Rockstar Cheer Holly Springs - ZZ Top | |
Wild Card
| RANK | | TEAM | |
| --- | --- | --- | --- |
| | | | |
| 1 | | Spirit Xtreme - Believe | Advanced to Finals |
| 2 | | Cheer Eclipse - StarBurst | Advanced to Finals |
| 3 | | Premier Athletics - Nashville - Crown | Advanced to Semifinals |
| 4 | | Rockstar Cheer Raleigh - Nirvana | |
| 5 | | Midwest Cheer Elite-Columbus - D&G | |
| 6 | | Nor Cal Elite All Stars - Iris | |
| 7 | | Cheer Extreme - Waldorf - Passion | |
| 8 | | Elite Heat All-Stars - Ignite | |
| 9 | | Premier Athletics - Michigan Xtreme - Xceptional | |
| 10 | | FLIP! Gym - Wolfpack Shimmer | |


Small Junior
Final Results
| RANK | | TEAM |
| --- | --- | --- |
| | | |
| 1 | | Cheer Factory - Heat |
| 2 | | Excite Gym and Cheer - Dynamite |
| 3 | | Rockstar Cheer Charleston - Outkast |
| 4 | | Cheer Athletics - BearKatz |
| 5 | | Cheer Central Suns - Light |
| 6 | | Bay State All Stars - Hail Storm |
| 7 | | Core Athletix Finger Lakes - Jade |
| 8 | | Full House All Stars - Lady Royals |
| 9 | | Central Jersey All Stars - Junior Ammo |
| 10 | | Cheer and Dance Galaxy - Jets |
| 11 | | The Stingray All Stars Marietta - Mango |
| 12 | | Premier Athletics - Murfreesboro - Lady Glam |
Semi-Final Results
| RANK | | TEAM | |
| --- | --- | --- | --- |
| | | | |
| 1 | | Cheer Factory - Heat | Advanced to Finals |
| 2 | | Cheer Athletics - BearKatz | Advanced to Finals |
| 3 | | Core Athletix Finger Lakes - Jade | Advanced to Finals |
| 4 | | Excite Gym and Cheer - Dynamite | Advanced to Finals |
| 5 | | The Stingray All Stars Marietta - Mango | Advanced to Finals |
| 6 | | Rockstar Cheer Charleston - Outkast | Advanced to Finals |
| 7 | | Bay State All Stars - Hail Storm | Advanced to Finals |
| 8 | | Full House All Stars - Lady Royals | Advanced to Finals |
| 9 | | Central Jersey All Stars - Junior Ammo | Advanced to Finals |
| 10 | | Cheer Central Suns - Light | Advanced to Finals |
| 11 | | Express Cheer - Explosion | |
| 12 | | Fire & Ice Allstars - Backdraft | |
| 13 | | World Class All Stars - Platinum | |
| 14 | | Cheer Express Allstars - Junior Sparkles | |
| 15 | | Pittsburgh Pride All Stars - Dynasty | |
| 16 | | South Elite All-Stars - Tanzanites | |
| 17 | | Jersey All Stars - Crystals | |
| 18 | | Ohio Extreme - Emeralds | |
| 19 | | Peak Athletics - Miss Kitty | |
| 20 | | CheerForce Orange County - Storm | |
| 21 | | Macs Allstar Cheer - Bandits | |
| 22 | | Five Star Athletics - Eclipse | |
| 23 | | The Atlanta Jayhawks - Dazzle | |
| 24 | | FCA Gems - Garnet | |
| 25 | | Twisters Cheer Elite - Twisters Cheer Elite | |
| 26 | | Team Illinois Cheer - Green Glitz | |
| 27 | | X-Cel Athletics - Erie - Fury | |
| 28 | | Rockstar Cheer Holly Springs - Lumineers | |
Wild Card
| RANK | | TEAM | |
| --- | --- | --- | --- |
| | | | |
| 1 | | Premier Athletics - Murfreesboro - Lady Glam | Advanced to Finals |
| 2 | | Cheer and Dance Galaxy - Jets | Advanced to Finals |
| 3 | | Cheer Express Allstars - Junior Sparkles | Advanced to Semifinals |
| 4 | | Pacific Coast Magic - Arizona - Halo | |
| 5 | | New York Icons - Power | |
| 6 | | New York Icons - Allure | |
| 7 | | Cheer Central Suns - NM - Burst | |
| 8 | | The Atlanta Jayhawks - Chorome | |
| 9 | | Rockstar Cheer Atlanta - Creed | |
| 10 | | TNT Cheer - Ignite | |
| 11 | | Memphis Elite - Silver Bullets | |
| 12 | | Gold Coast All Stars - Mania | |
| 13 | | Brandon All Stars North Tampa - Junior Black Diamonds | |
| 14 | | Fury Athletics - Frost | |
| 15 | | Clovis United All Stars - Integirty | |
| 16 | | Texas Wolverine All Stars - Switch Blades | |


Large Junior
Final Results
| RANK | | TEAM |
| --- | --- | --- |
| | | |
| 1 | | Crimson Heat Tigers - Crimson Heat Tigers |
| 2 | | Woodlands Elite - Rangers |
| 3 | | Power House All Stars - Godspeed |
| 4 | | Prodigy All Stars - Neon |
| 5 | | Woodlands Elite - Cavalry |
| 6 | | ACX - Fury |
| 7 | | Louisiana Cheer Force - Rose |
Semi-Final Results
| RANK | | TEAM | |
| --- | --- | --- | --- |
| | | | |
| 1 | | Prodigy All Stars - Neon | Advanced to Finals |
| 2 | | Crimson Heat Tigers - Crimson Heat Tigers | Advanced to Finals |
| 3 | | Woodlands Elite - Rangers | Advanced to Finals |
| 4 | | Woodlands Elite - Cavalry | Advanced to Finals |
| 5 | | Power House All Stars - Godspeed | Advanced to Finals |
| 6 | | Cheer Factor - Mystery | |
| 7 | | Cheer Athletics - Charlotte - AristoCats | |
| 8 | | Star Athletics - Junior Chrome | |
| 9 | | Cheer Extreme - Raleigh - Lady Unicorns | |
Wild Card
| RANK | | TEAM | |
| --- | --- | --- | --- |
| | | | |
| 1 | | ACX - Fury | Advanced to Finals |
| 2 | | Louisiana Cheer Force - Rose | Advanced to Finals |
| 3 | | Cheer Athletics - Charlotte - AristoCats | Advanced to Semifinals |


Small Senior
Final Results
| RANK | | TEAM |
| --- | --- | --- |
| | | |
| 1 | | Cheer Athletics - Arctic Cats |
| 2 | | Champion Cheer - Ember |
| 3 | | Shine All Star Cheer - Starlight |
| 4 | | Desert Storm Elite - SoFab |
| 5 | | American Cheer - Sr White |
| 6 | | Max Force Cheerleading - Shock |
| 7 | | Nor Cal Elite All Stars - Athena |
| 8 | | Intensity Athletics - Currents |
| 9 | | Hagerstown Heat All Stars - Green Envy |
| 10 | | The Stingray All Stars Johns Creek - Rock |
| 11 | | Brandon All-Stars - Senior Slate |
| 12 | | Pacific Coast Magic- San Francisco - Sorcery |
Semi-Final Results
| RANK | | TEAM | |
| --- | --- | --- | --- |
| | | | |
| 1 | | Cheer Athletics - Arctic Cats | Advanced to Finals |
| 2* | | Champion Cheer - Ember | Advanced to Finals |
| 2* | | American Cheer - Sr White | Advanced to Finals |
| 4 | | Intensity Athletics - Currents | Advanced to Finals |
| 5 | | Desert Storm Elite - SoFab | Advanced to Finals |
| 6 | | The Stingray All Stars Johns Creek - Rock | Advanced to Finals |
| 7 | | Shine All Star Cheer - Starlight | Advanced to Finals |
| 8* | | Hagerstown Heat All Stars - Green Envy | Advanced to Finals |
| 8* | | Brandon All-Stars - Senior Slate | Advanced to Finals |
| 10 | | Nor Cal Elite All Stars - Athena | Advanced to Finals |
| 11 | | Premier Spirit Athletics - Royal | |
| 12 | | Cheer Central Suns - Heat | |
| 13 | | Platinum Athletics - Crystals | |
| 14 | | Zodiac All Stars - Zodiac Allstars Grape | |
| 15 | | Cheer Factor - Charmed | |
| 16 | | Idaho Inferno - Lady Rage | |
| 17 | | Maryland Twisters - Cyclones | |
| 18 | | Long Island Cheer - Steel | |
| 19 | | Elite Cheer - Dazzle | |
Wild Card
| RANK | | TEAM | |
| --- | --- | --- | --- |
| | | | |
| 1 | | Max Force Cheerleading - Shock | Advanced to Finals |
| 2 | | Pacific Coast Magic- San Francisco - Sorcery | Advanced to Finals |
| 3 | | Desert Storm Elite - SoFab | Advanced to Semifinals |
| 4 | | ACE Cheer Company - HAT - Falcons | |
| 5 | | First Coast Fusion - Fusion Fearless | |
| 6 | | LA Dream All Stars - Twilight | |
| 7 | | Rockstar Cheer Raleigh - Vanilla Ice | |
| 8 | | Tactical Spirit - Albatross | |
| 9 | | Fierce - Lions | |


Large Senior
Final Results
| RANK | | TEAM |
| --- | --- | --- |
| | | |
| 1 | | California All Stars - Ontario - Crystal |
| 2 | | The California All Stars - Wildcards |
| 3 | | SCV All Stars - Senior White |
| 4 | | Top Gun All Stars - Wild Ones |
| 5 | | Connect Cheer Northwest - Teal |
| 6 | | Semi-Finals Macs Allstar Cheer - White Diamonds |
Semi-Final Results
| RANK | | TEAM | |
| --- | --- | --- | --- |
| | | | |
| 1 | | California All Stars - Ontario - Crystal | Advanced to Finals |
| 2 | | The California All Stars - Wildcards | Advanced to Finals |
| 3 | | SCV All Stars - Senior White | Advanced to Finals |
| 4 | | Top Gun All Stars - Wild Ones | Advanced to Finals |
| 5 | | Connect Cheer Northwest - Teal | Advanced to Finals |
| 6 | | Python All Stars of Columbus - Calabar Pythons | |
| 7 | | ACX Twisters - Lady Storm | |
| 8 | | Cheer St Louis - Honor | |
| 9 | | United Rock Nation All Stars - GOSSIP GIRLS | |
Wild Card
| RANK | | TEAM | |
| --- | --- | --- | --- |
| | | | |
| 1 | | Macs Allstar Cheer - White Diamonds | Advanced to Finals |