2017 The Summit
The Summit: Level 5 Restricted Results
The Summit: Level 5 Restricted Results
Welcome to The Summit Level 5 Results page!
May 3, 2017
by Varsity TV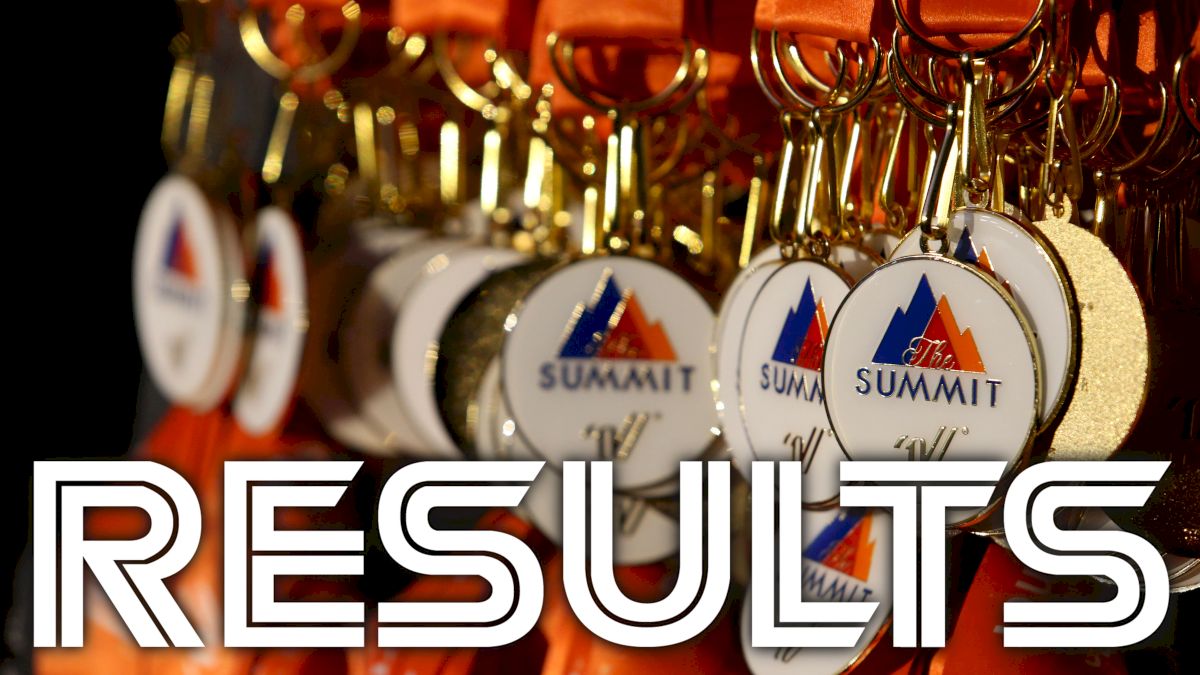 Welcome to the
Level 5
Results page! Continue scrolling to find your division. Don't see your division or team? Are you sure you're looking in the correct level?
Click here
to head back to The Summit Results Hub.

Level 5 Restricted Results
Scroll to find your division or click below to jump to the results you are looking for.

Small Senior Restricted
|
Small Senior Restricted Coed
|
Large Senior Restricted Coed
|
Small Junior Restricted
|
Large Junior Restricted
|
Large Senior Restricted |
Junior Restricted |
Junior Restricted Coed

---
Small Senior Restricted
Final Results
| RANK | | TEAM |
| --- | --- | --- |
| | | |
| 1 | | Stars Vipers - Queen Cobras |
| 2 | | Elite Cheer Michigan - Vortex |
| 3 | | Cheer Athletics - Charlotte - ReignCats |
| 4 | | Zone Cheer All-Stars - Supremacy |
| 5 | | The Stingray All Stars Johns Creek - Black Diamond |
| 6 | | Infinity Allstars - Lady Luck |
| 7 | | Jersey All Stars - Wicked |
| 8 | | Prodigy All Stars - Twilight |
Semi-Final Results
| RANK | | TEAM | |
| --- | --- | --- | --- |
| | | | |
| 1 | | Stars Vipers - Queen Cobras | Advanced to Finals |
| 2 | | Elite Cheer Michigan - Vortex | Advanced to Finals |
| 3 | | Infinity Allstars - Lady Luck | Advanced to Finals |
| 4 | | Jersey All Stars - Wicked | Advanced to Finals |
| 5 | | Zone Cheer All-Stars - Supremacy | Advanced to Finals |
| 6 | | The Stingray All Stars Johns Creek - Black Diamond | Advanced to Finals |
| 7 | | East Celebrity Elite - CT - Miss Royalty | |
| 8 | | Twist & Shout - Heart | |
| 9 | | Star Athletics - Senior Steel | |
| 10 | | The Atlanta Jayhawks - Platinum | |
| 11 | | Cheer Extreme - Sanford - Cyclones | |
Wild Card
| RANK | | TEAM | |
| --- | --- | --- | --- |
| | | | |
| 1 | | Prodigy All Stars - Twilight | Advanced to Finals |
| 2 | | Cheer Athletics - Charlotte - ReignCats | Advanced to Finals |


Small Senior Restricted Coed
Final Results
| RANK | | TEAM |
| --- | --- | --- |
| | | |
| 1 | | SCV All Stars - R 5 |
| 2 | | Florida Top Dog All Stars - Thunder |
| 3 | | Cheer Athletics - Columbus - AlphaCats |
| 4 | | Cheer Athletics - Pumas |
| 5 | | Premier Athletics - Gallatin - Destiny |
| 6 | | Cheer Fusion Allstars - Prodigy |
| 7* | | Xtreme Cheer - Fire |
| 7* | | Rockstar Cheer Columbia - Nickelback |
| 9 | | South Elite All-Stars - Diamonds |
| 10 | | Valley Elite All Stars - Big Red |
| 11 | | Woodlands Elite - Commanders |
| 12 | | SKKY Allstars - Reign |
Semi-Final Results
| RANK | | TEAM | |
| --- | --- | --- | --- |
| | | | |
| 1 | | Florida Top Dog All Stars - Thunder | Advanced to Finals |
| 2 | | SCV All Stars - R 5 | Advanced to Finals |
| 3 | | Cheer Athletics - Pumas | Advanced to Finals |
| 4 | | Cheer Fusion Allstars - Prodigy | Advanced to Finals |
| 5 | | Premier Athletics - Gallatin - Destiny | Advanced to Finals |
| 6 | | Valley Elite All Stars - Big Red | Advanced to Finals |
| 7 | | Rockstar Cheer Columbia - Nickelback | Advanced to Finals |
| 8 | | South Elite All-Stars - Diamonds | Advanced to Finals |
| 9 | | Xtreme Cheer - Fire | Advanced to Finals |
| 10 | | SKKY Allstars - Reign | Advanced to Finals |
| 11 | | Rockstar Cheer - Chili Peppers | |
| 12 | | ACX - Sci 5 | |
| 13 | | Platinum Athletics - Titanium | |
| 14 | | Indiana Ultimate - Electric Blue | |
| 15 | | Desert Storm Elite - Outlaws | |
| 16 | | Cheer St Louis - Guardian Angels | |
| 17 | | Universal Sonics - Odyssey | |
| 18 | | Champion Cheer - Thunder | |
| 19 | | Broward Elite Allstars - Prowlerz | |
| 20 | | Memphis Elite - Blue Diamonds | |
| 21 | | Five Star - Blazing Stars | |
| 22 | | Planet Spirit - Black Ice | |
Wild Card
| RANK | | TEAM | |
| --- | --- | --- | --- |
| | | | |
| 1 | | Cheer Athletics - Columbus - AlphaCats | Advanced to Finals |
| 2 | | Woodlands Elite - Commanders | Advanced to Finals |


Large Senior Restricted Coed
Final Results
| RANK | | TEAM |
| --- | --- | --- |
| | | |
| 1 | | Cheer Central Suns - Ignite |
| 2 | | California All Stars - Ontario - Midnight |
| 3 | | Brandon All-Stars - Senior Titanium |
| 4 | | Spirit of Texas - Royal Guns |
| 5 | | The Stingray All Stars Marietta - Spice |
| 6 | | Top Gun All Stars - YOSO |
| 7 | | OC All Stars - Smoke |
| 8 | | Fusion All Stars - Fury |
Semi-Final Results
| RANK | | TEAM | |
| --- | --- | --- | --- |
| | | | |
| 1 | | Top Gun All Stars - YOSO | Advanced to Finals |
| 2 | | California All Stars - Ontario - Midnight | Advanced to Finals |
| 3 | | Cheer Central Suns - Ignite | Advanced to Finals |
| 4* | | The Stingray All Stars Marietta - Spice | Advanced to Finals |
| 4* | | Spirit of Texas - Royal Guns | Advanced to Finals |
| 6 | | OC All Stars - Smoke | Advanced to Finals |
| 7 | | Apex Cheer - Ascension | |
| 8 | | KC Cheer - FEROCIOUS | |
| 9 | | Tiger Elite - Fab 5 | |
| 10 | | Tribe Cheer - Nighthawks | |
| 11 | | Macs Allstar Cheer - Wicked | |
| 12 | | Pro Athletics - Sr Fierce | |
Wild Card
| RANK | | TEAM | |
| --- | --- | --- | --- |
| | | | |
| 1 | | Brandon All-Stars - Senior Titanium | Advanced to Finals |
| 2 | | Fusion All Stars - Fury | Advanced to Finals |


Small Junior Restricted
Final Results
| RANK | | TEAM |
| --- | --- | --- |
| | | |
| 1 | | GymTyme All-Stars - Lady Red |
| 2 | | ICE - Supernova |
| 3 | | FCA Gems - Tanzanites |
| 4 | | New Jersey Spirit Explosion - 5 Star |
Semi-Final Results
| RANK | | TEAM | |
| --- | --- | --- | --- |
| | | | |
| 1 | | GymTyme All-Stars - Lady Red | Advanced to Finals |
| 2 | | New Jersey Spirit Explosion - 5 Star | Advanced to Finals |
Wild Card
| RANK | | TEAM | |
| --- | --- | --- | --- |
| | | | |
| 1 | | ICE - Supernova | Advanced to Finals |
| 2 | | FCA Gems - Tanzanites | Advanced to Finals |
| 3 | | New Jersey Spirit Explosion - 5 Star | Advanced to Semifinals |


Large Junior Restricted
Final Results
| RANK | | TEAM |
| --- | --- | --- |
| | | |
| 1 | | Woodlands Elite - Raptors |
| 2 | | ICE - Frost |
| 3 | | Cheer Extreme - Lady Lilies |
Semi-Final Results
| RANK | | TEAM | |
| --- | --- | --- | --- |
| | | | |
| 1 | | ICE - Frost | Advanced to Finals |
Wild Card
| RANK | | TEAM | |
| --- | --- | --- | --- |
| | | | |
| 1 | | Woodlands Elite - Raptors | Advanced to Finals |
| 2 | | Cheer Extreme - Lady Lilies | Advanced to Finals |
Large Senior Restricted
Final Results
| RANK | | TEAM |
| --- | --- | --- |
| | | |
| 1 | | Twisters - Steel |
| 2 | | Cheer Extreme - Salem - Legacy |
| 3 | | Cheers & More - Reign |
| 4 | | ICE - Halo |
Semi-Final Results
| RANK | | TEAM | |
| --- | --- | --- | --- |
| | | | |
| 1 | | ICE - Halo | Advanced to Finals |
| 2 | | Twisters - Steel | Advanced to Finals |
| 3 | | Cheer Extreme - Salem - Legacy | Advanced to Finals |
Wild Card
| RANK | | TEAM | |
| --- | --- | --- | --- |
| | | | |
| 1 | | Cheers & More - Reign | Advanced to Finals |
Small Junior Restricted Coed

Final Results
| RANK | | TEAM |
| --- | --- | --- |
| | | |
| 1 | | Cheer Athletics - Charlotte - SuperiorCats |
| 2 | | ATA - Fusion |
| 3 | | Cheer Extreme - Charlotte - Princesses |
| 4 | | Cheer Athletics - Austin - CrystalCats |
| 5 | | KC Cheer - FANTASY |
| 6 | | Cheer Force Arkansas - Jayhawks |
| 7 | | Fire & Ice Allstars - Smoke |
Semi-Final Results
| RANK | | TEAM | |
| --- | --- | --- | --- |
| | | | |
| 1 | | Cheer Athletics - Charlotte - SuperiorCats | Advanced to Finals |
| 2 | | ATA - Fusion | Advanced to Finals |
| 3 | | Cheer Extreme - Charlotte - Princesses | Advanced to Finals |
| 4 | | Fire & Ice Allstars - Smoke | Advanced to Finals |
| 5 | | Cheer Athletics - Austin - CrystalCats | Advanced to Finals |


Large Junior Restricted Coed
Final Results
| RANK | | TEAM |
| --- | --- | --- |
| | | |
| 1 | | Cheer Athletics - Furycats |
| 2 | | Maryland Twisters - Velocity |
| 3 | | Louisiana Cheer Force - Platinum |
| 4 | | Cheer Extreme - Raleigh - Junior X |
Semi-Final Results
| RANK | | TEAM | |
| --- | --- | --- | --- |
| | | | |
| 1 | | Maryland Twisters - Velocity | Advanced to Finals |
| 2 | | Louisiana Cheer Force - Platinum | Advanced to Finals |
| 3 | | Cheer Athletics - Furycats | Advanced to Finals |
| 4 | | Cheer Extreme - Raleigh - Junior X | Advanced to Finals |
Wild Card
| RANK | | TEAM | |
| --- | --- | --- | --- |
| | | | |
| 1 | | KC Cheer - FANTASY | Advanced to Finals |
| 2 | | Cheer Force Arkansas - Jayhawks | Advanced to Finals |