Welcome To The Rebels! Ryan O'Connor Takes On Ole Miss
Welcome To The Rebels! Ryan O'Connor Takes On Ole Miss
Former Alabama Cheerleader and U.S. National Team Memeber, Ryan O'Connor takes on new position as Head Coach for Ole Miss Cheer.
Aug 16, 2017
by Varsity TV
Ryan O'Connor was born into the cheer world and she has made it her passion ever since. After her sideline days were over, O'Connor followed in her mother's footsteps and became a coach. With a handful of years coaching the talented University of Alabama-Birmingham Blazers under her belt, O'Connor is ready to take the next step in her coaching journey. She has now accepted the head cheerleading coaching position at the University of Mississippi! Hotty Toddy!
How did your cheerleading journey begin?
My mother, Donna Martin, is a cheerleading coach, so I always like to joke and say I never had a choice! Cheerleading made my mom happy, so I knew I wanted to get involved. I was on my first competitive team at six years old at the Pep Club All Stars in Lexington, Kentucky. Since then, I believe I have been the luckiest cheerleader in the world! I've been on some amazing teams, worked with some of the best athletes and coaches in the country and traveled the world cheering football games or teaching camps with UCA. It has been an incredible ride so far and I truly believe I am just getting started.
I competed with Pep Club on several different teams until my junior year of high school, when I decided to focus on school cheer. I was a member of Paul Laurence Dunbar's cheerleading team where my mom and former UK cheerleading coach, Saleem Habash, were my coaches. We had an extremely successful run while I was there and we were featured on a reality TV show, Cheerleader Nation.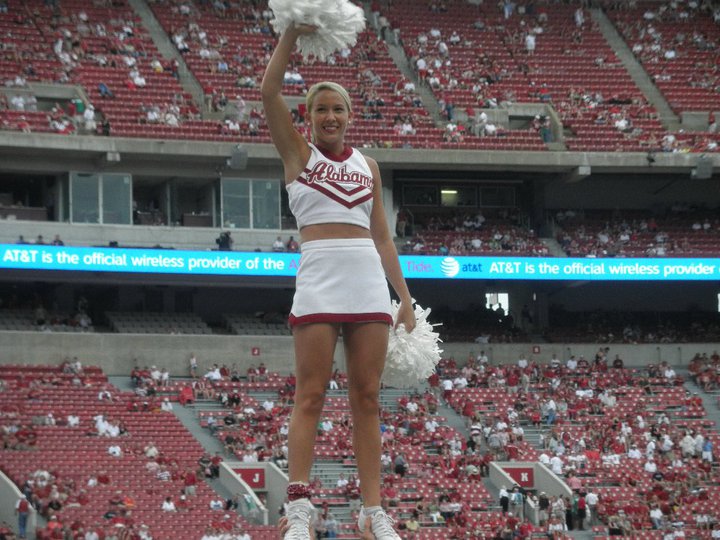 O'Connor cheers on the Alabama Crimson Tide in Bryant Denny Stadium.
After high school, I moved on to cheer one year at the University of Kentucky before realizing my true home was a little further south in Tuscaloosa, Alabama. I was a member of the University of Alabama cheerleading team from 2009-2013.
During my four years of college, I was lucky enough to cheer for three BCS National Championships and win one with my team as well. I also was a member of the USA National Coed team for two years and USA All Girl for one year. Competing for my country is definitely one of my most memorable and humbling experiences.
Ryan's Cheer Titles
​UCA National Champion: Paul Laurence Dunbar High School 2005, 2006, 2007, 2008

UCA Group Stunt National Champion: 2006

KAPOS State Champion: 2005, 2006, 2007, 2008

CHEERSPORT: 2 National Championships with Pep Club All Stars

UCA College National Champion: University of Alabama 2011
ICU World Champion: 2011, 2012, 2013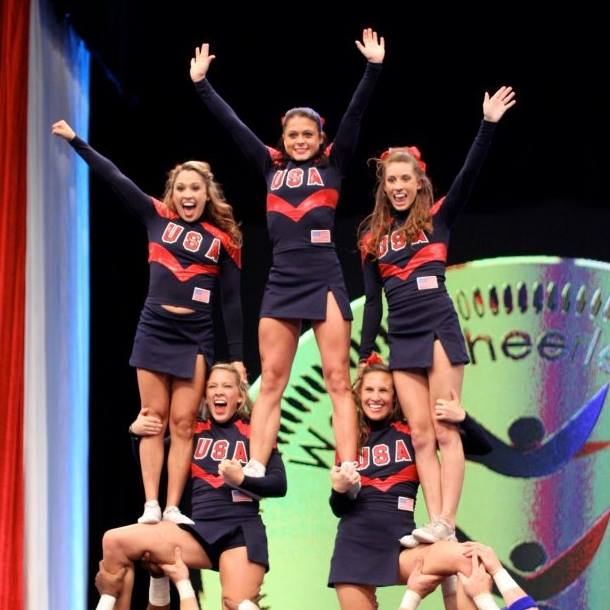 O'Connor mid layers a pyramid with the U.S. National Team at the ICU World Cheerleading Championships.


When did you know you wanted to become a coach?
Honestly, coaching was never my dream. I always thought that belonged to my mom. I turned down two GA positions to coach right after graduation and went to Memphis to work as the editor of American Cheerleader Magazine instead. Once I was there, it didn't take me long to realize that I missed teaching and working with young cheerleaders. There is no greater feeling than watching someone reach their goals and knowing that you might have had a hand in it. I had some of the best coaches throughout my career and I would love to be able to help athletes in the way they helped shape me.
Coaching is not a job that you do for money and it is not a job that is for the weak-hearted. It is by far the biggest challenge in my life, but I am loving how much I am learning from my athletes.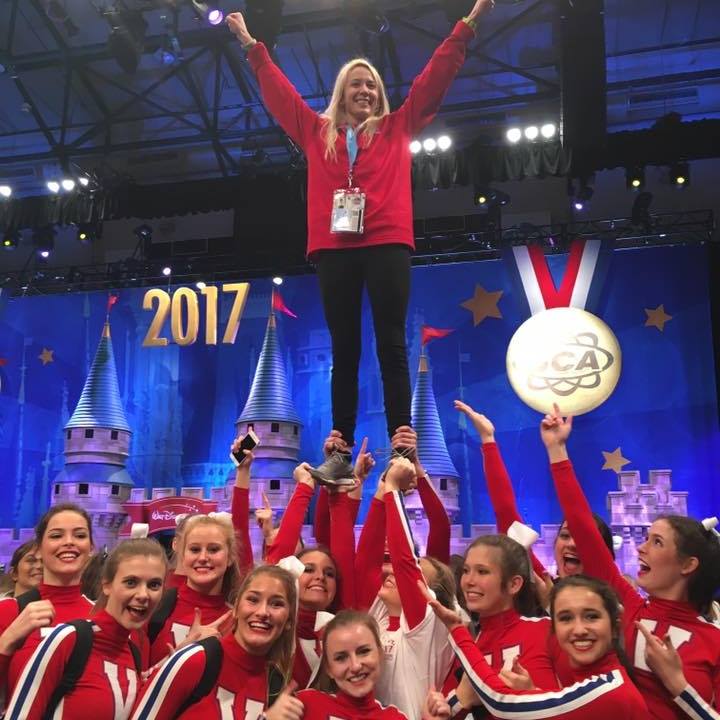 Ryan goes up in a stunt with Vestavia Hills High School at the 2017 National High School Cheerleading Championship.
How excited are you to take on your new position with Ole Miss Cheer?
I am truly honored to be the head cheer coach at the University of Mississippi. Sometimes it still doesn't feel real! It is incredible to be at a school that is so rich in tradition and history and I can't wait for my first game day in the Vaught! Campus is absolutely beautiful and I still find myself looking around and smiling! I have two extremely talented cheerleading teams and a great mascot program. I am looking forward to leading them to success on the field and the competition mat.
What are some of your goals as a coach? What do you hope to bring to the program?
As a coach, my goal is to make a difference. I hope to make a difference in the athletic department, across other departments on campus, in our game day atmosphere, in competition, in the classroom and in my athletes' lives. I hope to bring a new energy and a new way of thinking when it comes to game day and competition. I hope to have a 100% graduation rate and for my athletes to leave my program having learned something that will help them contribute to society after college. I hope I still get phone calls 20 years from now from one person saying, "Thanks, coach."
What is your favorite part about being a coach?
My favorite part about being a coach is the relationships you create on campus and with your team. I truly enjoy listening to young people interact with each other and watching them navigate through life!
There's always a conflict, a personal struggle, a breakup with a boyfriend or girlfriend, or something that one of them goes through that I have also been through. It's fun to be a part of those years when they are starting to figure out their purpose and what they want to do with their lives! Watching people you love succeed inside and outside of cheerleading is why I love to do what I do.
What is your favorite cheerleading memory?
I have so many memories with cheerleading that it is hard to pick just one! I would say that having a mother who is also a coach has been the best part. When she was my coach there were DEFINITELY difficult times, but at the same time, it was special to have a mom who understood everything we were working toward. She not only understood why we were practicing so hard, she was in charge of motivating us to do so! I think her dream for me was to be a UK cheerleader my whole life… and when I transferred to Alabama, I felt like I broke her heart. In 2011, when we won nationals, she was the first person I found to hug in the crowd and I knew her dream was really just for me to be happy, no matter what team I was on.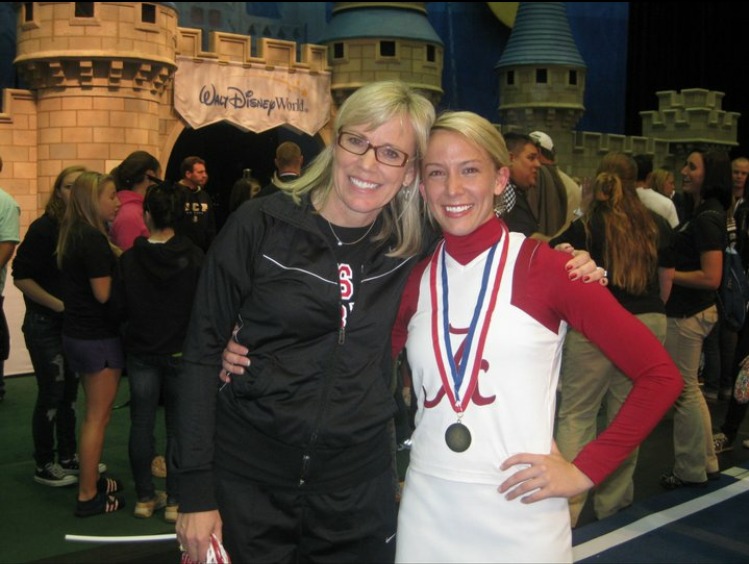 Ryan and mother Donna embrace after Alabama wins 2011 National Championship.
Who is your inspiration?
Donna Martin (my mom). Hands down. I grew up watching her coach so many athletes, putting up with difficult parents, finding ways to fundraise so that every child would have the opportunity to cheer, sacrificing her time with family and friends and so much more. She is the most positive person you have ever met, even through some very difficult times in her life. You would never know that anything has ever been wrong she always shows up with a big smile on her face. She always sees the best in people and when someone like that believes you are good, you want to be! You don't want to let her down. I am grateful to her as a mother and a coach.
Welcome To Our House: Ole Miss