Yes, October is for pumpkin spiced everything, layered looks, and Friday night lights, but it's also a month dedicated to Breast Cancer Awareness. It's a time to put on your favorite shade of pink and get out on the sidelines to raise awareness and funds for the cause.
Here are fun and functional ways to raise funds to fight breast cancer on game day.
Wear Pink & Collect Donations at Halftime!
Swap your school colors for pink to help raise awareness and raise some funds. Get your student section involved and plan a pink out to cover the stands in vibrant fuscia.

Test Your Face Painting Skills
This is a game day classic that's proven successful in raising funds. Before the game and at halftime, offer to paint pink ribbons on faces for a donation in return. All you need is pink face paint and some willing participants!
Rainy days at Varsity HQ have us dreaming about clear skies & custom logos! #LetsGoPink https://t.co/SDyZ8I0M4H pic.twitter.com/KvPMxlVeTL

— Varsity Fashion (@VarsityFashions) November 7, 2017
Organize A Bake Sale
A bake sale is another long-standing fundraising tradition that everyone loves. Take this time to put those Pinterest pins to the test. Challenge the team to create pink treats that are eye-catching as well as tasty.
Bake sale all week. The class of 2020 and BMC dig pink! #GoBengalsBMC pic.twitter.com/hgwuzZFo4D

— BMCCHS (@BMCCHS) September 30, 2018


Shoot-a-thon
What you'll need: pink hula hoops and miniature footballs (plastic or squishy). Offer footballs for a donation as the stands fill for kickoff. During halftime, the cheerleaders can hold out the hoops while fans throw their footballs through the hoops for pink prizes.


Pink Pancake Breakfast
Who doesn't love pancakes, especially when they're pink? Host a pancake breakfast over the weekend at your school. Ask for access to the school's kitchen and start cookin'. Get fancy and top them off with strawberries and whip cream. Pre-sell tickets to the event or accept donations at the door.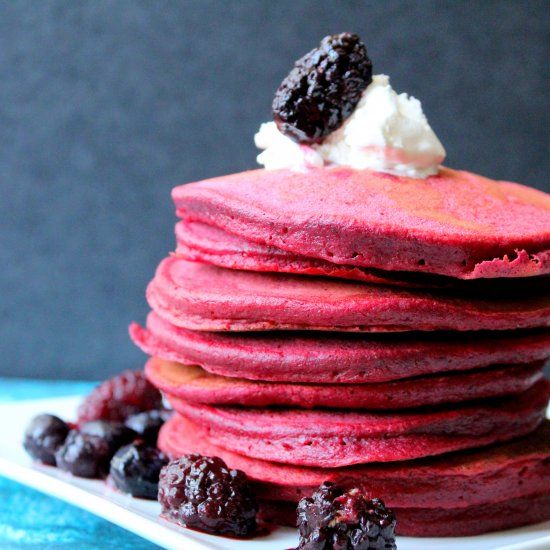 Photo by: foodgawker.com
Pink Pumpkins
Take pumpkin carving to the next level with this fundraiser. Have each cheerleader create his or her own unique pumpkin using pink embellishments. The only requirement for the contest is that the pumpkin is pink.
Get creative carving, gluing, bedazzling, stacking, and anything else you can imagine. Auction off the pumpkins during your pancake breakfast or the game!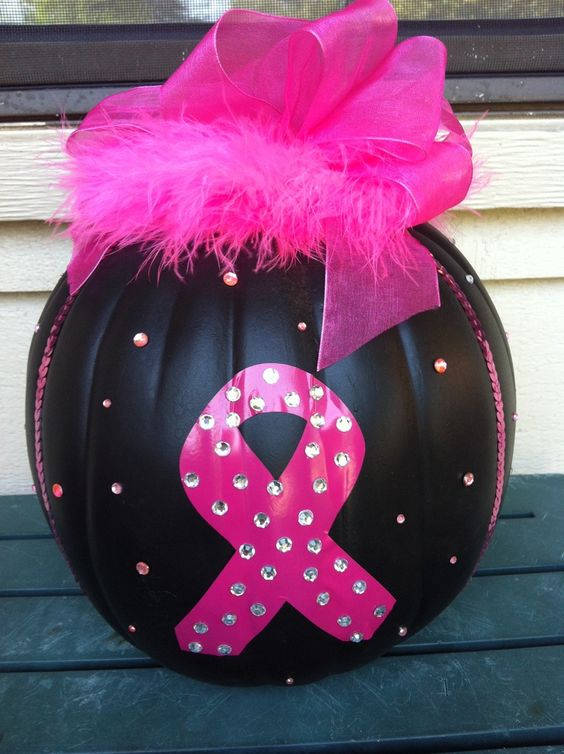 Photo By: Lisa Cisneros
Selfless Selfies
Getting paid to take a selfie? Sign me up! Before the homecoming football game or during halftime, walk around and receive donations for selfies with the fans. When the team is decked out in pink face paint, pink poms, bows, and everything in between, the crowd will love a photo op!

Pink Penny Campaign
Place pink, decorative jars outside of participating teachers' classrooms. The teacher with the most money in their jar at the end of the week will have to return to school the next day in head-to-toe pink.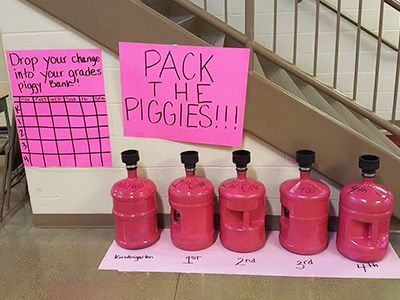 Photo By: PTOtoday.com
We hope you love these fundraising ideas and decide to try a few of them out!