"Camping Across the Country" is a series of stories and experiences of the varsity cheer and dance staff as they travel around the U.S. to teach summer camps. They have fun, meet new friends, and make memories that last a lifetime. Join them on their journey!



UCA CAMP AT TRAILS END!
UCA STAFF: Adam

LOCATION: Beach Lake, PA
Hey guys! My name is Adam and I'm a UCA instructor from Florida. After I finished instructing camps throughout the Southeast region, I packed my bags and flew up to the Northeast for a one-of-a-kind camp experience in the woods!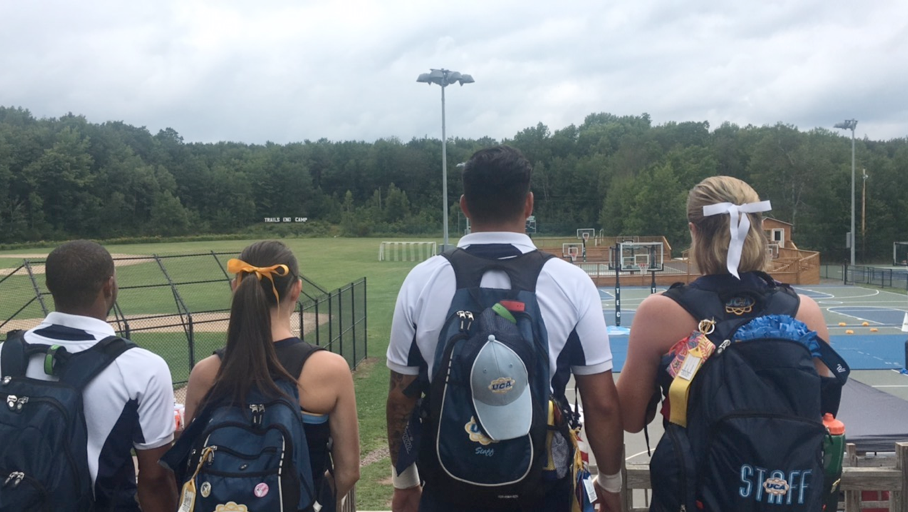 ​The UCA Staff getting ready to take the mat on the basketball courts for opening demos.
Cheer "camp" has a whole new meaning when you're actually staying in cabins with some of your closest friends! Along with this, campers must make a packing list of bed sheets, pillows, blankets, sunscreen, and bug spray.
Trails End is one of the few camps where the entire camp takes place outside. From opening demos to final day, make sure to pack sunscreen and plenty of water!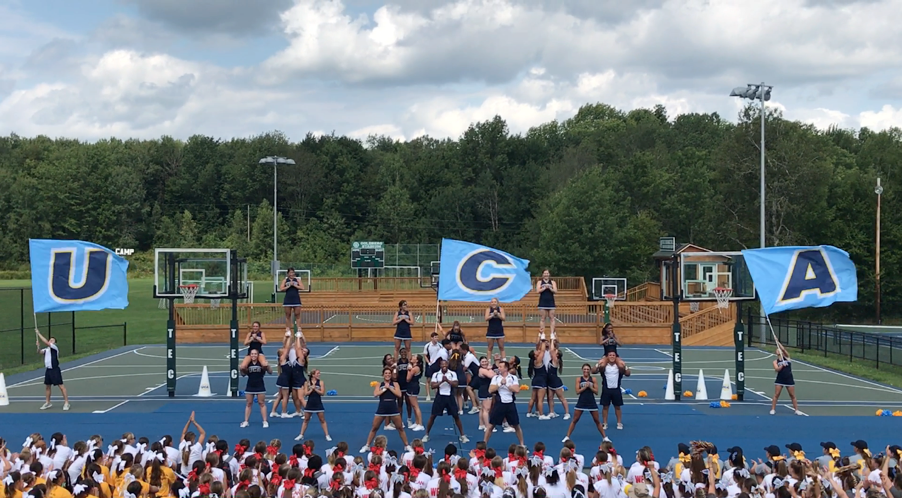 There's no better feeling than hitting an opening demo!
It takes a ton of planning to pull off a successful camp outdoors, such as taking into account the weather. In the woods it can start raining out of nowhere, so having a backup rain schedule is a must. The teams are split into three groups, and continue camp as normal inside one of the three rain venues. Camp this year had the special treat of not only having a regular schedule and rain schedule, but on August 21 also having a Solar Eclipse schedule! Camp continued as normal inside of the rain venues, but Minnetonka High School from Minnesota brought special ISO approved "eclipse glasses" that they shared with the other campers and staff!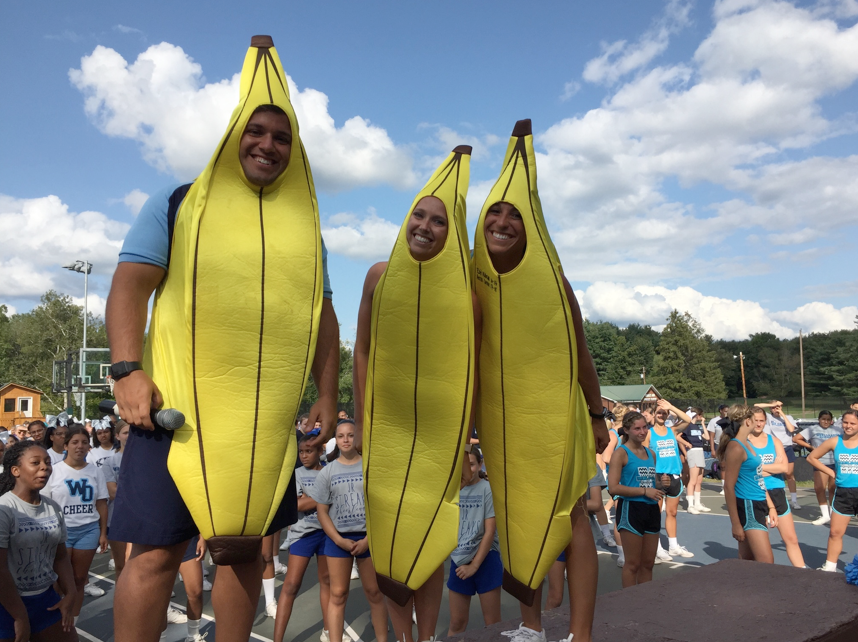 ​Scarsdale High School shared their banana costume with the UCA staff during hip hop class.

Trails End cheer camps have been going on since 1970, and there is a lot of tradition within these camps.
The menu for breakfast, lunch, and dinner remains the same on each camp for each year, so campers can look forward to their favorite meals! Chicken nugget day is a staple for lunch on day two, along with the camp-wide cookout on night three where hamburgers and hot dogs are grilled outside and kids and coaches can enjoy the beautiful weather. But the star of the Trails End menu is available every day and all day long: the chocolate milk. Kids, coaches, and staff walk away with handfuls of cups of the stuff!
On night three, there's a talent show between the teams! It's after the Spirit Sticks and Banana have been awarded, and held on the stadium-style basketball court. Each team -- Varsity, Junior Varsity, Junior High, etc. -- can have one entry into the talent show that can consist of a solo performance all the way up to the entire team showcasing their talent! It's a great way to unwind after day three and get ready for final day.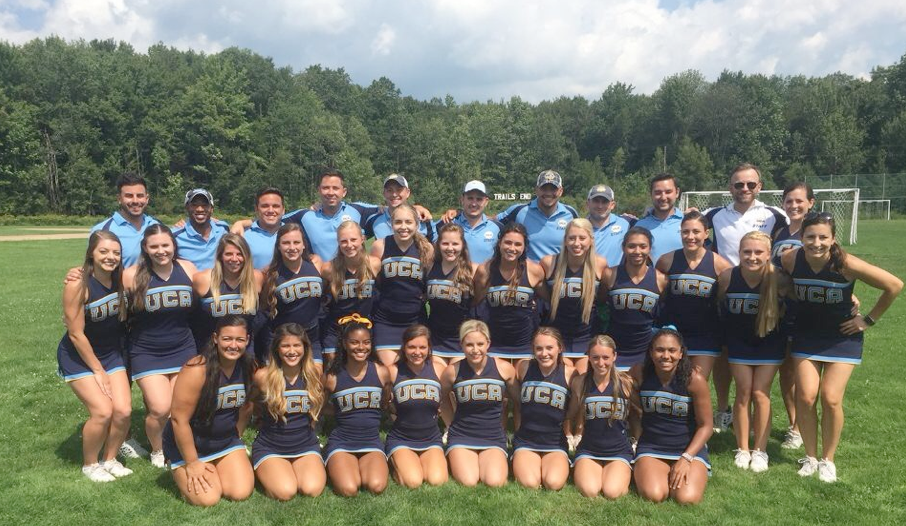 ​Ending Trails End Elite with a staff picture!
Trails End Elite, the ninth camp of the summer, is host to a plethora of teams that frequent the National High School Cheerleading Competition in Orlando each year. Teams come to camp to learn some of the newest stunts, tranisitions, and pyramids, while their coaches get the low down on the newest rules and scoresheet changes. Even with all of these highly competitive programs, the camp is full of comraderie and cheering each other on throughout the entire week! It's great seeing everyone form friendships that will last all the way to Nationals.
Trails End cheer camps are a great way to bond and learn as a team. All the memories made and skills learned set up each team for success with the rest of their season!
-UCA_adam
Check back next week for more summer camp blogs from Varsity camp instructors!