Hurricane Harvey dealt the Houston area a big blow in August 2017. The surrounding communities are still rebuilding to this day.
One all star gym that was hit hard by the storm was Horizons Dance-Tumble-Cheer, Inc. The gym got approximately 44 inches of rain. Every bit of equipment, furniture, flooring, and supplies was lost. They had to completely rebuild their home.
The athletes, families, and coaches had to evacuate Orange, Texas, when the storm hit. Horizons owner Cheri Billiot was out of town when she received a picture of what was left of her gym.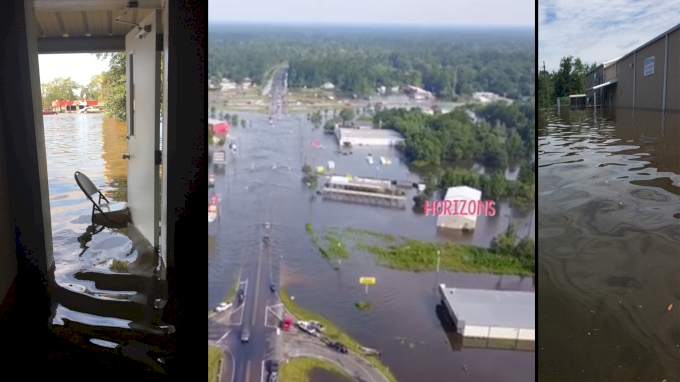 "It was devastating to see," Billiot said. "The gym is our home; we are probably there more than at our actual home. It really hit me that if we had that much water, our area had to have just as much or more. For once in my life, I was without words."
Horizons began the rebuilding process about a week later when they could make it back to their gym. The gym was pretty much trapped, no way in and no way out—there was water everywhere. Families and members of the community joined together to help tear down and rebuild the gym from the ground up.
The all star cheerleading community played a big role in the rebuild of Horizons.
"We were able to go to Houston along with a few of our athletes that volunteered to go and help with organizing the donations that were coming in for All Stars United for Harvey," Billiot said.
Once the water receded, Horizons set up their own tent and booth outside their gym to collect donations and give back to others who were affected by the storm.
Over two months later, Horizons held their grand reopening to welcome their athletes home.
"It was unbelievably emotional. They were excited to be home! Lots of tears, hugs and just pure joy. It was a great day, one we will NEVER forget!"
Special thank you to our Varsity family for coming to help us celebrate our reopening!❤️💙❤️💙#hldbwh #varsityallstar ##varsityallstarfashion pic.twitter.com/NcqkwLjFQq

— Horizons HEAT (@horizonsheat) October 30, 2017

After the rebuild was complete, it was time for the teams to get back into practice.
"It has honestly been one of the toughest seasons for our competitive girls," Billiot added. "We had just completed choreography the week before the storm hit and to be off over two months was physically and emotionally tough on the girls."
With athletes still living in campers or hotels trying to get their own homes rebuilt, it took a while to get their routines ready for competition.
Rebuilt and ready to go, Horizons took the mat at the American Championships, where they earned their at-large bid to The D2 Summit.
"I do believe that cheer is what has held them together and given them a bond like no other season we have had. We were thrilled to have a team receive a bid to D2 Summit!"
With their bid in hand, Horizons is ready to take in the experience in Orlando and celebrate their tough season as a team at The D2 Summit.
"They are extremely excited to be able to share the Disney experience together," Billiot said. "There are four athletes on this team that as I write this are still in either a camper or hotel and three more that are living in homes that are not quite finished. They are ready to have fun together!"
Horizon's goal is to go out and perform a good, sharp, clean routine, leaving everything they have on the floor.
"These young ladies have learned lessons this year that are far more valuable than anything they will ever experience. They have been able to see firsthand that you must always push forward. There is always light at the end of the tunnel!"
Will this inspiring gym see the light on the "Horizon" and take home a title at The D2 Summit 2018? Be sure to cheer on this program and watch them compete live at The D2 Summit on Varsity TV!