The University of North Texas spirit squad went to NCA & NDA College Camp at SMU in 2017 ready to take on camp together and prepare for the season ahead.
UNT's assistant cheerleading coach, Danielle Lemmons, was just a little over three weeks away from giving birth to her first child. With her expected due date being August 16, Lemmons went to camp in July ready to get to work with her team.
"I remember Tiffany, the SMU head coach, telling me on Day 1 that I couldn't go into to labor at camp," Lemmons laughed. She replied, "Don't worry, there is no way I'll go into labor this weekend."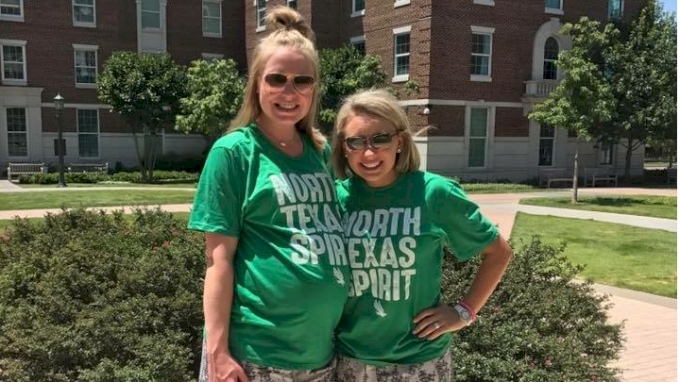 University of North Texas cheerleading coaches on Day 1 of NCA Camp at SMU in 2017
That same day, Danielle went into labor at camp and gave birth to her son Wyatt Matthew Lemmons later that day in Dallas.
It's safe to say her team was overjoyed with the news and excited to be meet their newest member.
"They all felt like it was their nephew or niece being born that day," Lemmons said. "They all call Wyatt their baby and love seeing him grow."
The team has been invested in Lemmons' pregnancy from the very beginning. Lemmons and the other UNT coaches planned a surprise for their athletes in January to announce the pregnancy.
"We surprised them was by telling them they were getting new uniforms for Daytona," Lemmons explained. "When the mat captains opened the box, they were shocked to see UNT Cheer baby onesies. It was so awesome!"
Watch the surprise baby reveal here!
A year later, Lemmons and her son went back to SMU for camp and celebrated his first birthday surround by hundreds of adoring cheerleaders and dancers.
"It was a wonderful surprise when the entire camp sang happy birthday to him! I was in complete shock," Lemmons said. "I will cherish that video forever. His first birthday will be something to remember always."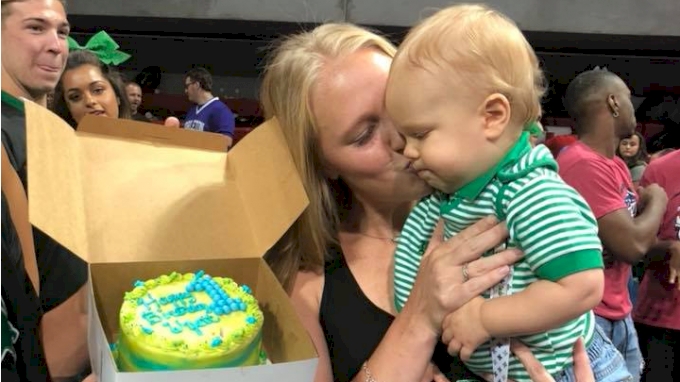 When a college cheerleading coach has a child they instantly gain 20-plus babysitters.
"They absolutely love having Wyatt around," Lemmons added. "When he comes to practice and they just love on him. They have enjoyed watching him grow from being a baby that just lays there to actually crawling around and having a personality. They missed him dearly this summer when we weren't practicing. The team is excited for us to start practices up again, so they can see him on a weekly basis."
Wyatt is only 1 year old and he already has cheer in his blood. Is he destined to be a cheerleader when he grows up? Lemmons said she isn't opposed.
"He can become whatever he wants to become. If that's being a cheerleader, that's awesome! If not, I know UNT Cheer will hold a big place in his heart. He loves the cheerleaders like they are his family."