UNIVERSITY OF FLORIDA
Gainesville, FL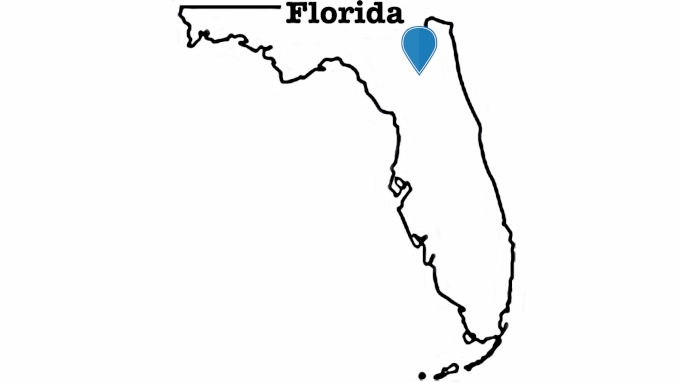 COACHING STAFF
Head Cheerleading Coach: Cortnee Gilchrist
Coach's Contact Info: 

Phone: (352) 692-6412
E-mail: cortneeg@gators.ufl.edu
Head Dance Coach: Casey Reed
Coach's Contact Info: 

Phone: (352) 375-4683
E-mail: CaseyR@gators.ufl.edu
SPIRIT SQUAD DETAILS
Website: floridagators.com/spirit
Team Colors: Orange and Blue
Team Mascot: Gators
Sports Conference: SEC
Programs Offered: Large Coed Cheer, Dance Team, Mascot.
Social Media Handles:
CHEER DETAILS
The University of Florida has two co-ed cheerleading squads. The Blue squad, composed of six to eight females and six to eight males, cheers for football, men's basketball, volleyball and gymnastics. The Blue squad also makes regular appearances representing the University at alumni, athletic, charitable and public relations activities. The Orange squad is composed of six to eight females and six to eight males, cheers for home football games, volleyball, women's basketball, and gymnastics. The Orange squad also makes regular appearances representing the University at alumni, athletic, charitable and public relations activities.
Practices
Both teams will practice 2-3 times per week and work on tumbling and stunting skills, as well as preparing for various upcoming appearances and games. Practice times and days will vary each semester depending on facility availability and events. All practices are held inside the O'Connell Center. Practice days and times for the 2014 summer sessions will be announced after the 2014-2015 team is chosen.
Workouts
So that everyone remains healthy, the cheerleaders follow an individualized work-out program developed by our strength and conditioning coach in the South End Zone Weight Room. Both teams condition 2 times per week during scheduled squad appointments. Gainesville Health & Fitness Center also provides both squads with memberships to accommodate fitness needs outside of scheduled workouts.
DANCE TEAM DETAILS
The Dazzlers are the official dance team of the Florida Gators and serve as representatives for the University Athletic Association at various athletic and community events. The Dazzlers perform and make appearances at football games, volleyball matches, gymnastics meets, home baseball weekend series', and all men's and women's basketball games. Additionally, team members volunteer in the community through the UAA Goodwill Gators program on a monthly basis as well as make appearances in an official capacity approximately once per week. Each year, the Dazzlers travel with the men's and women's basketball teams to the Southeastern Conference basketball tournament as well as the NCAA post-season tournaments.
Dazzlers must maintain a minimum 2.5 semester and overall GPA as well as UF full-time student status in order to be eligible for participation and scholarship. Scholarship amounts are calculated based on years of participation and team leadership. The Dazzlers typical weekly schedule consists of three morning workouts, three practices, one appearance, and two to three sporting events. All events are awarded based on performance, work ethic, and dedication to the program with members auditioning daily for placement and game assignment. Individuals are expected to maintain a high level of performance and physical fitness at all times as well as excel in teamwork and accepting corrective criticism from staff and peers.
MASCOT TEAM DETAILS
Albert and Alberta are the Florida Gators' biggest fans! You can spot these fuzzy alligators supporting athletics at most home sporting events. During post-season travel and tournaments, Albert and Alberta can be seen cheering on the Gators from the sidelines. The dynamic duo also represents the University at a variety of social and charity events, both on campus and in the Gainesville community.
SCHOLARSHIP INFORMATION
Scholarships Offered: Yes (Cheer, Dance and Mascot)
Cheer Scholarship Details: The University Athletic Association, the Gatortown Gators, Title Town Gators, and Mr. 2 Bits provide partial scholarships for both the Orange and Blue Team at the end of each semester. These scholarships are awarded based on years of participation, scholastic achievement and financial need.
TRYOUT INFORMATION
CHEER:
Clinic & Tryout Dates: One clinic takes place in the Fall and 2 in the Spring. Tryouts are in the Spring and are usually around May.
Both squads are selected from tryouts in the Spring. The try-out process will last for three days - Friday evening, Saturday, and Sunday. ALL events will be CLOSED to the public.
General Tryout Requirements: You must be a full-time University of Florida student with a minimum grade point average of 2.5, semester and cumulative. If you are an incoming freshman or an incoming transfer student you must have an official letter of acceptance attached to your application. All students currently enrolled at UF must attach a copy of their student ID.
Cheerleading Tryout Requirements
You must be a full-time UF student or incoming student with an official letter of acceptance from the University of Florida.

If you have applied as a transfer student and will not find out if you will be accepted till June 2018 for the Fall 2018 semester, you ARE permitted to tryout. Please bring an online printout of your "Application Status" to tryouts.
Female Minimum Skill Requirements:
Stunting
Toss Chair
Toss Toe Touch
Shoulder Sit
Opposite Leg Chair
Walk In Chair
Toe Touch Pop Off From Chair
Tumbling
Standing Back Handspring
Roundoff Back Handspring Series
Male Minimum Skill Requirements
Stunting
Toss Chair
Toss Toe Touch
Shoulder Sit
Tumbling
Roundoff
Handstand
Participants will also be judged on interview, crowd appeal, and cheer skills.
DANCE:
Audition Requirements:
All Dazzlers are expected to perform with the highest level of dance technique. Members must be able to learn choreography quickly and memorize several routines at a time. Dancers must concentrate on sharpness, body placement, technique and coordination without sacrificing energy or style. All Dazzlers must show a consistent, captivating performance that is defined by court appeal, enthusiasm and overall performance value.
The Dazzlers perform a wide range of dance styles and various aspects will be evaluated in the audition process. Technique requirements include a solid double pirouette, calypso leap, fouette turns, and front and side kicks. Dance styles evaluated will include HipHop, Jazz, and Pom routines.
MASCOT:
The final team is made up of 8-10 members. Potential returning members must audition each year and are not guaranteed a spot on the team. A returning member's commitment, effort and performance throughout the previous year will affect their eligibility to return to the squad.