When it comes to finding success on the blue mat, a team's reputation can be as important as the skills that are being put on the floor. Top teams at every level of the sport are constantly under a microscope, largely due to the evolution of social media and smartphones, which allow us to see any routine, anywhere, as soon as it is performed.
So, how does a team become one that gets the Instagram following, a crowd of adoring little eyes as you warm up on the football field at All Star Sports, and most importantly, the screaming fans? The answer all lies in that one breakthrough moment that can change a team's destiny forever. At the 2018 UCA Mile High Championship in Denver, Fossil Ridge Varsity might have just had their moment.
FRHS has been on the rise for several years, garnering attention along the way with a clean style and respectable finishes. There has never been any doubt that they had the potential to climb up and claim a place at the table of the heavy hitters club.
The problem has been that the special, over-the-top moment where the whole place stops and takes notice, hasn't quite happened yet. That is, until Mile High.
For the first time in history, the Sabercats won their regional qualifier, taking home the top spot in Large Varsity. They set the tone for the rest of the season, with the state championships coming up in one month and the UCA National High School Cheerleading Championship later this winter.
Finally, it looks like Fossil Ridge is ready to grab the spotlight.
Head coach Nikki Rodriguez has been grooming this squad for success by taking the right steps through progression.
"A lot of them have been through this program since freshman year, but only one athlete has been on the [competition] mat all four years," she told us.
She has been instilling the value of earning a spot on the varsity squad, and not rushing talented athletes through. The success of her JV program, which became state champions last season and is on its way to nationals this year, has been vital to creating the strongest possible varsity program.
She has been playing the long game, creating a culture that has allowed the athletes to grow into their roles, finding the confidence to belong at the top along the way.
In order to get her athletes to be a top team, Rodriguez has had to get them to believe that they belong. When you're constantly surrounded by social media comparisons, making waves as newcomers can be the hardest part of the job.
"We really struggled with our confidence for a while. We'd look at those powerhouse schools and be like, 'Wow we could never be them,'" she said.
Rather than succumbing to that mentality, however, the Sabercats have taken a new approach: They have turned the focus inward on themselves, rather than focusing on what they cannot control.
"We focused in on technique with high expectations for cleanliness, and it's finally clicking. [The girls] take great pride in the details, and that's where our focus is."
The work and focus are paying off, as evidenced by one of the strongest performances of the entire weekend. For the team, the proof that they truly belong couldn't have been any clearer.
Looking at the rest of the season, the challenge now lies in keeping the momentum going. With 10 seniors on the mat, Rodriguez is confident that their newfound belief and support for each other is going to carry them through to where they want to be.
"Our seniors have been such good leaders, and they all love each other. They know that every one of their teammates is going to give 150 percent every time. When that happens, it's easy to go out there an be confident in what you're doing, and I think you can see that on the mat from us this season."
Additionally, she's quick to point out that she has a support system unlike any other. She has a coaching staff that is made up entirely of athletes that she has coached through the years. Matched with technique camps and choreography from Bryce Seals, there is an army of Sabercat support driving them towards positivity and success. The united front, common goal, and past experiences are all coming together to create something really special this season.
These next few months will be fascinating to watch, as the tone is set for a major breakthrough season for the Sabercats. As long as they continue down the path they are on, there's no reason to think that they won't find every bit of success that they have been working towards. If their performance at regionals was any indication of what we have to look forward to from them, they will definitely be a team on everybody's watch list.
There's no doubt that this season will be a special one for Fossil Ridge, and you'd better believe it.
Watch Fossil Ridge Varsity's Winning Mile High Routine!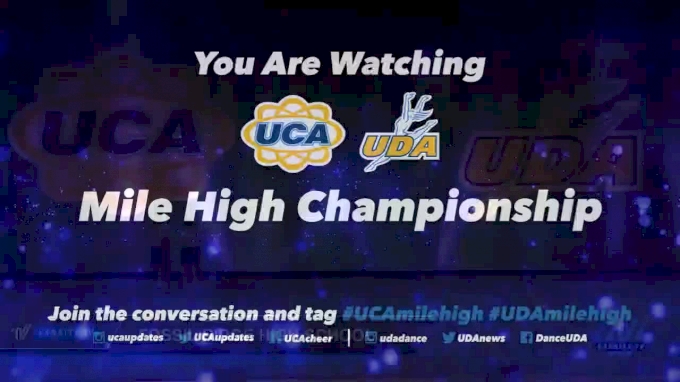 ---
By: Thomas Parrott