It's been almost one year since the University of Cincinnati won its first-ever Coed Division lA Game Day Championship title, and the Bearcats are headed back to Orlando to defend their title.
Cincinnati brought the spirit at the championship in 2018 when it performed a situational sideline, a game day timeout and the university's traditional school fight song.
"It was really exciting to be the first-ever Game Day Champions at UCA College Nationals," said Cincinnati head coach Tabatha Fagan. "The athletic department presented us with our national championship rings at a football game this fall and the whole team from last year was there to take part in the celebration, even those who graduated and have since moved out of Cincinnati."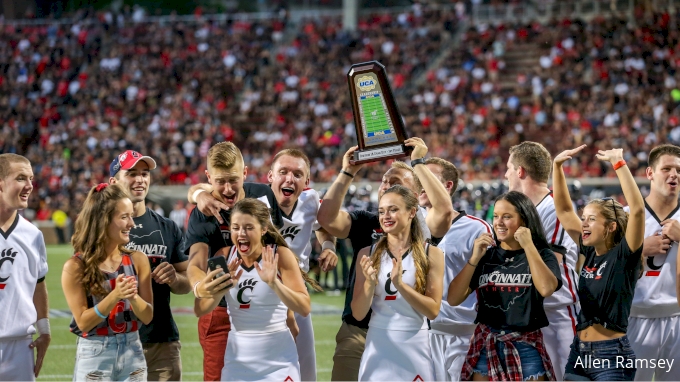 Photos By: Allen Ramsey

UC's Mascot, The Cincy Bearcat was also honored during the game with his own mascot-sized ring.
"Our mascot is so creative," Fagan said. "He asked for a mockup of the ring ahead of time so he could create a giant replica just like the one he was going to receive for being a part of the championship team. He is always an integral part of our game day traditions at UC."
2018 was the first year for the Game Day Championship at UCA & UDA College Nationals, and the Bearcats went all out to show the world what game day is like back home in Nippert Stadium.
"We have preached game day since I was a cheerleader at UC -- a long time ago! Our program would not exist without the teams that we cheer for on the sidelines. We tell the cheerleaders that all the time and they buy in 100%."
"They come to UC to be a Bearcat first and then a cheerleader second. Eventually, those two mesh together, but that happens because they love UC," Fagan said. "It's easy to do a good job on the sidelines when you are passionate about your school and teams."
Competing in the Game Day Championship in Orlando is a little different for the Bearcats than a regular day on the sidelines because the school has the chance to combine their two squads into one large team for the performance.
"We don't usually have 30 cheerleaders on the same sideline," explained Fagan. "We have a red squad and a black squad, both of which are co-ed. They rotate sidelines and are rarely together in the same spot."
One thing that makes the program so successful in the spirited division is their game day traditions.
"If you came to a Cincinnati football game, you would see all the same traditions performed that we showcase in our routine. We are just able to make it bigger since we have more people to work with!"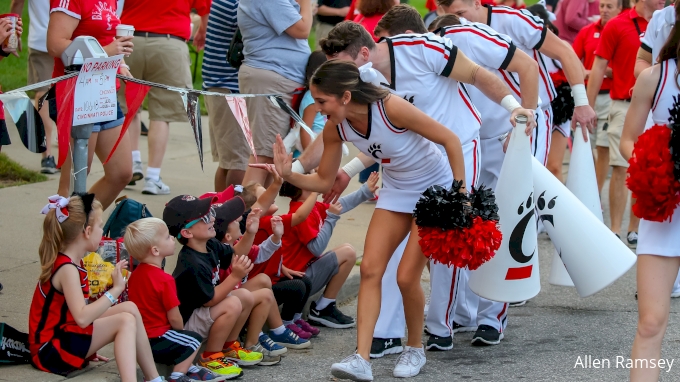 Photos by Allen Ramsey
As a program, the Bearcats have made a goal to continue to develop their skills and grow closer as a team, as well as enhance their university traditions.
"Our team that will be competing in Orlando has set a goal to place in the top five at UCA College Nationals and, of course, we will be defending our Game Day national championship," Fagan said.
The second-ever UCA College Game Day Championship kicks off Friday, Jan. 18 starting at 3 p.m. ET in the HP Field House for the semifinals of the Open Coed and Division lA teams.
Watch the semifinals LIVE on Varsity TV to cheer on the Bearcats through their first round of competition.
Head over to ESPN3 to see how the college cheerleading teams perform in finals starting at 6 p.m. ET.
---
How To Watch
Join Varsity TV PRO now to stream live Varsity TV competitions & events anytime, on any device!
TV: Available on Roku & Apple TV 4 -- download the FloSports TV app now.
*FloCheer PRO subscribers, you can use your existing login to access to all Varsity TV premium content, live streaming competitions and events.