The Rebels from the University of Mississippi have a busy week ahead of them as they prepare to make the trip back to Orlando, Florida, for the 2019 UCA & UDA College Cheerleading and Dance Team National Championship.
Ole Miss is set to bring both its Coed and All Girl squads back to the championship, and each squad will be competing a Game Day routine and a traditional two-and-a-half-minute routine.
Last season, Mississippi's Coed team placed in the top 10 in Division lA Cheer and earned third place in Div. lA Game Day. Ole Miss All Girl earned the program its first-ever national championship title with a big win in All Girl Division lA Game Day!
There is a ton of young talent on the mat for both Ole Miss All Girl and Coed this year with a total of 28 rookies in the program.
"I love getting to work with the athletes that I recruited to come to this program and getting to mold them," head coach Ryan O'Connor said. "Our returners have really started to buy in and I am loving getting to know them better, too."
One strength the Ole Miss Coed team is bringing with them to Orlando is the leadership within the team. "They really stepped it up on the sidelines this year, and it has been fun to see those same leaders maturing during competition season," O'Connor said. "I know they will be successful again this year."
Mississippi's All Girl team is only in its third year of competing and the team's talent has been on a steady rise since the start.
"They are truly more talented this year in every single area, and they impress me more and more each day," O'Connor said. "I come into practice with an idea thinking that maybe they will hit it eventually, maybe [in] a week or two, and then they hit it the second try and I am lost for words! They are SO talented, but I am not sure they realize it yet. I tell them every day how good they are and how GREAT they can be!"
Ole Miss All Girl aims to make it to Finals this season by bringing more tumbling, stronger elites and pyramids to their routine.
O'Connor said she is really excited for the Rebels to showcase their game day traditions for a second year at the championship.
"My favorite part about competing in the Game Day competition is that we get to showcase a little bit of what we do all year round on the sidelines. I love our traditions at Ole Miss, and it's a great opportunity to show them off!"
Watch Ole Miss All Girl's Winning Game Day Routine!
For Ole Miss, practicing for the game day routine is very different than how they prepare for two-and-a-half-minute. "Game Day practice isn't too much of a 'practice' because we are doing things that we do at every football game," explained O'Connor. "It's really just about reminding them of our No. 1 job as college cheerleaders and making sure the little things like sign work and timing are perfect!"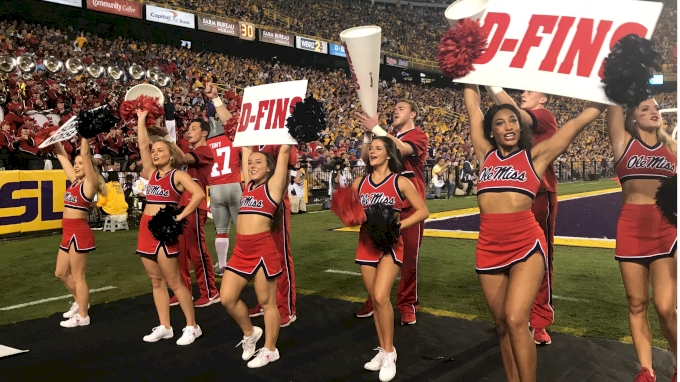 The Ole Miss Spirit Squad cheering on the defense in LSU's Tiger Stadium.
For Ole Miss' two-and-a-half-minute routine, practice is more about the skill level and checking off boxes on the scoresheet. "Those practices are more physically and mentally demanding because you have to be a great game day cheerleader already in order to make this team," O'Connor said.
Last year, Ole Miss made program history by competing three flipping skills in its Coed routine, a first for the Rebels. This year, they are competing three flipping skills again, but with even more difficulty. According to O'Connor, one section you don't want to miss in the Rebels' routine is their pyramids.
"The first pyramid is my absolutely FAVORITE part of our routine and it's something that has never been done."
Ole Miss has a big week ahead of them as the team prepares to execute four spirited routines at the championship, and the Rebels have some big goals that they feel other spirit squads heading to Orlando can relate to.
"I think my team has the same goal as any team across the country, be the best they can be every single day," O'Connor said. "We want to be the best game day cheerleaders on the sidelines, the best ambassadors in our community and perform the best routine we can in Orlando. I just want them to be the best people that they can be and to love their program as much as I loved mine."
Be sure to tune in to Varsity TV Jan. 18-20 to cheer on the University of Mississippi as it takes on the 2019 UCA & UDA College Cheerleading and Dance Team National Championship!
---
How To Watch
Join Varsity TV PRO now to stream live Varsity TV competitions & events anytime, on any device!
TV: Available on Roku & Apple TV 4 -- download the FloSports TV app now.
*FloCheer PRO subscribers, you can use your existing login to access to all Varsity TV premium content, live streaming competitions and events.