Canada's CheerForce Wolfpack is bringing a style and a passion all their own to the Feel The Power East Championships in Ontario this weekend.
In a nation that has grown to be a worldwide force in the cheerleading industry, they have established themselves as a constant threat and challenger. The staff and athletes take great pride in their program, as well as in Canadian cheerleading on the whole. This weekend's event is serving as a launch pad for a few of the CheerForce teams to get them to where they want to be throughout the rest of the season.
Four teams from the program are representing this weekend at FTP. Taking part in the event is all part of the plan for the squads to find their ultimate success. Coach Jess Montoya told us, "The most exciting thing [about this event] is the opportunity to grow and compete against other programs that we don't get to see as often as others throughout the season."
Exposure to different competitors and environments helps to round out the athletes, no matter what their goals may be. "Every single team has an end goal with so much determination, but the journey to get there is what's most important" Montoya noted. With a strong foundation and reputation, the Wolfpack teams are taking that step this weekend.
The teams' journeys are off to a tremendous start after a fantastic Day 1 showing. Top highlights included the return of their Junior 4 team, Prodigy, as well as the renowned crowd favorite International All Girl 5 team, Golden Girls.
Prodigy tore things up as they launched themselves to one of the top scores of the entire competition. Coach Montoya told us, "[Prodigy] is full of talented feisty young ladies ready to prove they are a force to be reckoned with". The force was definitely felt in their division, and in the entire competition. Golden Girls also brought it with their Day 1 routine, earning one of the top Worlds scores of the event, and reminding everyone that they aren't going anywhere.


[WATCH] Prodigy's Day 1 Performance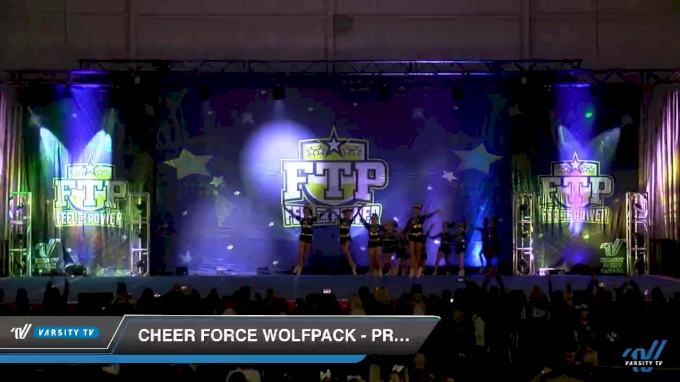 Unlock this video, live events, and more with a subscription!
Get Started
Already a subscriber? Log In
CheerForce's other two teams at the competition this weekend, Reign and Platinum, also impressed in Day 1. Reign, the program's XSmall Senior 5 team, displayed impressive and solid stunting skill on their way to earning a great deal of respect. "This year is truly setting a new standard for our Senior 5 team that we are thrilled to watch them grow into", Montoya explained.


[WATCH] Reign's Day 1 Performance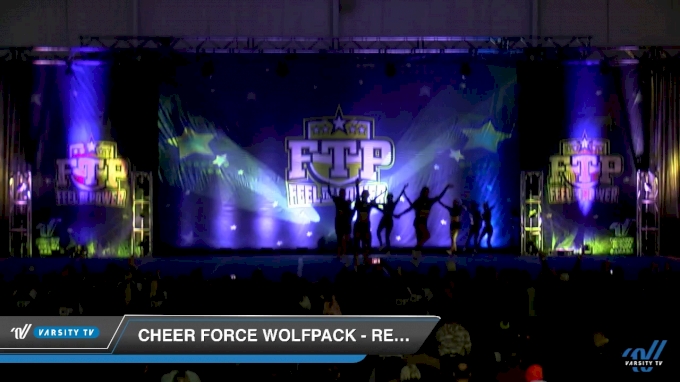 Unlock this video, live events, and more with a subscription!
Get Started
Already a subscriber? Log In
Platinum, the International All Girl Level 6 team, will rely on their persistence to get them to where they want to be this weekend. "Watching these ladies come together and perform the way they have recently, truly sets an example", said Montoya proudly. Both teams will take on Day 2 in excellent position to gain valuable experience and confidence moving into the rest of the season.


[WATCH] Platinum's Day 1 Performance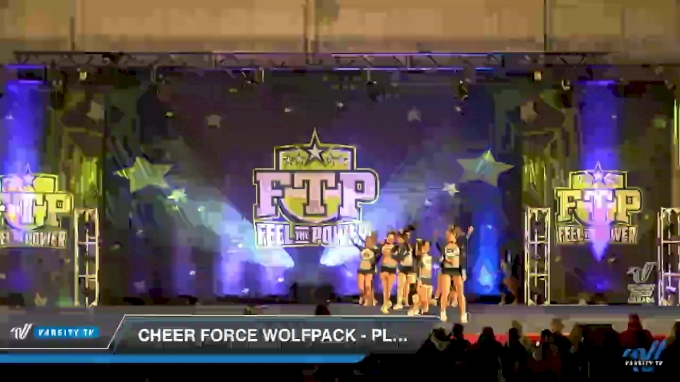 Unlock this video, live events, and more with a subscription!
Get Started
Already a subscriber? Log In
For all of the staff and athletes at Cheerforce Wolfpack, the motto is simple and clear: #workharddreambig. Utilizing the lessons from cheerleading in life is a big part of what they're trying to accomplish. Coach Montoya elaborated, " This sport has an incredible way to develop character, and the CF family has a standard to how our athletes and coaches rise to the top".
Whether they're on the mat or not, everyone in the program is striving for excellence, and it shows. The work that has been put in is allowing them to not only dream but to achieve. For Day 2 at Feel The Power and beyond, the CF way is on display, and it's something special to behold.
---
How To Watch
Join Varsity TV PRO now to stream live Varsity TV competitions & events anytime, on any device!
TV: Available on Roku & Apple TV 4 -- download the FloSports TV app now.
*FloCheer PRO subscribers, you can use your existing login to access to all Varsity TV premium content, live streaming competitions and events.