2019 NCA High School Nationals
Meet The 5 Go Be Great Award Recipients From NCA High School
Meet The 5 Go Be Great Award Recipients From NCA High School
Meet the five Go Be Great Award recipients from NCA High School Nationals 2019!
Jan 29, 2019
by Varsity TV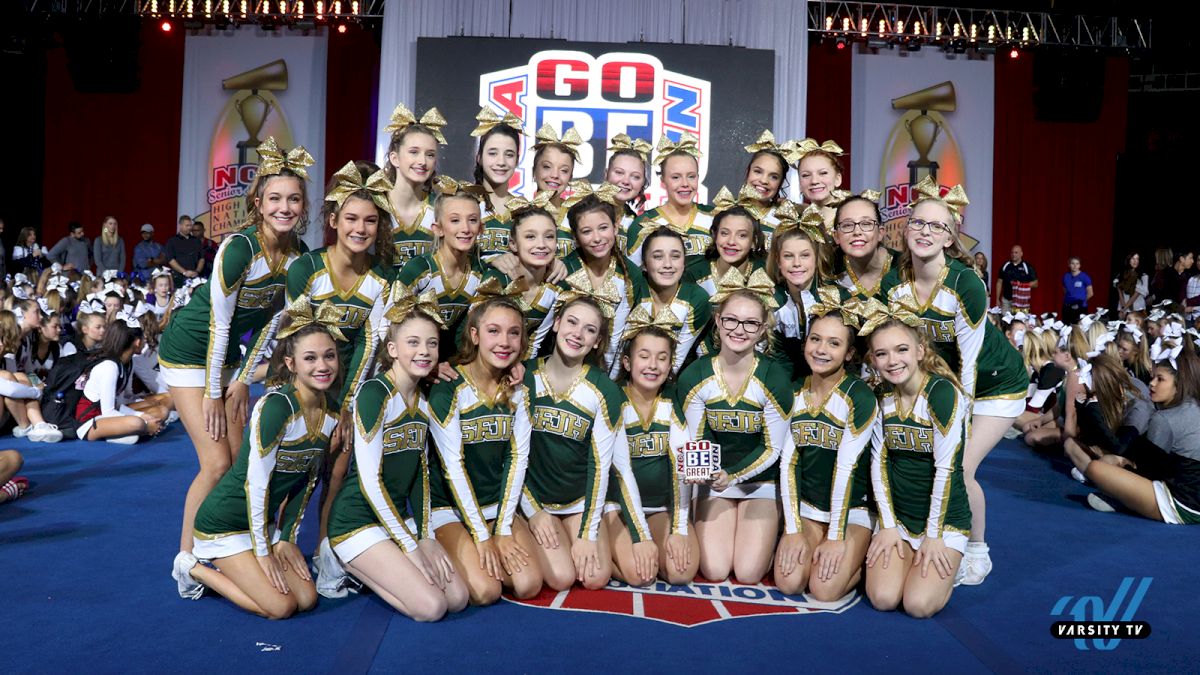 At NCA High School Nationals 2019, NCA awarded five teams the "Go Be Great" Award, along with nominations for 12 other schools. These teams were recognized within six categories: Spirit Raiser, Ambassador, Leadership, Entertainer, Athlete and Crowd Leader.
These programs went above and beyond in their community and exemplified characteristics that show leadership on and off the mat. 36 teams submitted specific memories, interactions and activities from the season that they thought showed these qualities.
The five award recipients were recognized in their division award ceremonies and were interviewed about their stories. Here are the "Go Be Great" Award winners and their stories!
Kittatinny Regional High School
Kittatinny Regional High School is from Newton, New Jersey and entered the Ambassador and Spirit Raiser categories.
"Kittatinny is not a town in which people can live or reside. It is a community: one that covers 140 square miles of northwest New Jersey and includes four sending districts. Bringing 140 square miles together in celebration of all things Cougar Pride can be tough. Our team facilitated our 3rd annual "Spirit Matters" community day. On the Friday before our home opener, the cheerleaders organize the football players and coaches to visit each of the elementary schools within the district as "Spirit Ambassadors" during arrival times to greet the young students, hand out spirit items and invite them to attend our annual community kick-off game the following day. This resulted in a stadium filled to capacity with future Cougars and their families. Raising community awareness and promoting spirit is one of our biggest roles. The Kittatinny cheer team respects our community and encourages all community members to do the same."
Kittatinny Regional High School incorporating flags and stunts in their timeout cheer ? #NCAnationals pic.twitter.com/RM2Mb5AwRg

— NCA (@NCAupdates) January 21, 2017
Americas High School
Americas High School is from El Paso, Texas and entered the Ambassador category.
"At the beginning of the year the coach brought in a drill sergeant to speak to the girls about their goals for this year. Aside from wanting to win a championship, they were very passionate about wanting to improve their image as a team. They wanted to be perceived as kind, generous, intelligent, hardworking, and overall good role models. EACH MONTH they attend a community service project: Making Strides Against Cancer, Candelights Walk of Hope, and monthly visits to assist in our functional life skills unit. Coach says "This has taught my girls the nobility of serving others, and they in turn have developed a deep gratitude for all the opportunities they are afforded as students, as athletes, and as human beings. I am incredibly proud of my girls and the size of their hearts."
Pieper Ranch Middle School
Pieper Ranch Middle School is from San Antonio, Texas and entered the Ambassador and Spirit Raiser categories.
Pieper Ranch Middle School is brand new this year in Comal ISD. The Viper Cheer team helped with events included the dedication ribbon cutting ceremony, 6th grade orientation, and open house. The cheerleaders gave school tours, helped parents and students navigate their way around the new building, taught 6th graders cheers so they would feel confident and more comfortable entering into middle school and led the first ever Pieper Ranch Middle School pep rally! All 1,300 students filled up the courtyard and the cheerleaders entertained the crowd. Coach states "These girls have set the tone for school spirit for the school as well as the expectations for the future of Viper Cheer."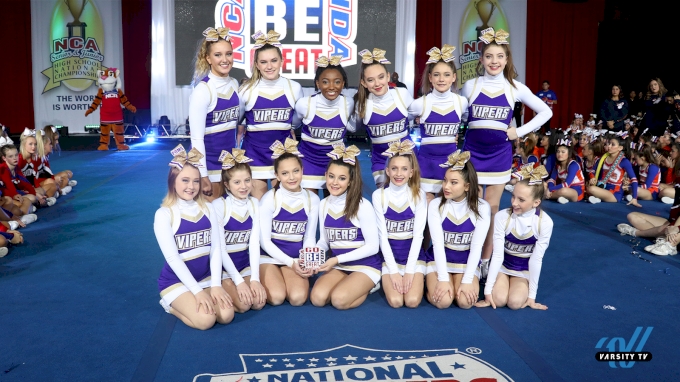 Cascia Hall Prep High School
Cascia Hall Prep High School is from Tulsa, Oklahoma and entered the Ambassador category.
"My senior varsity co-captain, Maci Montgomery, is a huge supporter for Alzheimer Awareness & is moving mountains at Cascia Hall. "
"She organized a Alzheimer's awareness club at school to participate in Alzheimer walk at Tulsa University. The night before the walk she organized an End Alzheimer's THEME NIGHT and arranged for students and parents to wear all purple to a Varsity Football game. Your coach told us that the turnout & participation was amazing and that your passion for finding cure & bringing awareness to such a violent disease is inspirational. Maci is quoted as saying "My heart is full knowing the impact my efforts made in my school and the education that was shared to our school and community about the Alzheimer's disease."
Santa Fe Junior High Indians
Santa Fe Junior High Indians is from Santa Fe, Texas and entered the Spirit Raiser category.
The Santa Fe Junior High Cheer squad helped raise spirits and spread love throughout the community after the tragic events of May 18, 2018. Cheerleaders and their families attended vigils, community potlucks, fundraisers, and they hung ribbons around town to show a symbol of unity. SANTA FE STRONG means that we care, love, and support each other. Throughout this hard time, the team showed their Indian Pride in and out of school. During football season, we made sure to cheer with pride and show the community that we can persevere through anything, because we are strong. They say "To live in Santa Fe, Texas means to be a part of a family, and that if we stick together, we can overcome anything."