2019 USA All Star Championships
Don't 'Blink' Or You'll Miss This Talented Team
Don't 'Blink' Or You'll Miss This Talented Team
Check out CheerForce Blink at the 2019 USA All Star Championship!
Mar 18, 2019
by Varsity TV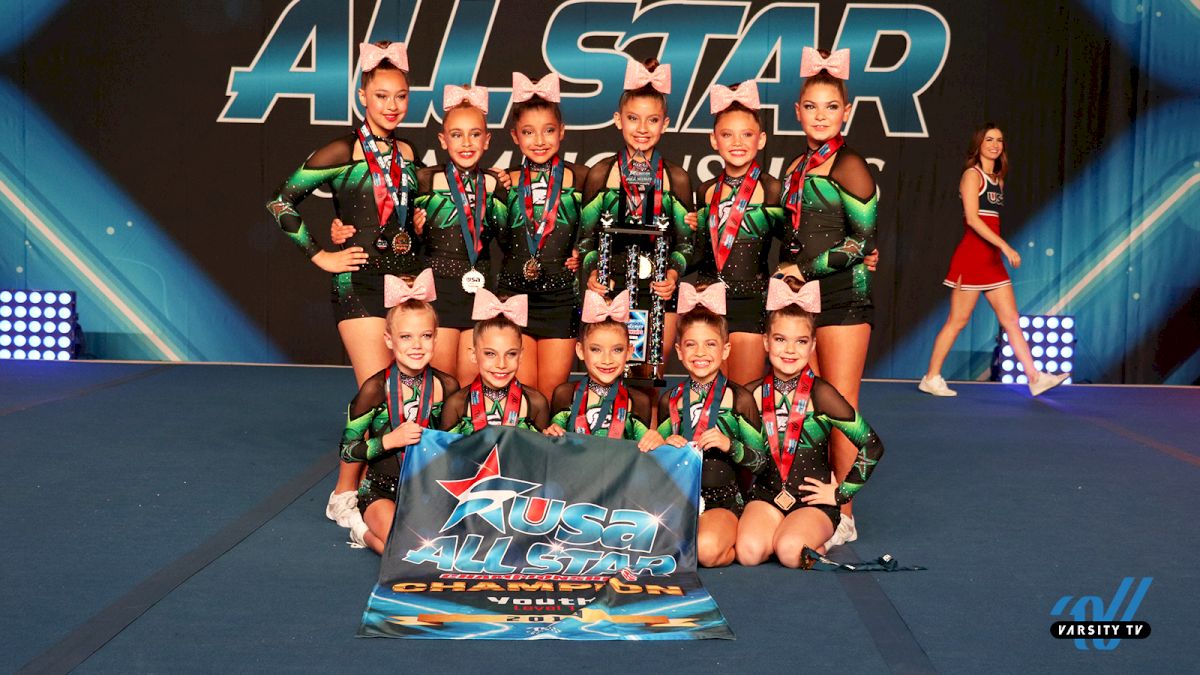 CheerForce Blink from Santa Ana, California is here at the 2019 USA All Star Championship and they dominated the Level 1 Youth division! The team took home the title last year in 2018 and Blink is on top again, securing back-to-back titles!
They had some tough competition this weekend with six teams fighting for the top spot, and after Day 1 the team was in first going into the final competition.
"This weekend they were the best they've ever been," said Blink coach Marissa Aldridge. "They were on fire and they stayed true to who they are and the sister bond they have with each other."
Blink came back for Day 2 and after performing a clean and solid routine, they held the top spot. The team showcased a variety of group stunts and fun transitions, all within a routine you have to see! Watch their Day 2 title winning performance!
CheerForce Blink - Level 1 Youth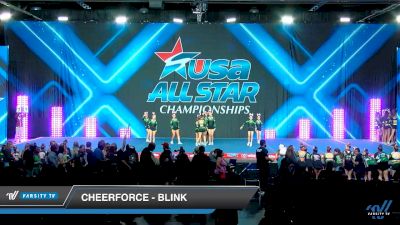 Unlock this video, live events, and more with a subscription!
Get Started
Already a subscriber? Log In
This team is on a roll after recently winning NCA All Star Nationals in Dallas, Texas. "Day 1 at NCA we were in second place," said Marissa. "We weren't expecting to win at all. We just wanted them to hit zero and then Day 2 they hit!"
The theme for Blink this year is "This Is It." The theme came from the song 'This Is It' by Seven Kingz and has much meaning to the team.
"The song is about empowerment and this is your time to shine," said Marissa. "We listen to it every time before they go onto the floor."
Although Blink has had a successful season, they aren't done yet! The team placed 5th at The Summit in 2018, and this year they're pushing to do even better!
"We're climbing to get to The Summit and this is a big step along the way," said Marissa. "We received an At-Large Bid and now we're going for a Paid!"
"I think the thing that sets them apart is the bond they have with other locations," said gym owner Dee Dee Aldridge. "They have a special bond with CheerForce Frenzy and these kids really look up to them. They say they want to be like them!"
The coaching duo, Marissa Aldridge and Sierra Jordan have been together all three years that Blink has been a team. Blink started as a Mini Prep team, then moved on to a Mini team and now Youth!
"I'm extremely proud of them this weekend," said Blink coach Sierra Jordan. "They really came together and showed who they are!"
We can expect great things from CheerForce Blink, and we cannot wait to see them succeed in the future!