If you're looking for an epic game day experience, passionate fans, a top-notch basketball team, and a national championship winning spirit squad, then you should head to Lubbock, Texas to check out Texas Tech University!
In 2019, the TTU Pom Squad and the Large Coed Cheerleading team both topped tough divisions to bring home championship titles at the NCA & NDA College National Championship.
The Red Raiders have made themselves known as a powerhouse program in all college sports and we've got the inside scoop on the 2019-2020 cheerleading team!
It's almost been two months since Texas Tech won their second-ever NCA national championship title and the team is still reeling with excitement from their big win.
"Each win is a special and exciting time," explained TTU Head Coach Bruce Bills. "I still sometimes have to pinch myself to believe it; but on the other hand, I trusted the team and had high expectations for them, and they definitely lived up to it!"
Relive TTU's National Championship Win!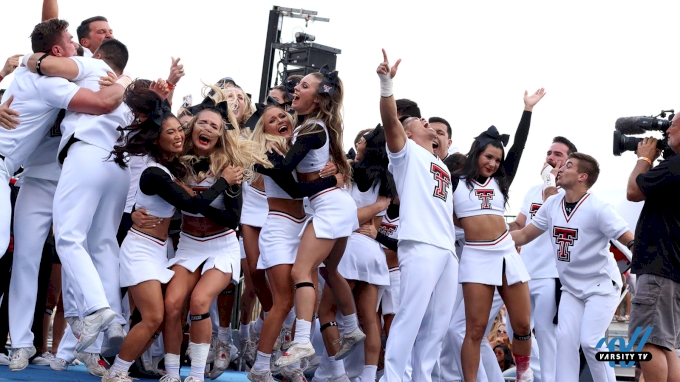 From their first practice in June 2018, Bills said you could see the team chemistry and the athlete's desire to become champions. "They held each other accountable, supported one another, they pushed each other – including me – to be better each practice/game/performance."
"We didn't have excuses or get bogged down on the though/bad moments but used those opportunities to learn and hit the skill the next time. Confidence in each other was a huge part of the success we had too."
14 athletes graduated from the 2019 National Championship Large Coed team but have no fear, the 2019-2020 team is looking stronger than ever.
"I am really excited about this new squad." Bills shared. "We had a great number of extremely talented athletes attend tryouts and they did a wonderful job in making my decisions hard when selecting the final team roster. I'm excited about this team and the energy and skills each one of them brings to Texas Tech."
The 2019-2020 team includes 14 first-year members and Bills said it's always special to see athletes make TTU Cheer for the first time.
"It's a huge blessing, to me, that they chose to bring their talents here and tryout for our program." Bills explained. "I credit this to the success of the program, but also to our whole program staff, the University's support, and the experiences we can give each of these students."
"I remember my first year making the squad, and how special that was to me. So, I try to make sure their experience is great and want them to know how very proud and excited I am of them."
Leading the team are six Seniors who know a thing or two about what it means to be a Red Raider.
"I'm expecting great things from the whole veteran class." Bills added. "They're an extremely talented group with a winning mindset. Each one brings a lot of experience in cheerleading, connection and passion for Tech and leadership skills that I expect (and know) will shine through when we get started this summer."
While summer practices have yet to begin for Texas Tech, the team already has their goals set for the upcoming season and they have high hopes for what they plan to accomplish in 2020.
Texas Tech Cheer's 2019-2020 Goals:
"Continue to grow and connect as a team and build on the success we've had with the family support/environment."
"With our large rookie class, I want to make sure competition stays a main focus, but also, I want to improve on some of our gameday elements while maintaining our traditions."
"I want our focus on academics and squad graduation rate to continue to remain high."
"Win. Win on paper/scores, but also win each section mentally, and to know we did our best each time we get to perform the new routine"
Want to follow along with the entire program from Texas Tech University as they take on the 2019-2020 season?
Follow Texas Tech on social media!
TTU Cheer Instagram: @ttucheer
TTU Cheer Snapchat: @ttucheer
TTU STUNT Instagram: @ttustunt
TTU Dance Instagram: @ttupom