Submissions for Battle In The Arena 2020 are now open!
Held in conjunction with NCA All-Star Nationals, Battle in the Arena is the most selective All Star tumbling competition of its kind. Catch a sneak peek of the prestigious 2020 Arena while watching the top tumblers in the country face off!
To be invited to this prestigious event, individuals must submit an entry video of their best running specialty pass (minimum two-rick ending in a double full) via Twitter or Instagram, tagging @VarsityAllStar and using the hashtag #BattleInTheArena.
Entries should include the athlete's name, team name, and the division they are entering. Be sure to set the profile to public so the videos can be viewed!
Battle In The Arena entries will close on Friday, November 15.
The competition will be broken down into divisions, and top athletes in each division will receive a medal, the chance to be featured in an exclusive shoe campaign, and contribute to the development of the next generation of Varsity Footwear!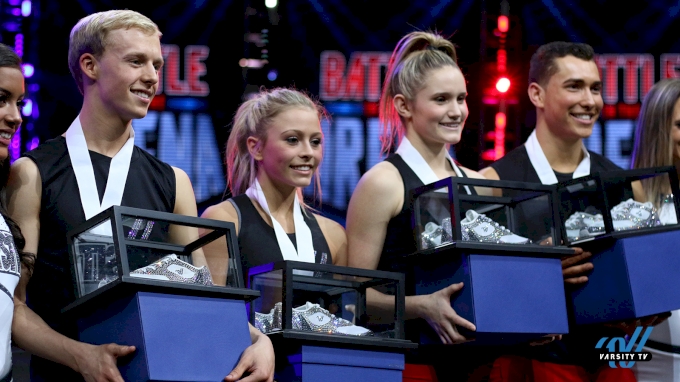 Battle in the Arena Divisions: All skills must comply with USASF Level 6 tumbling guidelines.
Junior Athlete: males and females 13 years of age and under as of 2/28/2020
Senior Female: 14 -18 years of age as of 2/28/2020
Senior Male: 14 -18 years of age as of 2/28/2020
Open Athlete: males and females 19+ years of age as 2/28/2020
The event will be held Friday, February 28, 2020, at the Kay Bailey Hutchinson Convention Center and you can watch it all LIVE right here on Varsity TV!
[Watch] Epic Highlights From Battle In The Arena 2019