Everyone sees the talented athletes, the creative choreography, and the countless trophies that continue to be collected by the legendary teams from Eastside Middle School. But what fans don't always see is the incredible coaching staff behind the scenes that has built Eastside from the ground up to the championship team they are today.
Jay Kirk, Carrie DeBold, and Kristal Stillwell are the main coaches for Eastside Middle. Collectively, the trio has led teams to 10 Kentucky State Championship titles, seven of which have been consecutive. They are the seven-time UCA National Champions, eight-time World School Champions, and four-time UCA Junior Stunt Champions.
In 2017, the Eastside coaches and athletes were chosen to represent the USA in the inaugural ICU Junior World Championships where they won gold. The went on to top the podium at ICU again the following year.
But before Eastside was Eastside, these three coaches started their cheerleading careers in very different ways.
Jay Kirk began as a power tumbler but was soon recruited by the cheerleading coach at Sheldon Clark High School. During his senior year of high school, Kirk helped his team reach the state championship for the first time in school history.
After high school, he continued his cheerleading career under head coach Myron Doan at the nationally recognized Morehead State University, where he earned three national titles in 1998, 1999, and 2000.
Carrie DeBold cheered throughout her high school years. After high school, DeBold pursued a career as a teacher and was hired by Eastside in 2005.
At the time, the middle school was brand-new, and they needed a cheer coach. The position seemed like a perfect fit and she accepted the job.
Growing up, DeBold's high school cheerleading team competed at the state level but could never earn a bid to nationals. Little did she know as a coach her program would become one of the most recognizable names in cheerleading.
Kristal Stillwell didn't grow up a cheerleader but was in dance. Once starting her family, three of her four daughters became cheerleaders and that's when she met Carrie. Stillwell's daughters cheered at Eastside Middle but once they moved on to the high school level, she decided to stay and coach at EMS alongside Carrie and Kirk.
Collectively the coaches fell in love with cheerleading and it soon became their career and their life.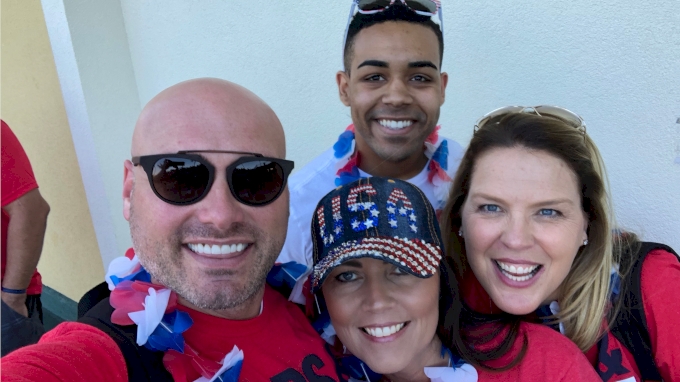 "The happiness and outlet it gave me was something I wanted other kids to enjoy especially kids like me from a small eastern Kentucky town," Kirk said.
"I saw that cheerleading afforded me opportunities and couldn't stop thinking if I can help one kid feed his/her passion and create opportunities for them, whether it be strengthening their own well-being, boosting confidence, or going to any college of their choice, then THAT is what I want." - Jay Kirk
Together the coaches were determined to work together to make cheerleading in Kentucky great, to break stereotypes, and prove to the world that cheerleaders are athletes too.
Kirk, DeBold, and Stillwell all agree that they have an intense coaching style but it's because they know how physical and mentally challenging competitive cheerleading can be.
"Our season is longer than most sports, with very little time off so our athletes have to be truly committed," Kirk said. "I coach young females at all ages with respect, so expectations are high. I expect a lot out of my athletes and let them know up my expectations."
The Eastside coaches tell their athletes the same thing at the start of every season: "I will push you farther than your mind and body tell you that you can. But you will leave the season being the BEST you can be, and your coaches will be there to support you all the way."
While the Eastside coaches are looking for great skills on the mat, they also want their athletes to be great off the mat.
"We push our kids to not only be leaders in their sport but to be leaders in their school and leaders in their community," added DeBold.
Since the coaching trio began, Eastside has continued to wow the cheerleading community as they've broken barriers on what you would expect to see with a middle school cheerleading team.
Ears perk up when you mention the name Eastside around cheerleaders because these young athletes have been known to execute some of the most elite skills ever performed at the National High School Cheerleading Championship. But the coaching staff is quick to remind their team every year that they are never guaranteed a winning season.
"We always give a speech at the beginning of each year that starts: 'There is no magic in the uniform.' You will not be able to put the uniform on and all of a sudden you are a national champion. The magic comes in the dedication that you give to your team. The hours that you put into your individual training and team training."
Practices at Eastside Middle are tough and intense. The athletes are in the gym almost every day either working with their team or on their individual tumbling skills.
Starting in the summer, the coaches focus on building a strong foundation for their season as athletes drill basics and take time for important team boding. As the season progresses, so does the difficulty of their skills.
"We could not do this without a supportive gym and gym staff," the coaches said. "Andre Lyons with GymTyme South has been with us from the beginning and has been so supportive of our teams and has been key to our success by helping to teach our kids elite skills with the proper technique, safely."
One of the biggest challenges the Eastside coaches face every year is working the growth and adversity their athletes will face while in middle school. Some may think that the Eastside athletes walk into tryouts with elite skills, but the truth is the program gets athletes from all parts of the skill spectrum.
"In middle school cheerleading you are dealing with growth spurts, different levels of maturity, and kids that struggle with self-confidence," the coaches shared. "Sometimes a kid walks into our tryouts as an upcoming sixth grader and is so small she is taught skills to be a flyer. Then one year later, she takes a growth spurt and is a base. By the time she is an eighth-grader she is one of the tallest on the team and is a backspot. That is mastering three different positions on a national level squad, talk about adversity! So, with little time we deal with these scenarios in order to make the best of the situations."
While the Eastside coaches will always face challenges, it's working together to overcome these hurdles that fuels their passion for coaching.
"I love pushing the boundaries," Kirk said. "I thrive on finding something that was once hard for us, or recently made legal and try my hardest to get it first. I want to try things no one thinks we can. To be honest, I have passed on the mentality that I coach a middle school."
Kirk, DeBold, Stillwell, and the entire Eastside cheerleading program will take on the UCA Bluegrass Championship in Louisville, Kentucky, where they hope to start off their season with a routine that lives up to the Eastside legacy and kick starts their journey to another national championship title.
Tune in to Varsity TV on Saturday, November 2 starting at 8 AM ET to see what Eastside Middle and this legendary coaching trio bring to the mat.
---
How To Watch
Join Varsity TV PRO now to stream live Varsity TV competitions and events anytime, on any device!
TV: Available on Roku and Apple TV 4 -- download the FloSports TV app now.
*FloCheer PRO subscribers, you can use your existing login to access to all Varsity TV premium content, live streaming competitions, and events.
FREE Gift For Varsity TV Yearly Members!
We're celebrating the start of the 2019-20 cheerleading and dance season with a token of our appreciation for ALL new yearly Varsity TV members. Join now or upgrade your monthly subscription to claim this travel backpack, a $62.95 value, for FREE our thank you gift to you!