Boone County High School made history last year when they claimed their school's first-ever national championship title at the 2019 UCA National High School Cheerleading Championship.
After starting off their season with a win at UCA Bluegrass, the Rebels went on to claim the top spot at nationals with a zero-deduction routine in Small Varsity Division l.
Boone County High School was back in action this weekend at the UCA Bluegrass Championship in Louisville, Kentucky, and the reigning champs just put on a show!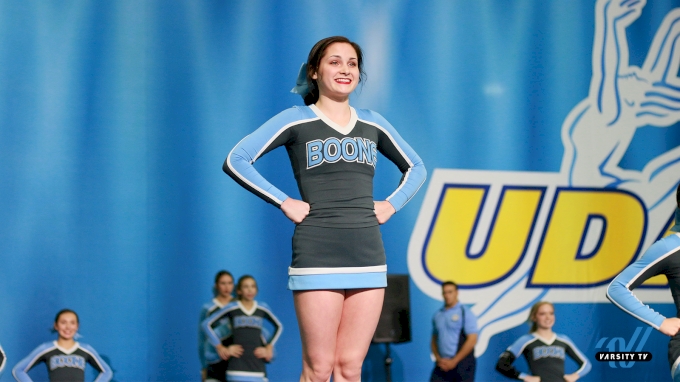 Their 2019-2020 routine opens up with six standing tucks, two standing fulls, one cartwheel full, and an impressive all girl single base extension at the back of the mat.
The Rebels packed their new routine with tumbling and difficulty. After a quick formation change, four athletes perform standing hand-hand-fulls before transitioning to their first team stunt section.
Boone County's elite stunt opens up with switch-up 360s and newly legal high-to-high heel stretch tick-tocks. The impressive stunt doesn't end there as the three groups go on to perform solid hand-in-hands to finish off the sequence.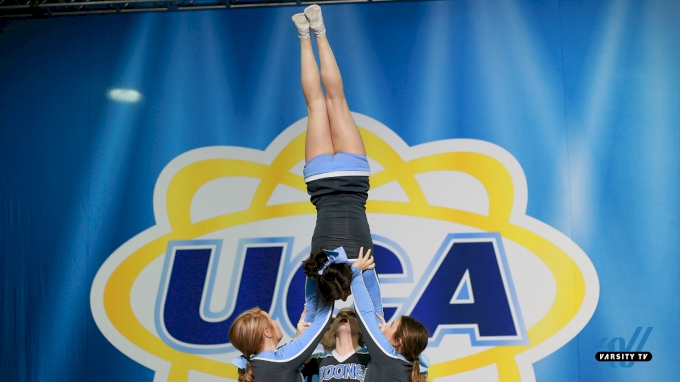 The Kentucky high school had the crowd on their feet as they began the crowd leading section of their routine. Their sign spell-out encourages the Rebel fans to get rowdy!
BCHS focused on enhancing their fan involvement by using the full length of the mat. In the first half of the cheer, Boone County focuses on their sign work and stays on the ground except for a few standing tucks and shoulder sits to help build up the energy.
For the second half of their cheer, Boone County got up in the air with three clean full ups. While the team encouraged the crowd to yell their colors, they performed hands full arounds to add a touch of difficulty to their spirited cheer.
Boone County opened up the second half of their routine with more tumbling. Six athletes performed roundoff handspring fulls to the back of the mat. The Rebels then transitioned into another stunt section where all three groups did double up immediate libs and high-to-high full arounds.
In their pyramid section, two groups showcased roundoff ups to the top before moving on to another high-to-high tick tock. The center group connected for a front flip to the top and the Rebels transitioned to a new structure to finish out the routine.
Stay tuned to find out if Boone County High School will take home another UCA Championship title!
Watch Boone County's Full Routine From Bluegrass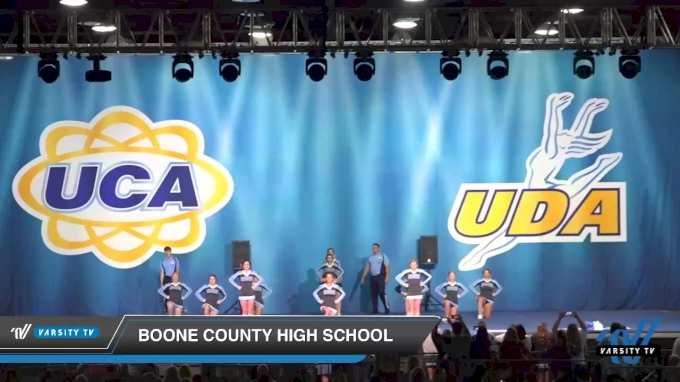 ---
How To Watch
Join Varsity TV PRO now to stream live Varsity TV competitions and events anytime, on any device!
TV: Available on Roku and Apple TV 4 -- download the FloSports TV app now.
*FloCheer PRO subscribers, you can use your existing login to access to all Varsity TV premium content, live streaming competitions, and events.
FREE Gift For Varsity TV Yearly Members!
We're celebrating the start of the 2019-20 cheerleading and dance season with a token of our appreciation for ALL new yearly Varsity TV members. Join now or upgrade your monthly subscription to claim this travel backpack, a $62.95 value, for FREE our thank you gift to you!