In the world of All Star dance, it is important that every time a team hits the floor, they do something to stand out from their competitors.
A key aspect of a successful competitive dance routine is how memorable it is. One of the best ways to ensure a long-lasting impression is to utilize a theme that ties the entire performance together. From the moment the team walks on stage and you get a first look at the costume, you know what you're about to get. The music starts, the choreography begins, and a one of a kind performance unfolds right before your eyes.
At the 2019 UCA & UDA Mile High Championship, themes were the name of the game across every age group in the All Star Pom divisions.
Here in Denver, we saw no shortage of entertaining themes and concepts brought to life throughout the morning session of the competition. Each team used all aspects of their routine to tell a story that was unique to their team's identity and let it guide the performance from start to finish. Fans of all ages were able to appreciate the concepts that enveloped routine identities.
There were penguins, 80's workout girls, flight attendants, genies, and more. The costumes told you what the theme would be, and then the choreography and music brought it all to life.
A program that is no stranger to elaborate themes is Peak Athletics. Each year, they bring out routines that are packed with entertainment value that are fun for everyone in the room.
At Mile High, Peak brought three different Pom routines that showcased outstanding performance and costuming. There were the Mini "Sweets", the Youth "Penguins" and the Junior "Flight" themes. These teams showcased some of the most intricate and well-done costumes as the foundation of their excellent performances.
All three Pom teams from Peak Athletics claimed the top spot within their division!
Peak Owner and Director, Nicole Graham, told us, "What we love about All Star is that we can take a theme and incorporate a special costume into it. Often times, the costume will actually come first before the rest of the theme is even fully thought out". She credited their coach and choreographer, Steven Thornton, with the concepts and the process of bringing them to life. Graham noted that each theme had a special value to each team and that it was a vital part of their team identity for the season.
[WATCH] Peak Athletics Junior Pom - Flight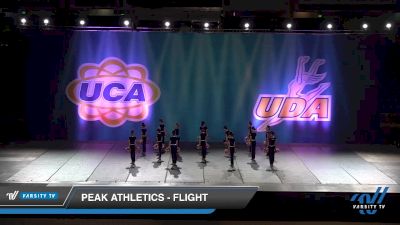 Unlock this video, live events, and more with a subscription!
Get Started
Already a subscriber? Log In
Themed routines are nothing new in competitive dance, so it's a fun challenge for coaches and choreographers to create as each new season passes.
Melissa Thieme, head Pom coach for Colorado Lightning Athletics, told us that choosing the theme is partially about the athletes, and partially about drawing the judges in.
Referencing her Senior Pom team, an 80's/90's workout girls themed routine, she told us "The girls wanted to do a fun and colorful routine, and it works because the judges come from that generation of music, so it was fun to do a throwback".
Complete with bright neon spandex workout attire, headbands, and ponytails, the girls worked the routine out to a fun Regionals victory.
[WATCH] Colorado Lightning Athletics Senior Pom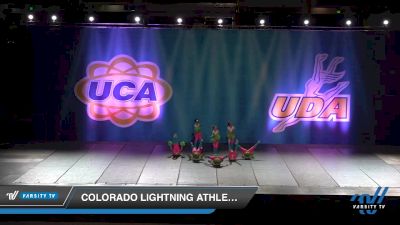 Unlock this video, live events, and more with a subscription!
Get Started
Already a subscriber? Log In
One of the other standout themes of the day was the Youth Prep team from Colorado Lightning Athletics. They took a concept that the girls were excited about and ran with it.
Each athlete on the team was dressed in an outfit inspired by Ariana Grande, complete with a long, straight ponytail just like the one that the pop diva consistently rocks. "The girls are obsessed with Ariana Grande, so we wanted to use that and create something fun for them that they would love," Theime explained.
There was no doubt that the athletes were loving life as they danced with unmistakable happiness that only comes from doing something, you're passionate about.
[WATCH] Colorado Lightning Athletics Youth Prep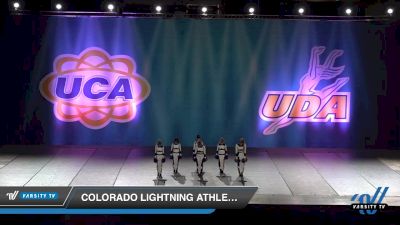 Unlock this video, live events, and more with a subscription!
Get Started
Already a subscriber? Log In
One of the best things about All Star dance is that the teams have an incredible amount of creative freedom to create performances that leave lasting memories long after the music stops. It can take an army of people to cultivate successful themed performances, ranging from the choreographers to the music producers, to the coaches, and even to the athletes themselves.
All of the All Star Pom competitors in Denver showed out with their best, and no two teams were alike. It was exactly the refreshing kind of competition we always hope for.
Bravo, and congratulations to all of the dance teams for an excellent showing at the 2019 UCA & UDA Mile High Championship!
Written By: Thomas Parrott
---
How To Watch
Join Varsity TV PRO now to stream live Varsity TV competitions and events anytime, on any device!
TV: Available on Roku and Apple TV 4 -- download the FloSports TV app now.
*FloCheer PRO subscribers, you can use your existing login to access to all Varsity TV premium content, live streaming competitions, and events.
FREE Gift For Varsity TV Yearly Members!
We're celebrating the start of the 2019-20 cheerleading and dance season with a token of our appreciation for ALL new yearly Varsity TV members. Join now or upgrade your monthly subscription to claim this travel backpack, a $62.95 value, for FREE our thank you gift to you!