When you hear the name "Diamond Elite" announced, it's natural to assume that the team walking on the mat will be the epitome of the shining gem: They will shine bright for all to see, they will be fierce, and they will be flawless. If you have ever been to a competition with the Denver-based program, then you know that they more than live up to that assumption.
The Diamond Elite girls compete with fierceness and pride that lets you know that they are going to look good, perform well, and make sure that everyone knows that they always come to play. But the most important thing about the program isn't what you see . . . it's what goes on beyond the cheerleading mat.
Now in its 11th season, Diamond Elite has become a program that inspires both on and off of the cheer floor. We set out to learn more about the success of the program but ended up finding out just how remarkable they really are.
Owner Stephanie Trujillo told us about how the vision from the very beginning was to create a safe place for children of all backgrounds to call their second home. She, along with her husband and daughter, have created opportunities for children coming from broken homes, homes where there were only grandparents or guardians, and even from situations where the children were homeless.
"We wanted a space where anyone who walked in the door and wanted to cheer could do it, even if they couldn't pay at all. It doesn't matter. If they want to cheer, we will find a way to make it happen." – Owner Stephanie Trujillo
They have even gone as far as to foster athletes who didn't have anywhere else to go. For them, it is truly a family affair, and each athlete that walks through the door becomes part of that family.
When they started the program, the only cheer experience they had was Trujillo's daughter's experience from high school and college cheerleading. Since then, they have worked together to build a powerhouse program that continues to set the bar everywhere they go. While athletic success is a major goal at all times, the main purpose always remains: to take care of each athlete who chooses to be there each day.
"Every single one of my athletes is just like my kid," Trujillo said. "It's not always easy, and there are days where we have to say, 'I don't like you right now, but I love you always,' just like you do in a family."
They utilize tough love to instill the discipline required for All Star, but always finish with a hug and a reminder that they are wanted, they have a place to be, and they're not alone.
"We take kids who are dealing with crazy life situations, or maybe even are being bullied and have very low self-esteem, and teach them to be fabulous on that stage, because that's what it takes", Trujillo said proudly.
They try to take whatever is going on in their athlete's lives and turn it into a positive through a fierce style of performance and finding athletic success on the mat. They are truly taking whoever is willing and teaching them to shine just as bright as a diamond. They want each athlete to know that they are a star and that they deserve to walk around in life feeling like one. They never skip the hard work to get there, but they match it with genuine love and open hearts.
[WATCH] Diamond Elite All Stars Ladies Of Bling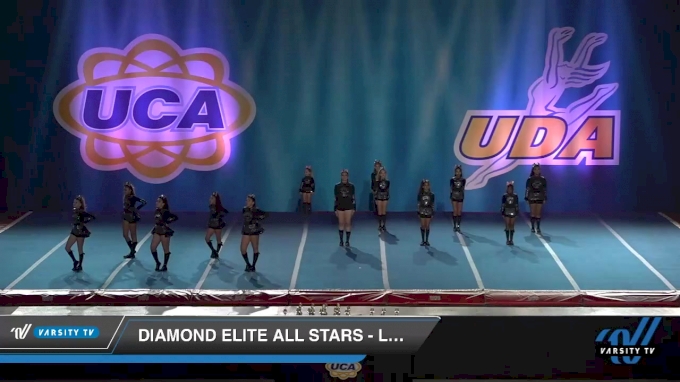 Unlock this video, live events, and more with a subscription!
Get Started
Already a subscriber? Log In
They say you should never judge a book by its cover. The athletes of Diamond Elite walk around the competition arena with their heads held high and they match it all with a ferocious competitive nature on the mat. Underneath all of that are just kids who are giving everything they have to be a part of something special. Thanks to the love and generosity of the Trujillo crew, there are opportunities where there normally wouldn't be.
When you see them compete at an event, don't be surprised when they are in the mix to be at the top of the standings. But just know that as much as they shine on the floor, they are all shining so much brighter each and every day as they make the world a better place through the wonderful world of cheerleading.
Written by Thomas Parrott
View More From The 2019 UCA & UDA Mile High Championship