STUNT the Sport is evolving quickly around the country, and Crystal Martinez from Davenport University has had quite the STUNT experience! She has won two consecutive national titles with the Panthers at the College STUNT National Championship.
Crystal is originally from the West side of Fruitport, Michigan and was born and raised 45 minutes from Davenport University. She began cheering for a youth program when she was just four years old and then began all star cheer in sixth grade. Crystal cheered for Champion Force Athletics in Grand Rapids, Michigan and proceeded to cheer on the sidelines in high school.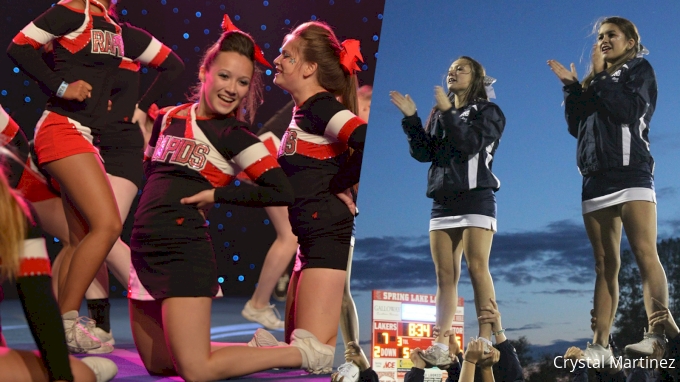 Growing up only 45 minutes from the university, Crystal knew she wanted to be a part of the cheer program at DU.
"I wanted to be a part of a program that challenged me and made me a better person in the real world," said Crystal. "When I tried out I loved their culture that they brought to practices! I loved how hard they would train and the way they trained! Everything about it was such a perfect fit for me."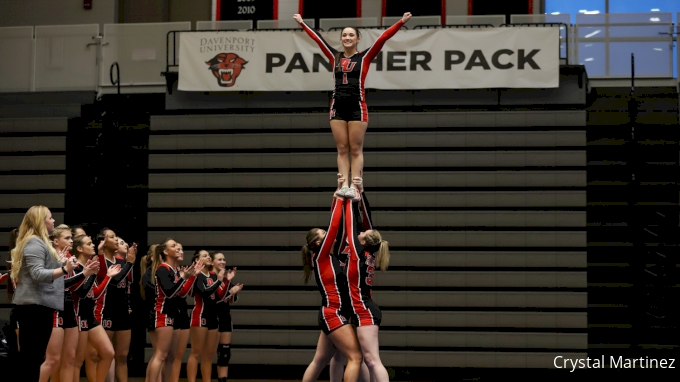 She is now in her third year cheering for Davenport University, but sideline cheer wasn't the only thing that drew her into the program.
"I was also interested in their STUNT team and being in a real game setting for this sport," said Crystal. "I wanted to be a part of something that keeps growing!"
STUNT the Sport focuses more on the athletic ability of cheerleading. This gives the athletes the chance to go head to head against their opponent.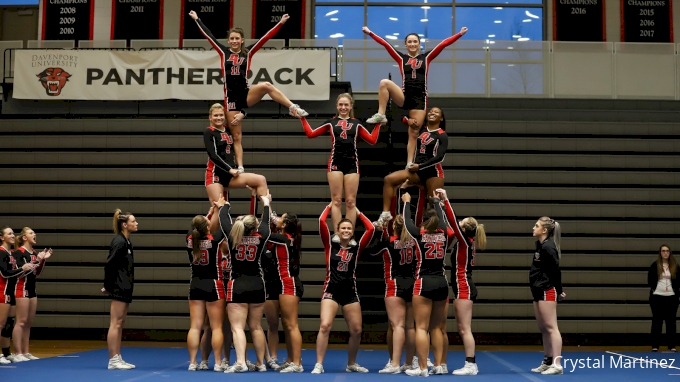 "I love that it is based all on a game setting and just like any other sports game, things can change so quickly," said Crystal. "It also shows that you keep fighting until the last second of the 4th quarter because the game isn't done until it is done!"
A match in STUNT can get very intense. One point can be the difference between winning or losing, and everything must be executed perfectly. One minor mistake can cost the team the game. But like in other sports, if you have a slow start, there's always time to catch up!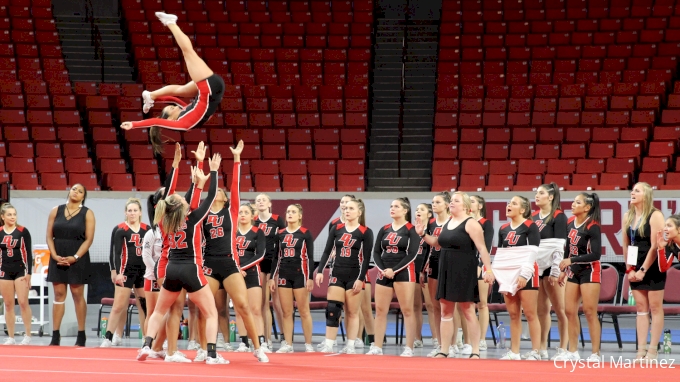 If you aren't familiar with STUNT the Sport, in the upcoming Varsity TV documentary Game On: Davenport University you can gain a better understanding of the new fast growing sport.
Crystal has gained so much more than just skill during her time at Davenport. Her team has become her family!
"There are honestly so many special things about the Davenport program," said Crystal. "For me personally, it has made me a much stronger person mentally and physically. Davenport's program has an amazing culture and doing everything for the person next to you always makes you want to push even harder. It truly is such an amazing program to be a part of!
"The lessons I have learned from Davenport while being at practice everyday has 100% made me a better person in my everyday life outside of cheer, and I am so thankful for that!" -Crystal Martinez
Davenport University showed up to the 2019 College STUNT National Championship and held nothing back! The team left with not only the DII title, but the Varsity STUNT National Championship title as well.
"Winning the DII and the Varsity STUNT National Championship was an amazing feeling," said Crystal. "I love being able to represent DU across my chest and the feeling of accomplishment was indescribable."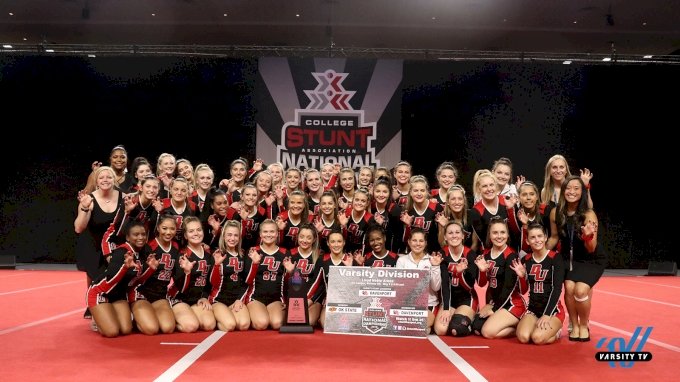 "It is such a privilege to be able to compete at this level with such an emerging sport to begin with," said Crystal. "It brings tears to my eyes how proud I am of my team for the whole season. They are amazing individuals and I love being able to stand next to these unstoppable individuals and call them my sisters!"
Be sure to follow Davenport University's journey through the College STUNT National Championship in the upcoming documentary, Game On: Davenport University!
---
Watch the Game On: Davenport University Trailer!