2019 UCA Smoky Mountain Championship
Routine Breakdown: Pikeville High School
Routine Breakdown: Pikeville High School
Pikeville's impressive routine earned them second place in the Small Varsity division at the 2019 UCA Smoky Mountain Championship.
Dec 8, 2019
by Varsity TV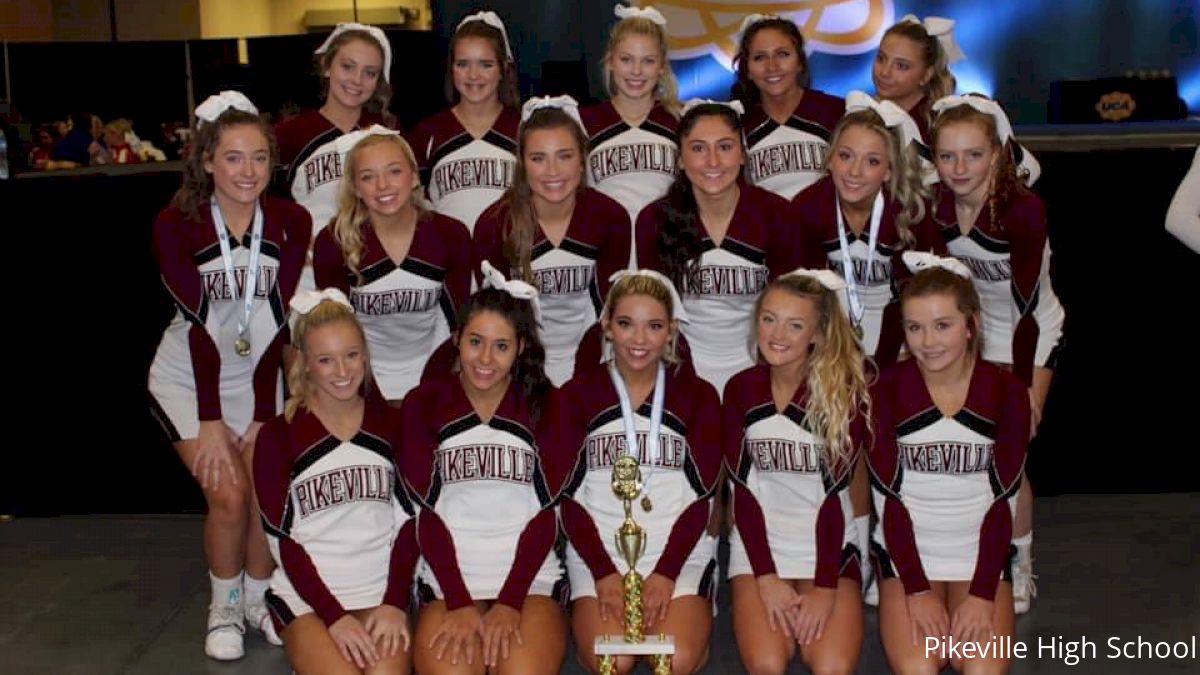 The Panthers of Pikeville High School put on an impressive showing today at the 2019 UCA Smoky Mountain Championship to prove that even after a tough ending to their season, they have what it takes to get back to the top of the leader board.
The Panthers won back-to-back titles in 2016, 2017, and 2018. They fell short of their goal in 2019, finishing in 11th.
This season, the Kentucky team is back in full force.
"The 2019 season ended in unfortunate disappointment, but these kids didn't stay down long and used it as motivation for this season," shared Head Coach, Kandice Branham. "With graduating 8 competing seniors, the upcoming freshmen knew they had the opportunity to step in and make an impact right away."
"I've never seen a group improve in just a few short months over the summer like they did. The transition of a rebuilding year has definitely been easier than I would've expected because these kids have worked so hard to be ready to compete at the Varsity level."
Pikeville opened up their routine with full squad standing tucks and four standing two to fulls.
Branham told Varsity TV that this team, as a whole, tumbles better than any Pikeville team has in the past.
This season, Pikeville made a point to get as many stunts in the air as possible throughout their routine. Their first stunt features elite hand-in-hands and high-to-high immediate full arounds.
After their opening stunt, the Panthers transition into another tumbling section that includes four girls throwing standing back tucks while the other seven girls execute beautiful round off back handspring fulls.
Before moving into their cheer, Pikeville puts one last stunt in the air. The team is known for their ability to spin with ease and they did just that with low-to-high one and a half arounds.
In the crowd leading section, Pikeville performs their traditional "Panthers" spell out cheer in single base extensions. They incorporated visual level changes with full up thigh stands encouraging the crowd to yell their colors, "Maroon and White."
The second half of Pikeville's routine features round off ups, beautiful double toe touches, and a pyramid that incorporates elite flipping and spinning stunts.
[WATCH] Pikeville High School - UCA Smoky Mountain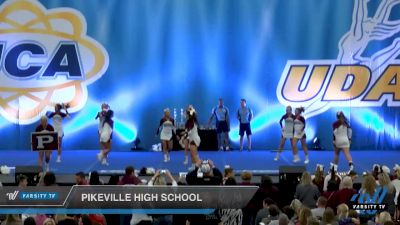 Unlock this video, live events, and more with a subscription!
Get Started
Already a subscriber? Log In
Pikeville's impressive routine earned them second place in the Small Varsity division at the 2019 UCA Smoky Mountain Championship. They know getting back on top won't be easy and they're willing to put the work in to make that a possibility this February.
Be sure to keep an eye on this powerhouse team from the Bluegrass state as they continue to grow and prepare for the 2020 UCA National High School Cheerleading Championship!
---
How To Watch
Join Varsity TV PRO now to stream live Varsity TV competitions and events anytime, on any device!
TV: Available on Roku and Apple TV 4 -- download the FloSports TV app now.
*FloCheer PRO subscribers, you can use your existing login to access to all Varsity TV premium content, live streaming competitions, and events.
FREE Gift For Varsity TV Yearly Members!
We're celebrating the start of the 2019-20 cheerleading and dance season with a token of our appreciation for ALL new yearly Varsity TV members. Join now or upgrade your monthly subscription to claim this travel backpack, a $62.95 value, for FREE our thank you gift to you!