2020 Beast of the East DI & DII Winter Nationals
Quest Athletics Takes On Beast Of The East Winter Nationals
Quest Athletics Takes On Beast Of The East Winter Nationals
Tune in to Varsity TV to watch the Beast of the East Winter Nationals and see if the teams from Quest Athletics have what it takes to win big!
Jan 11, 2020
by Varsity TV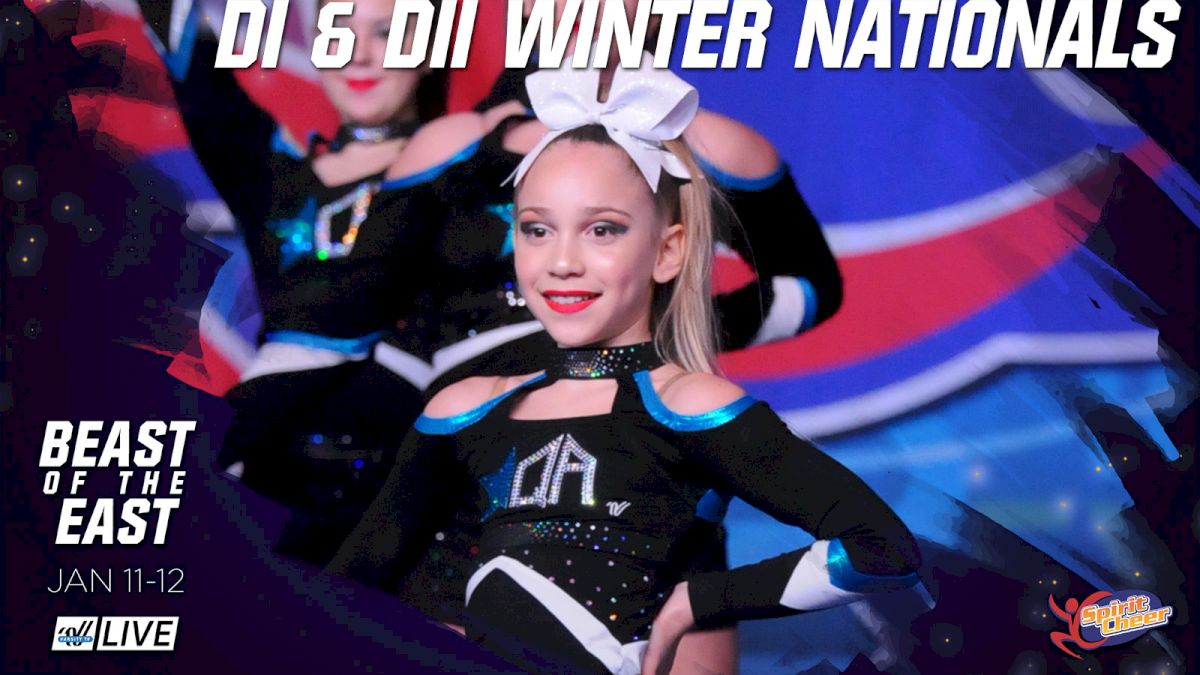 Quest Athletics is pushing the boundaries this season with new, creative stunts, fast-paced routines, and strong tumbling. The northeast team spent the offseason working hard and now they are ready to show what they can do this weekend at the 2020 Beast of the East Winter Nationals.
Quest is brining four teams to Atlantic City and they are on the hunt to earn bids to the end of season championship events.
The gym's program director, David Kogut, told Varsity TV that Quest Athletics has already had a strong start to their season and their success started back at choreography.
"This season we have really strived to create the strongest teams possible," shared Kogut. "When it came time for choreography, we made sure that we incorporated skills that were innovative and challenging within each team's level. Our athletes are working extremely hard to perfect and perform each routine to the best of their ability this year. Our fans seem to love it all!"
In December, Quest Athletics attended Spirit Sports: Northeast Knockout where their L4 Senior Coed team, Bomb Squad, and their L3 Senior Coed team, Sergeants, both hit strong routines to take home national championship titles. Their L2 Junior Small team, Generals took the runner up spot in their division but scored high enough to earn an At-Large Bid to The D2 Summit 2020.
The gym's L6 Senior Coed XSmall team, Black Ops, claimed their first-ever bid to The Cheerleading Worlds at Beast of the East in 2019 and the New York team is hoping to repeat their success again this weekend.
"We are very excited for Black ops to compete at their first national event of the season! Ops will be performing a new inversion that we have not really seen before!"
This is only the second year Quest Athletics has had a Worlds team, but their athletes have been working very hard to be able to compete some of the most elite stunt and tumbling skills within their level!
The competition at Beast of the East is made up of some of the best programs in the northeast and Quest is excited to challenge their teams and prove that they can hold their own against the best of the best in the industry.
"Our number one goal is to always hit the cleanest possible routine," shared Kogut, "As coaches, we are really hoping to see our athletes enjoy performing their routines and working together as a family on stage!
Tune in to Varsity TV starting January 11 at 9 AM ET to watch the Beast of the East Winter Nationals and see if the teams from Quest Athletics have what it takes to win big in Atlantic City!
Quest Athletics Day 1 Performance Times
Black Ops 2:33 PM – Hall D
Generals 3:08 PM – Flex Hall
Bomb Squad 6:34 PM – Flex Hall
Sergeants 8:16 PM – Flex Hall
---
How To Watch
Join Varsity TV PRO now to stream live Varsity TV competitions and events anytime, on any device!
TV: Available on Roku and Apple TV 4 -- download the FloSports TV app now.
*FloCheer PRO subscribers, you can use your existing login to access to all Varsity TV premium content, live streaming competitions, and events.