So far in the 2019-2020 All Star season, we haven't seen a whole lot of teams reaching the 98 mark on the score sheet. So you know when you have a team not only reaching a 98, but almost getting a 99, it's one you're going to have to see.
Pittsburgh Pride is having a stellar weekend at Feel the Power East in Ontario, Canada. A slew of top-ranked routines has shown that the Pride came prepared for battle.
In the Level 2 Junior Medium division, team Untamed brought the house down two days in a row, capped off by a jaw-dropping 98.79 final score.
[WATCH] Pittsburgh Pride Untamed Day
The confident young ladies of Untamed open the routine with an extremely visual pyramid that never seems to stop even for a second. They utilize flying ripples and well-timed tick-tocks to keep the momentum going throughout.
After a visual transition, they do a difficult inversion to the top, complemented by visually perfect cradles. From there, they move to group tumbling, where they hit almost every Level 2 trick in the book, and they do it with exquisite form and timing.
That section is followed by sky-high basket tosses that lead into another stunt sequence. When the moments are synched up, they are done to perfection. This sequence is also highlighted by some beautiful movement across the whole floor.
The jump sequence comes next, where they attempt and execute a rarely seen double front hurdler combination, and a wonderfully synched single toe touch. After that, they do even more standing tumbling variations leading seamlessly into running tumbling, where they have a variety of group passes.
Finally, they end in a dance that had the whole arena clapping along because it genuinely looked like so much fun!
[WATCH] Pittsburgh Pride Untamed Day 1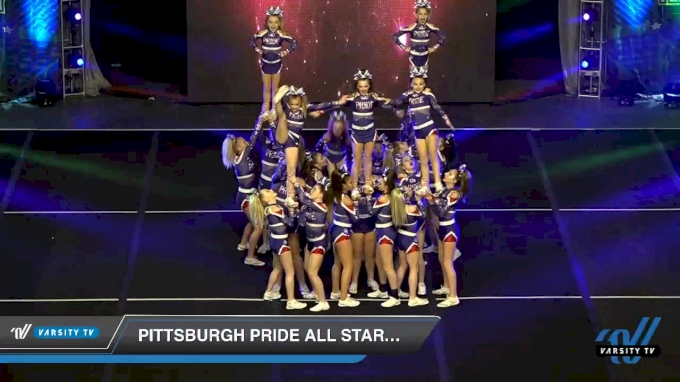 There is a lot on the line this weekend at Feel The Power East, and securing the top score of the event is certainly not something easy to do with so many incredible programs being represented. Having already secured an At-Large bid to The Summit 2020, Untamed has their eyes on upgrading to a Paid Bid.
After having the highest score of the competition on Day 1, they came out and raised it up even higher on Day 2, putting everyone on notice that they are the ones to beat. With it only being January and the bulk of the season still very much in front of us, Untamed has set themselves up to do big things this season.
Congratulations to Pittsburgh Pride Untamed on an amazing weekend, and good luck the rest of the season!
---
How To Watch
Join Varsity TV PRO now to stream live Varsity TV competitions and events anytime, on any device!
TV: Available on Roku and Apple TV 4 -- download the FloSports TV app now.
*FloCheer PRO subscribers, you can use your existing login to access to all Varsity TV premium content, live streaming competitions, and events.