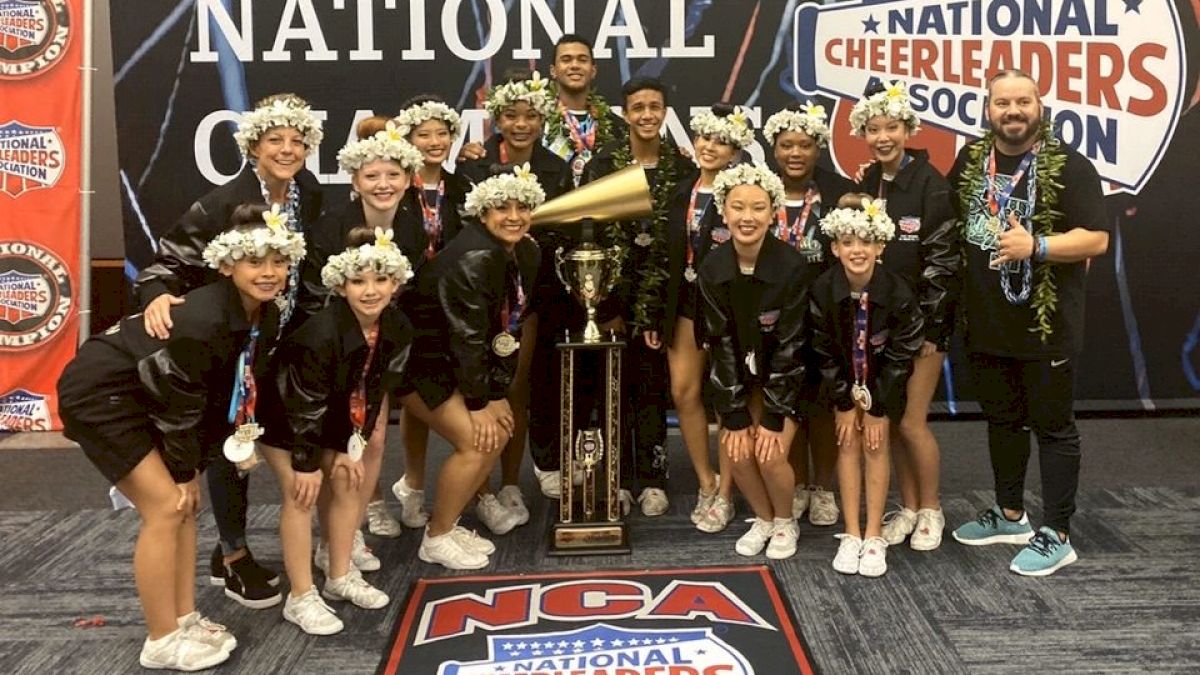 For many all star programs, the competition season begins in the fall and runs until May. For teams located in Hawaii, their season tends to look a little different. Balancing local events that are typically held later in the season with traveling costs to the mainland can prove difficult and push their season to take place primarily between February and June.
Island Elite, a small D2 gym located in Honolulu Hawaii, typically starts their season each year at NCA All-Star Nationals. For the 2019-2020 season, NCA was their first and only competition of the year until The U.S. Finals announced their Virtual Championship giving this talented program a fun way to end their season together, while apart.
Island Elite opened back in 2014 and won their first title at The D2 Summit just three years later in 2017.
This season Island Elite traveled to NCA All-Star Nationals in Dallas Texas and their Senior Small Coed Level 3 team, Royal RipTide, made history claiming the top spot in their division and an At-Large bid to The D2 Summit.
Three teams from Island Elite are set to end their season with The U.S. Finals Virtual Championship.
Sapphire Storm - Youth Small D2 Level 2
Coral Crush - Junior Small D2 Level 3
Royal RipTide - Senior Small Coed D2 Level 3
So, What Can You Expect In Island Elite's Routines?
Island Elite All Star Director, Amber Gore, told Varsity TV that all of their teams have a fun Hawaiian theme. Their music contains things Hawaiian references and their Junior 3 team even has a girl that looks like she is riding a surfboard into their pyramid!
"We have traditions here in Hawaii where every athlete gets a haiku and a lei after each performance. This symbolizes celebration, honor, friendship, and love. It is a symbol of Aloha."
Be sure to tune in for The U.S. Finals Virtual Championship awards show airing LIVE on Varsity TV on June 28th at 6 PM CT to find out how all three teams from Island Elite matched up against their competition!