Only 24 hours left to vote for the 2020 Cheerleader's Choice: All Star Insider! Is there an all star team that you want to see more of this season? Now is your chance to tell us who you want to be featured on Varsity TV.
20 teams will be selected to go into the final voting round! Out of those 20 nominees, five all star teams will be chosen as Cheerleader's Choice: All Star Insider winners! But there isn't much time left. Nominations close Friday, October 9th at 11:45 PM CT, so be sure to tell us why your team deserves to move on to the next round!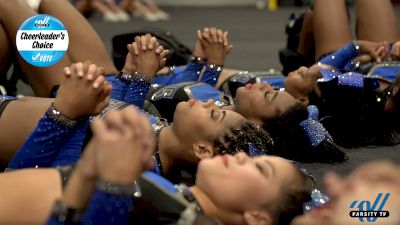 How To Nominate
Tell us about the all star team you are nominating and why they should be chosen! We are looking for inspiring athletes, exceptional coaches, and stand-out stories that make your gym unique. The Varsity TV team will select the most stand-out stories to move on to the final voting.
WATCH LIVE
This year, the winners of the 2020 Cheerleader's Choice: All Star Insider will be released LIVE on Varsity TV! But before we do that, tune in all day long on Friday, October 30th to watch a celebration of previous features from past Cheerleader's Choice winners to get a taste of what's to come for the new winners! We are excited to release the new Varsity TV Cheerleader's Choice documentary, Beyond The Routine: Spirit Of Texas Royalty! Then, to top off a day full of excitement, the 2020-2021 winners will be announced!
NOMINATE NOW!