Varsity All Star Virtual Competition Series: Event IV
Meet Passion, The Heart Of K&K Cheer Empire
Meet Passion, The Heart Of K&K Cheer Empire
In 2005, K&K Cheer Empire started their Cheer Abilities team, Passion. Get to know the team and what they mean to the proud Arizona all star program.
Nov 12, 2020
by Varsity TV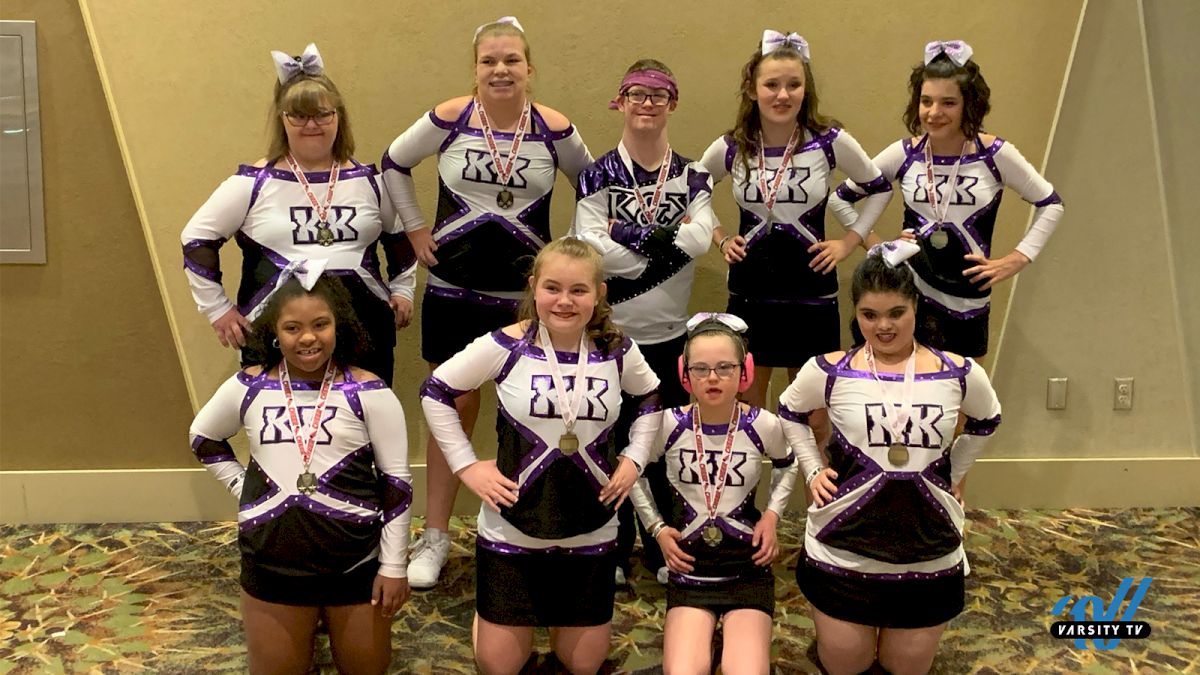 K&K Cheer Empire opened its doors in 2001 in Phoenix, Arizona.
The program currently has seven competing teams from their Tiny Level 1 to their Senior Coed Level 4.
Over the course of the gym's history, K&K Cheer Empire has been to The Summit twice, once in 2013 and again in 2017. They've also had a team place 1st at The U.S. Finals in 2018!
"We are a small gym that thrives in a family environment. We truly are just one big family and our philosophy has and always will be to not just teach our athletes how to be the best cheerleader they can be, but the best person as well." - Karlee Jackson, Coach
In 2005, K&K Cheer Empire started their Cheer Abilities team, Passion. The gym started with about four or five athletes and has now grown to a team of 12 amazing athletes. Passion is made up of boys and girls of all ages.
"They only practice one day a week for one hour but somehow make it the best part of our week," shared Jackson. "It is such a blessing to have the privilege to coach these kids and they make everyone in our gym so proud every time they step out onto the mat."
"Since then they have really been the heart of our gym."
Passion is extremely excited to start competing this weekend at the 2020 Varsity All Star Virtual Competition Series!
"One thing to always expect from this team while they perform is a show," Jackson explained. "Performing is their favorite thing and you can't help but just be happy watching them do what they love. Now that we have 12 members we are able to attempt some new stunting skills and pyramid that we cannot wait to show everyone."
Passion holds a lot of the same goals for their routine as others in the competition - to hit their routine and have fun!
"Our goal is the same every time we go out," shared Jackson. "Obviously, we want everyone in the correct formations and we want our stunts to be in the air. However, I only want them to have fun. I want every athlete to be proud of themselves and to come off of the floor happy and excited."
"I just really want to express how endlessly proud I am of this team every year. They go out on the mat completely unassisted and just put a happy tear in your eye every time they perform. If you see them at a competition this year don't miss the opportunity to watch them!"
Be sure to tune in to Varsity TV on Saturday at 9 AM CT to watch K&K Cheer Empire Passion light up the mat with their performance in Event IV of the 2020 Varsity All Star Virtual Competition Series!
---
How To Watch
Join Varsity TV PRO now to stream live Varsity TV competitions and events anytime, on any device!
On Your TV: Now Available on Roku, Fire TV, Chromecast & Apple TV.
Cast: Cast to your smart TV including Vizio, Samsung, and LG TVs.
On The Go: Download the FloSports app on iOS or Android.
*FloCheer PRO subscribers, you can use your existing login to access to all Varsity TV premium content, live streaming competitions, and events.
FREE Gift For Varsity TV Yearly Members!
We're celebrating the start of the 2020-21 cheerleading and dance season with a token of our appreciation for ALL yearly Varsity TV members. Join now or upgrade your monthly subscription to claim this travel backpack, a $62.95 value, for FREE our thank you gift to you!