2021 NCA High School Nationals
WATCH: 2021 NCA High School Nationals
WATCH: 2021 NCA High School Nationals
Everything you need to know to watch the 2021 NCA High School Nationals March 6-7, 2021, on Varsity TV!
Feb 16, 2021
by Varsity TV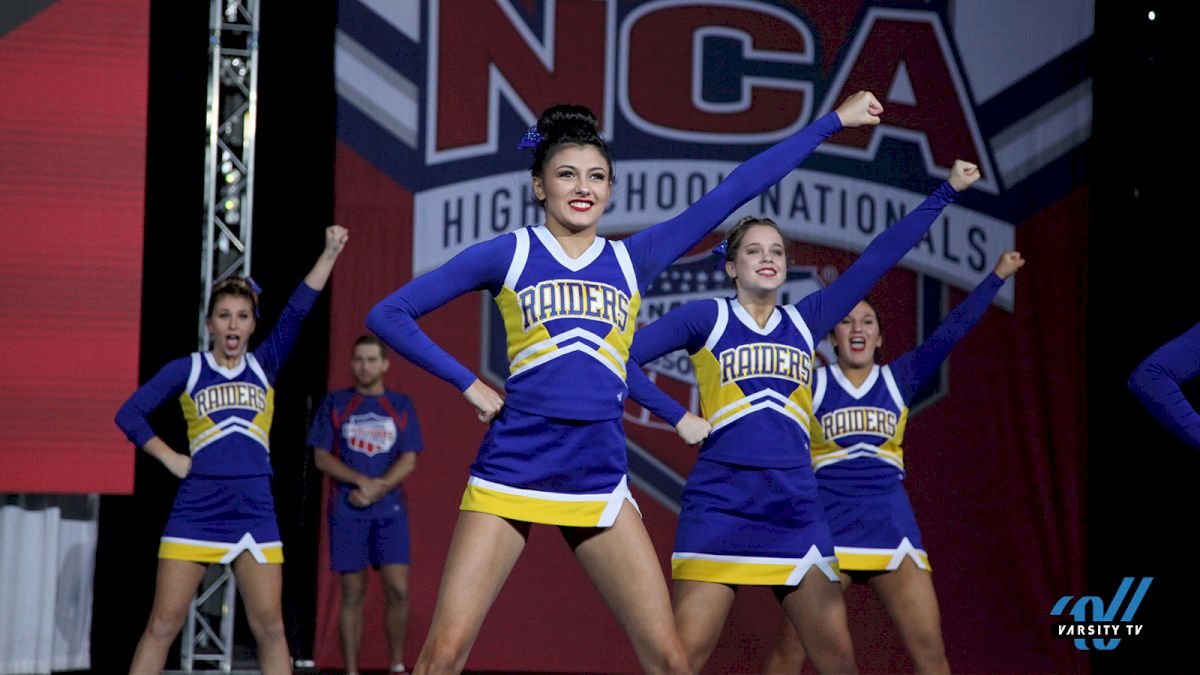 The 2021 NCA High School Nationals quickly approaching, and we are only days away from teams taking the mat at a chance for a national title.
This is one of the most prestigious events of the year with some of the most outstanding high school teams taking the stage to prove that the work is worth it.
---
Who: School Cheerleading teams
When: March 6-7, 2021
Where: Fort Worth Convention Center in Fort Worth, Texas
Watch: LIVE on Varsity TV
---
Venue Insider
The weekend's festivities will take place March 6-7 in the Fort Worth Convention Center in Fort Worth, Texas.
Want to peek inside the building before you get here? Check out this 360-degree virtual tour which will take you through every room of the Fort Worth Convention Center.
The Convention Center is located in the heart of downtown and Sundance Square. If you're in search of a great food spot or need to take a break from the competition, click here for options surrounding the area.
NCA and Varsity Spirit will follow the most current venue, local, and state guidelines as it relates to crowds and large gatherings. Specific plans and procedures will be finalized and communicated to participants closer to the event date. NCA High School Nationals is currently an Option B event.
Option B: In-Person with Limited Spectators
Spectator viewing limited to team performance time only
Live awards ceremony with limited athletes and/or coaches, OR virtual awards ceremony
All teams will receive score sheets, rankings, and awards
---
Top school teams will head to NCA to compete for a national championship title. This must-watch two-day event is sure to be full of spirit and impressive routines.
View 2019 NCA High School Nationals Results
View 2020 NCA High School Nationals Results
NCA High School Nationals features divisions for every team. Novice, Intermediate, Advanced, and Non-Tumbling divisions are offered so your team can show their unique style and create memories that last a lifetime on the championship floor.
Each season, High School and Junior High teams will be competing for titles in the Performance Division, Game Performance Division, and Game Day Divisions.
Here Is A Breakdown Of The Divisions:
Performance Division
The Performance Division emphasizes the athleticism of cheerleading with a focus on visual elements such as transitional stunts and pyramids. These routines are action-packed with a display of showmanship and skill that have set the standard at NCA High School Nationals for over 25 years.
Game Performance
The Game Performance Division is an entertaining visual showcase of athleticism featuring a contemporary music section and a crowd-leading sideline cheer section where athletes use poms, signs, and megaphones to get the crowd involved. This division is the perfect showcase of athleticism while encouraging fan participation.
Game Day Division
The Game Day Division highlights school pride by incorporating three crowd leading elements: Game Day Cheer, Fight Song, and Band Chant.
Teams bring high energy to the mat as they engage the crowd with their voices, spirit props, and sideline skills.
In 2019, NCA introduced the addition of Spirit Program as apart of the Game Day Divisions. Spirit Program is all about unifying the different teams within a school to create the ultimate game day experience. This division not only allows the use of traditional sideline cheer and dance teams but also the incorporation of members of the school Marching Band, Pep Band, Drum Line, Mascot(s), Spirit Group/Club, etc.
Things are a little different and we want to ensure everyone has a chance to be in the 2021 NCA High School National spotlight this year. For those that are unable to travel because of your state / local guidelines or administration, NCA will be offering Virtual Divisions.
2021-21 Virtual Divisions at Nationals: VIEW VIRTUAL DIVISIONS
Virtual Division Timeline:
February 22: Keyword sent to coaches to include in routine videos
March 3: Routine Video Upload Day
March 6-7: Watch the virtual nationals divisions on Varsity TV
Who will take home the title at the 2021 NCA High School Nationals? Tune in to watch it all LIVE on Varsity TV!
---
How To Watch
Join Varsity TV PRO now to stream live Varsity TV competitions and events anytime, on any device!
TV: Available on Roku and Apple TV 4 -- download the FloSports TV app now.
*FloCheer PRO subscribers, you can use your existing login to access to all Varsity TV premium content, live streaming competitions, and events.