2021 NCA & NDA Collegiate Cheer & Dance Championship
Navarro College Goes For Number 15 At NCA College
Navarro College Goes For Number 15 At NCA College
The 14-time national champions, Navarro College, is going for their 15th national title in the Advanced Large Coed Junior College division!
Apr 7, 2021
by Varsity TV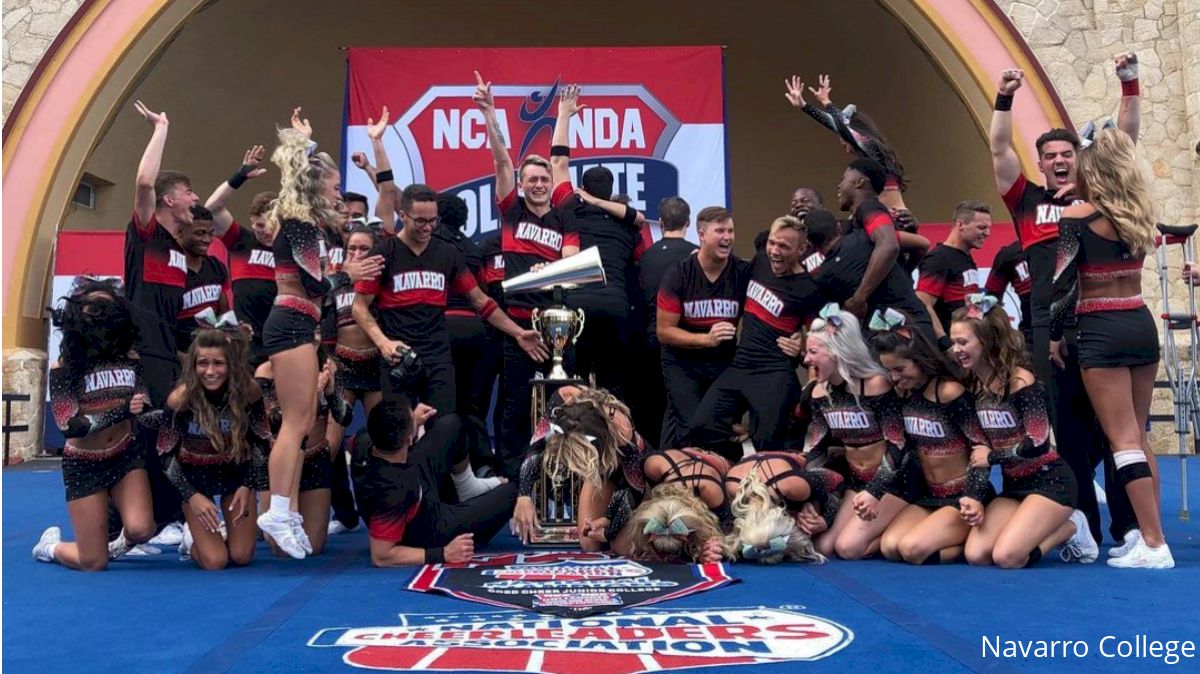 The 2021 NCA & NDA Collegiate National Championship is only hours away from the first team taking the floor. The 14-time national champion Junior College team, Navarro College, from Corsicana, Texas has been attending the event for over 30 years and is ready to go for their 15th national title.
Check Out Their 2019 Finals Performance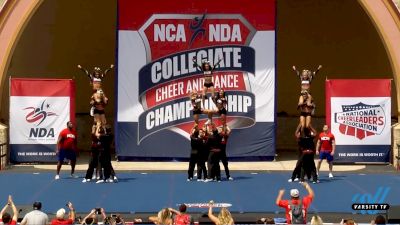 The team is coached by head coach Monica Aldama and assistant coach Kailee Peppers, and they say the team is 100% ready to take on Daytona!
Like many teams headed to Daytona this weekend, Navarro has put in countless hours of hard work and preparation for their two minutes and thirty seconds of the spotlight. Will their hard work pay off again this season? We're only hours away from the competition unfolding before our eyes!
"This team is made up of very resilient young adults," said head coach Monica Aldama. "We have battled through this pandemic going through multiple quarantines, the worst winter storm I have seen in Texas, and the scrutiny of the media. They have managed to stay positive and keep jumping over every hurdle thrown at them."
The Bulldogs not only bring difficulty to the division, but their show-stopping performance is what makes this powerhouse program stand out amongst all teams stepping foot on the Bandshell. Head coach Aldama says the team's strengths this season are their resiliency, dedication, and work ethic!
We got to see Navarro's send-off performance only days before the team headed to Daytona. Head coach Aldama says the team has worked really hard to have their own Bandshell to practice on, and this year it came true. Check out their 2021 routine, and get ready to watch this routine hit the Bandshell!
Although the team only has one competitor in the Advanced Large Coed Junior College division, Trinity Valley Community College is a strong program, and both teams must hold nothing back to have a shot at the 2021 national title. Navarro's goal is to hit a zero deduction routine and have fun on the bandshell!
"Many of these kids came back after a devastating end to their season last year," said Aldama. "They are beyond excited to have made it this far and cannot wait to step on that bandshell."
I have no words for how proud I am of this team. They are fighters and true champions in my eyes. - Monica Aldama
Navarro College takes over the Bandshell tomorrow at 12:32 PM EST and you're not going to want to see their hard work put into action. If you weren't able to make the trip to sunny Daytona, Florida this weekend, you don't have to miss out on any of the fun! Join Varsity TV Pro and watch the 2021 NCA & NDA Collegiate National Championship LIVE.
---
How To Watch
Join Varsity TV PRO now to stream live Varsity TV competitions & events anytime, on any device!
TV: Available on Roku & Apple TV 4 -- download the FloSports TV app now.
*FloCheer PRO subscribers, you can use your existing login to access to all Varsity TV premium content, live streaming competitions and events.