2021 NCA All-Star Virtual National Championship
Meet Victoria From CJA Bombshells!
Meet Victoria From CJA Bombshells!
Victoria Munt is one of the strongest athletes to ever step foot into CJA! Learn more about her and how the gym helped mold her as a person.
Jul 1, 2021
by Varsity TV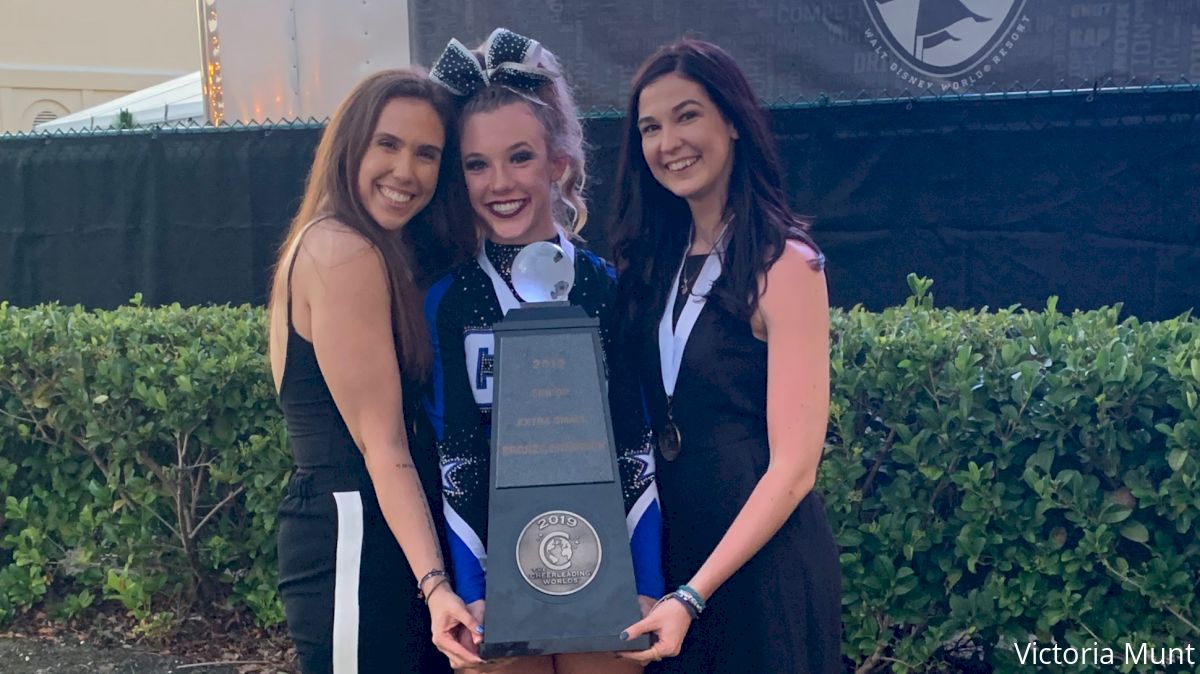 The Bombshells from Central Jersey Allstars are made up of powerhouse athletes and great all around people! One athlete on the team is known for having the biggest heart, and considering the life obstacles she has faced, she is also super strong.
Victoria Munt calls New Jersey home and is from Union! CJA has been a part of her life for the past eleven years and seven of those years on Bombshells. The team has helped mold her into not only the athlete she is today, but the person as well.
On Thanksgiving Day 2017, Victoria's father unexpectedly passed away due to a heart condition. It turned Victoria's world upside down, but she turned to her CJA family for support. It was a hard time for Victoria, but according to her coaches, she is one of the strongest athletes in the gym.
"This child is stronger than so many adults I know," said CJA owner and coach Patty Ann. "She has taken some hits and never has she allowed it to affect her performance, her leadership, or her loyalty. I'm in awe."
Victoria says it was a difficult time for her, but it's made her stronger and more grateful and appreciative of life. Her mother and brother are her biggest supporters and her mom, Danielle, is her rock.
"My mom and brother are definitely my biggest supporters," said Victoria. "My mom has dropped many things in order to bring me to practice or take me to competitions and my brother has missed many school events and days with his friends just to be there for me."
Check out these 29 photos of Victoria, her family, & CJA!
Victoria has been a part of Central Jersey Allstars for a very long time, and she keeps coming back, not only because of the success that the gym has gained over the years but because of the people that make up the gym.
"The reason I keep coming back to CJA for more seasons is because of the bigger goals being set and the loving and supportive atmosphere that impacts my life every time I step into the gym," said Victoria. "CJA is a huge part of my life and all the athletes and coaches have become my family and I'm not ready to give it up."
Victoria's time at CJA is not up, and she will be coming back for another year as a "super senior" and we can't wait to see what's in store for her future! Along with being a CJA athlete, Victoria will be attending Monmouth University this fall studying health promotion fitness and wellness.
Victoria's Accomplishments
Summit Champion
2-Time NCA All-Star National Champion
2-Time Bronze World Medalist
2021 Undefeated World Champion!
Be sure to tune in to the Beyond The Routine: CJA Bombshells Live Watch Party on Friday, July 9th to hear the rest of Victoria's story and to follow the Bombshells experience at the 2021 NCA All-Star Virtual National Championship!
Watch The Beyond The Routine: CJA Bombshells Trailer