2021 NCA All-Star Virtual National Championship
Meet Emma From CJA Bombshells!
Meet Emma From CJA Bombshells!
There are many of dedicated athletes that make up Central Jersey All Stars Bombshells! Learn more about Emma Raimonde and her leadership roles on the team.
Jul 1, 2021
by Varsity TV
The Bombshells from Central Jersey All Stars are made up of powerful and hard working athletes! They give it their all and will stop at nothing until they are successful. Emma Raimonde is one of these athletes and is considered a leader to the newly crowned World Champions! She cares for her team and coaches, and she wants the best for each of them.
Emma has lived in New Jersey her whole life, and has been a part of Central Jersey All Stars since 2014!
"Emma leads by example," says CJA owner and coach Patty Ann. "She's not going to ask her teammates to do something that she's not going to do. She's a phenomenal athlete and a phenomenal person."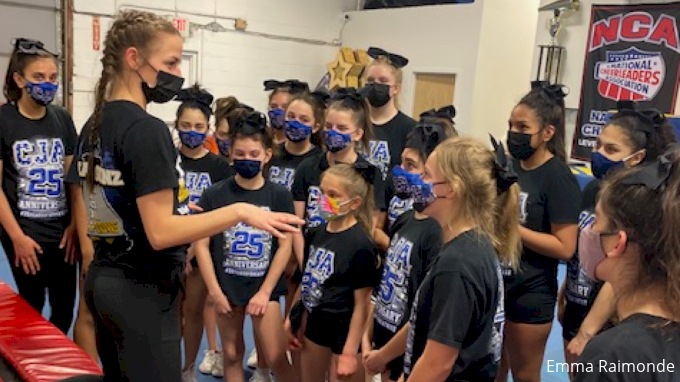 "Not only is she talented, but she's humble, and she wants her teammates to be the best version of themselves," says Bombshells Coach Gina. "But she also holds them responsible for their skills!"
Emma might be a strong person herself, but she has a strong set of women behind her that she considers her role models.
"My biggest supporters are my mom, Kelly, and grandma Barbara," says Emma. "They're my biggest supporters because they've been with me throughout my whole cheer career and have never missed a competition."
Check out these 22 photos of Emma & her time at CJA!
There is a reason Emma has been with Central Jersey All Stars all of these years, and it's more than chasing championship titles.
"What sets CJA apart from other programs is the love that we have for each other," says Emma. "The home atmosphere and energy of CJA is not like anything I could have ever imagined to be a part of in my life."
Event after an undefeated and successful season at CJA, Emma has another big year coming up! She will be returning to CJA to be a part of Bombshells and will also be heading into her Junior year of college. She is pursuing a career in radiation therapy!
Emma's Accomplishments
2018: Bronze World's Medalist
2019: Bronze World's Medalist
2021: NCA All-Star National Champion
2021: The Cheerleading Worlds Gold Medalist
Tune in to the Live Watch Party revealing Varsity TV's newest documentary Beyond The Routine: CJA Bomshells and watch all four episodes! Learn more about Emma and the powerhouse program.
Watch The Trailer Now!