2022 NCA High School Nationals
Insider Info: 2022 NCA High School Nationals
Insider Info: 2022 NCA High School Nationals
Everything you need to know for the 2022 NCA High School Nationals on January 22-23 on Varisty TV.
Jan 7, 2022
by Marissa Mastrovalerio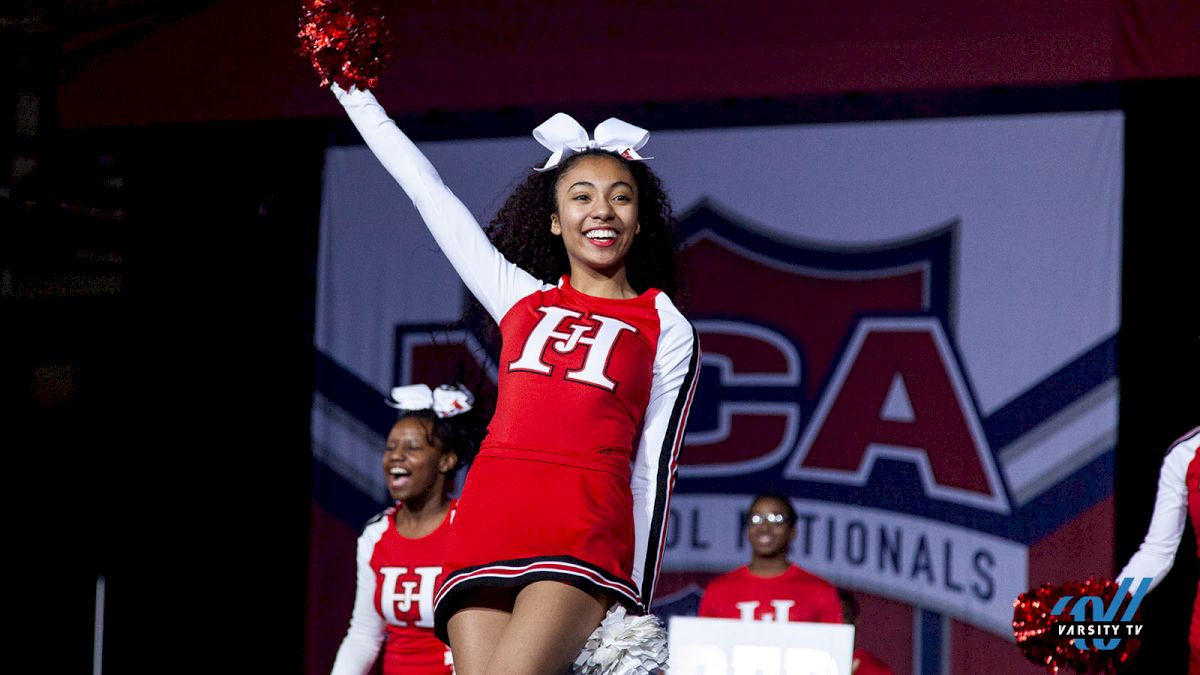 It's almost time for the 2022 NCA High School Nationals! This is one of the biggest events of the year with some of the most outstanding high school teams taking the stage to prove that the work is worth it!
---
Who: High School, Junior High, & Middle School Cheerleaders
When: January 22-23, 2022
Where: Kay Bailey Hutchison Convention Center Dallas in Dallas, TX
Watch: LIVE on Varsity TV
---
There is a place for every team at NCA with three divisions offered teams can compete in Game Day, Performance, and Game Performance. Here Is A Breakdown Of The Divisions:
Performance Division
The Performance Division emphasizes the athleticism of cheerleading with a focus on visual elements such as transitional stunts and pyramids. These routines are action-packed with a display of showmanship and skill that have set the standard at NCA High School Nationals for over 25 years.
Game Performance
The Game Performance Division is an entertaining visual showcase of athleticism featuring a contemporary music section and a crowd-leading sideline cheer section where athletes use poms, signs, and megaphones to get the crowd involved. This division is the perfect showcase of athleticism while encouraging fan participation.
Game Day Division
The Game Day Division highlights school pride by incorporating three crowd leading elements: Game Day Cheer, Fight Song, and Band Chant.
Teams bring high energy to the mat as they engage the crowd with their voices, spirit props, and sideline skills.
In 2019, NCA introduced the addition of the Spirit Program as a part of the Game Day Divisions. Spirit Program is all about unifying the different teams within a school to create the ultimate game day experience. This division not only allows the use of traditional sideline cheer teams but also the incorporation of the school Mascot, Band, Drum Line, Dance Team, etc.
Novice, Intermediate, Advanced, and Non-Tumbling divisions are also offered so your team can show their unique style and create memories that last a lifetime on the championship floor.
View 2021 NCA National High School Cheerleading Championship Results

---
Venue Insider
The best of the best cheerleaders from around the country will be heading to the Kay Bailey Hutchison Convention Center for a chance to compete for a national title and the coveted golden megaphone trophy!
Click here for transportation and parking information.
Looking to grab a quick bite to eat? Check out these 31 places to eat near the convention center.


Taking a break from the competition or celebrating a winning routine? Check out some of these great spots in Dallas to have some fun!
---