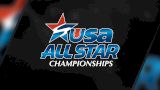 2019 USA All Star Championships
Anaheim, CA
Mar 16-17, 2019
Find Videos
Filter Videos

741 Videos

Performance Type

All-Star Cheer

730

All-Star Dance

2

Division

Senior - D2

62

Junior

61

Junior - D2

46

Youth - D2

45

Senior

40

Youth

27

Senior Coed

24

Senior - Medium

20

International Junior

18

Junior - D2 - Small - A

18

Junior - Medium

16

Junior - D2 - Small - B

15

Mini

14

Youth Hip Hop

14

Senior Restricted Coed

13

- Junior PREP

12

- Youth PREP

12

Mini - D2

11

- Tiny Novice

10

Senior Open - Small Coed

10

- Mini PREP

8

- Senior PREP

8

International Open

8

International Open - Large Coed

8

International Open Coed

8

Junior Hip Hop Coed Hip Hop

8

Mini Prep Pom

8

Open Coed Hip Hop

8

Senior Open

8

Senior Pom Senior Coed Pom

8

Round

Brand

Program

Oc All Stars

58

CheerForce

47

South Coast Freestyle

26

Nor Cal Elite All Stars

23

Xtreme Dance

22

The California All Stars - Ontario

21

Strut Performing Arts

20

Usa Starz

20

Almaden Spirit Athletics

18

Top Gun All Stars

18

The California All Stars - Las Vegas

16

Victorious Elite All Stars

16

Five Star Athletics

15

Spirit Athletics

15

Rogue Athletics - SFV

14

Desert Elite Mavericks

13

Footnotes Dance Studio

13

Cali Coast Elite

12

Natural Venom All Stars

12

Utah Xtreme Cheer

12

Intensity Athletics

10

North Bay Elite

10

Stars Vipers California

10

West Coast Rush

10

Pyramid Athletics

9

The California All Stars - Camarillo

9

University All Stars

9

Central Valley Athletics

8

Champion Cheer Athletics

8

Flipz Allstars

8

Brand Full Name

United Spirit Association

8

Content Type

Performance

727

Full Event Replay

6

Feature

3

Highlight

3

Event Archive

1

Preview

1

Level

Level 1

152

Level 2

141

Level 3

99

Level 4

64

Level 5

63

Level 11

38

Level 4.2

14

Level 6

10

Level 21

3

Level 32

2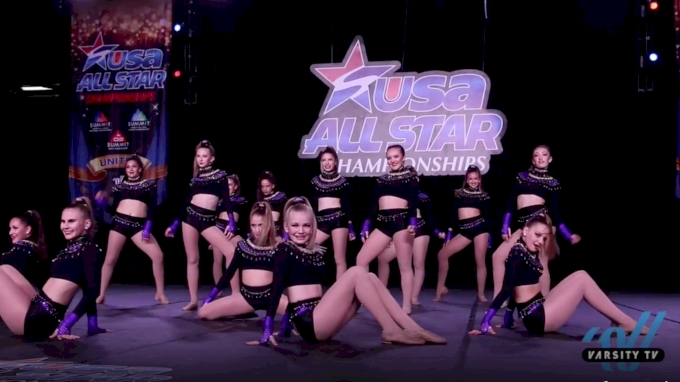 Unlock this video, live events, and more with a subscription

! Get Started

Already a subscriber? Log In
South Coast Freestyle Jr. Jazz Brings Sass & Style To USA
Mar 19, 2018
The west coast always brings talent to the stage at USA All Star in Anaheim, CA, but one team in particular bought 'the girls' together and style to the stage.
Watch South Coast Freestyle's Junior Jazz team perform a powerful and feminine routine for their fans at the 2018 USA All Star Championships!
---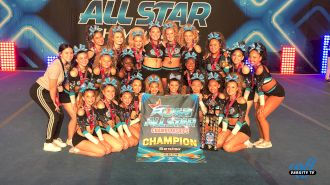 SCV All Stars Senior Blue On Top!
Strut Takes Hip Hop To A Whole New Level!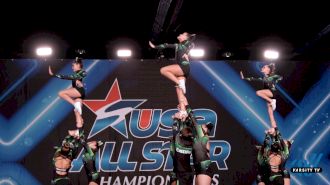 Level 4 Junior Teams Steal The Show At USA All Star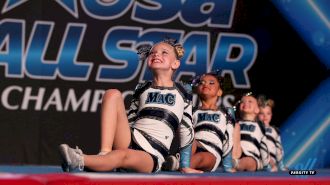 The 2019 USA All Star Championships Is Here!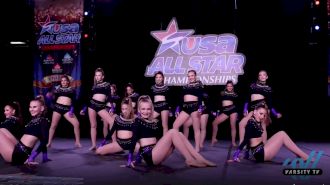 South Coast Freestyle Jr. Jazz Brings Sass & Style To USA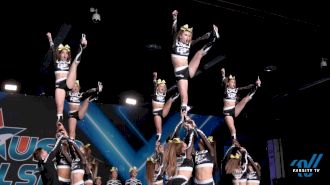 Unforgettable Routines: L5 Senior Open Small Coed
The California All Stars - Las Vegas - J-Club [2019 Junior 4 Day 1] 2019 USA All Star Championships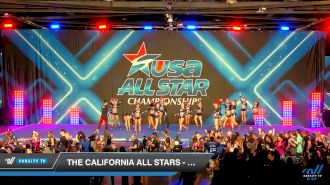 The California All Stars - Ontario - Onyx [2019 Senior Coed - Medium 4 Day 1] 2019 USA All Star Championships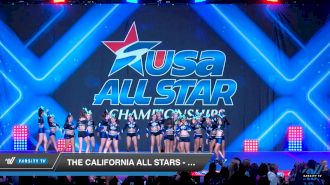 The California All Stars - Ontario - Crystal [2019 Senior - Medium 1 Day 1] 2019 USA All Star Championships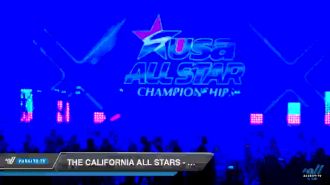 The California All Stars - Ontario - Crystal [2019 Senior - Medium 1 Day 2] 2019 USA All Star Championships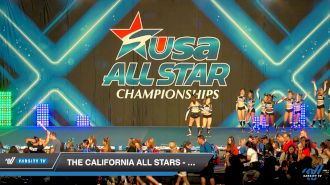 The California All Stars - Ontario - Midnight [2019 Senior 5 Day 1] 2019 USA All Star Championships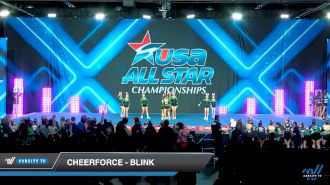 CheerForce - Blink [2019 Youth 1 Day 2] 2019 USA All Star Championships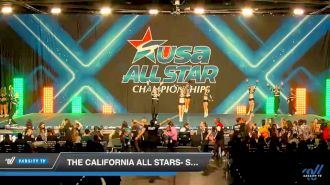 The California All Stars- San Marcos - Rangers [2019 International Open - Large Coed 6 Day 1] 2019 USA All Star Championships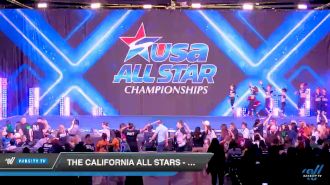 The California All Stars - Las Vegas - Queens [2019 Senior 4.2 Day 1] 2019 USA All Star Championships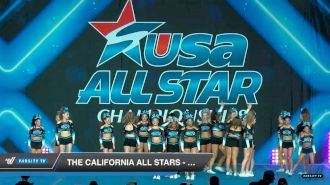 The California All Stars - Ontario - Cobalt [2019 Youth - Medium 2 Day 1] 2019 USA All Star Championships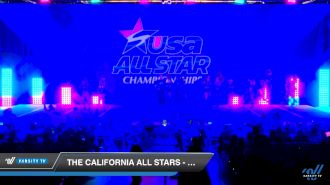 The California All Stars - Las Vegas - ACES [2019 Senior Open - Small Coed 5 Day 2] 2019 USA All Star Championships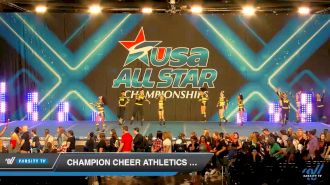 Top Gun All Stars - IMMORTALS [2019 L5 Senior Open - Large Coed Day 1] 2019 USA All Star Championships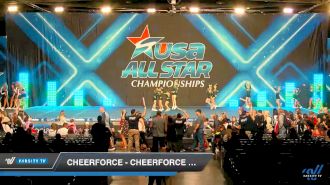 CheerForce - CheerForce Craze [2019 Youth 3 Day 1] 2019 USA All Star Championships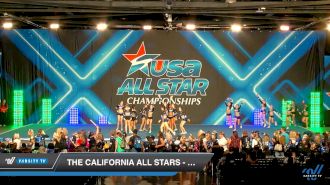 The California All Stars - Camarillo - Assassins [2019 Senior - Medium 4 Day 1] 2019 USA All Star Championships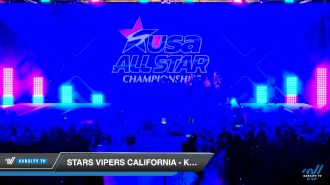 Stars Vipers California - King Cobras [2019 International Open - Non Tumbling 5 Day 2] 2019 USA All Star Championships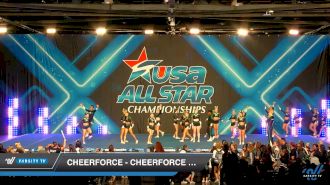 CheerForce - CheerForce Blackout [2019 International Open - Small Coed 5 Day 1] 2019 USA All Star Championships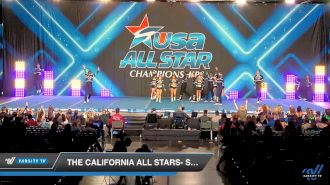 The California All Stars- San Marcos - Rangers [2019 International Open - Large Coed 6 Day 2] 2019 USA All Star Championships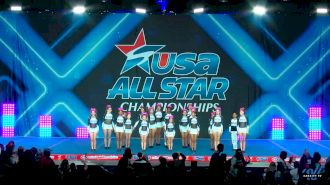 Intensity Athletics - High Voltage [2019 International Junior 3 Day 1] 2019 USA All Star Championships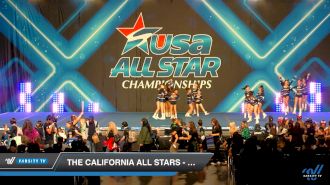 The California All Stars - Ontario - Slate [2019 Junior - Medium 3 Day 1] 2019 USA All Star Championships
The California All Stars - Camarillo - Swat [2019 Senior - Medium 2 Day 1] 2019 USA All Star Championships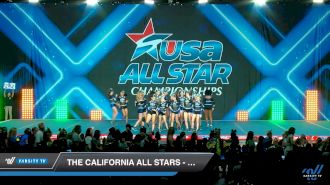 The California All Stars - Ontario - Steel [2019 Junior 2 Day 1] 2019 USA All Star Championships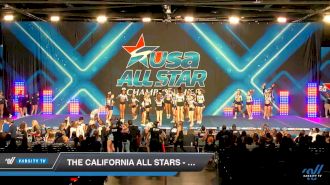 The California All Stars - Livermore - Sparkle [2019 International Open 5 Day 1] 2019 USA All Star Championships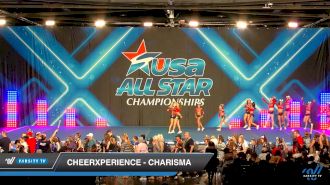 Stars Vipers California - Lady Venom [2019 Senior - L4 Day 1] 2019 USA All Star Championships
The California All Stars - Las Vegas - J-Money [2019 Junior - Medium 3 Day 1] 2019 USA All Star Championships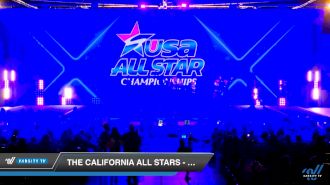 The California All Stars - Ontario - Onyx [2019 Senior Coed - Medium 4 Day 2] 2019 USA All Star Championships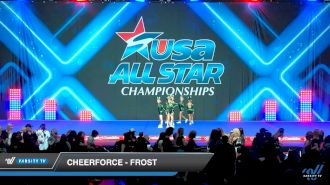 CheerForce - Frost [2019 Mini 1 Day 1] 2019 USA All Star Championships
Jazz Teams Come Out Spinning At USA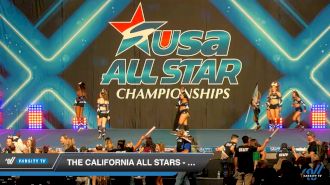 The California All Stars - Las Vegas - ACES [2019 Senior Open - Small Coed 5 Day 1] 2019 USA All Star Championships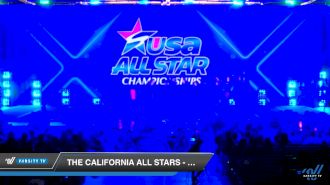 The California All Stars - Las Vegas - J-Money [2019 Junior - Medium 3 Day 2] 2019 USA All Star Championships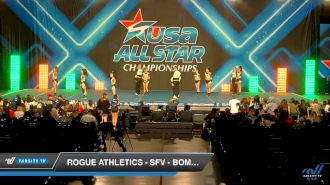 Rogue Athletics - SFV - Bomb Squad [2019 Senior Coed 4.2 Day 2] 2019 USA All Star Championships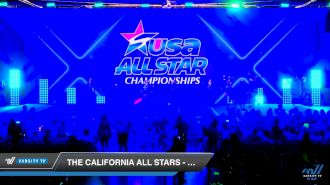 The California All Stars - Las Vegas - J-Club [2019 Junior 4 Day 2] 2019 USA All Star Championships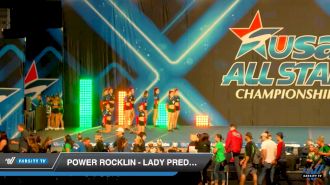 POWER Rocklin - LADY PREDATORS [2019 Senior Open 5 Day 2] 2019 USA All Star Championships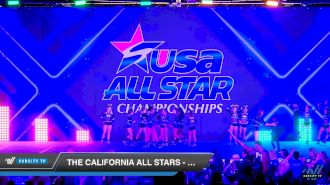 The California All Stars - Ontario - Eclipse [2019 Junior Restricted 5 Day 2] 2019 USA All Star Championships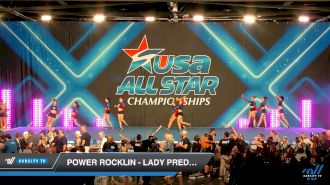 POWER Rocklin - LADY PREDATORS [2019 Senior Open 5 Day 1] 2019 USA All Star Championships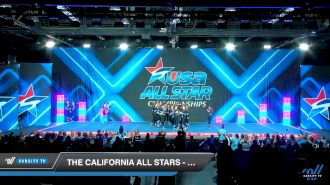 The California All Stars - Las Vegas - Deuces [2019 Junior - Medium 2 Day 1] 2019 USA All Star Championships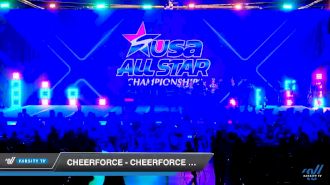 CheerForce - CheerForce Blackout [2019 International Open - Small Coed 5 Day 2] 2019 USA All Star Championships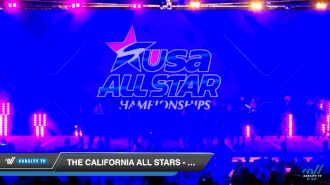 The California All Stars - Livermore - Sparkle [2019 International Open 5 Day 2] 2019 USA All Star Championships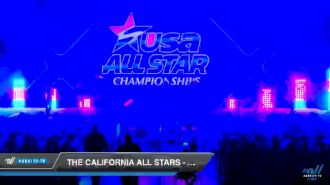 The California All Stars - Camarillo - Assassins [2019 Senior - Medium 4 Day 2] 2019 USA All Star Championships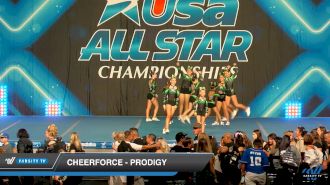 CheerForce - Prodigy [2019 Junior 4 Day 1] 2019 USA All Star Championships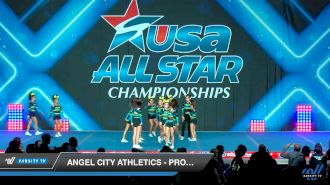 Angel City Athletics - Prodigy [2019 Youth - D2 2 Day 1] 2019 USA All Star Championships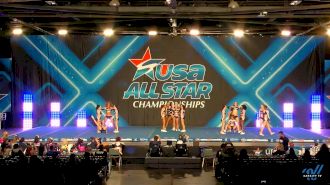 Gem Of Jewels - Royal Roses [2019 International Open 6 Day 1] 2019 USA All Star Championships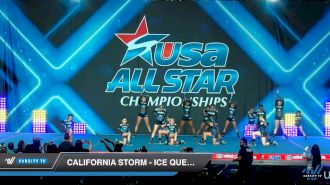 California Storm - Ice Queens [2019 Junior - D2 - Small - B 2 Day 2] 2019 USA All Star Championships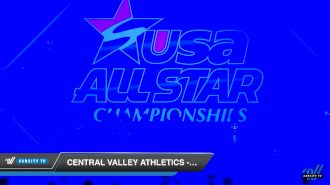 Central Valley Athletics - Celebrities [2019 Senior - D2 2 Day 1] 2019 USA All Star Championships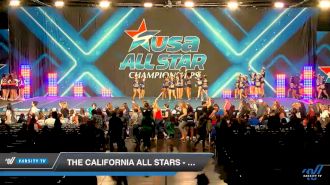 The California All Stars - Ontario - Platinum [2019 Senior - Medium 3 Day 1] 2019 USA All Star Championships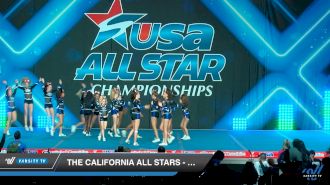 The California All Stars - Camarillo - Jr. Gunz [2019 International Junior 3 Day 1] 2019 USA All Star Championships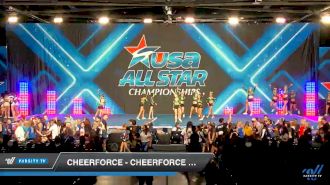 CheerForce - CheerForce Frenzy [2019 Senior 3 Day 1] 2019 USA All Star Championships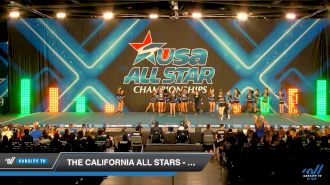 The California All Stars - Ontario - Eclipse [2019 Junior Restricted 5 Day 1] 2019 USA All Star Championships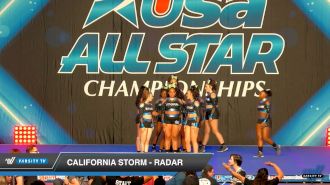 California Storm - Radar [2019 Senior - D2 3 Day 1] 2019 USA All Star Championships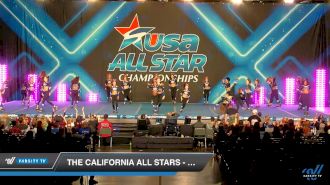 The California All Stars - Las Vegas - Queens [2019 Senior 4.2 Day 2] 2019 USA All Star Championships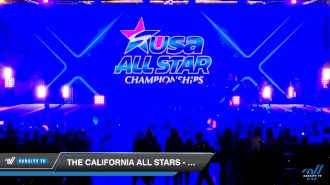 The California All Stars - Ontario - Slate [2019 Junior - Medium 3 Day 2] 2019 USA All Star Championships
Stars Vipers California - Black Mambas [2019 Junior 3 Day 1] 2019 USA All Star Championships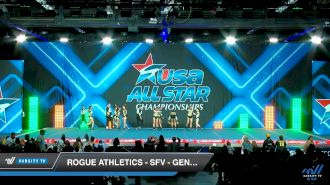 Rogue Athletics - SFV - Generals [2019 Senior 1 Day 1] 2019 USA All Star Championships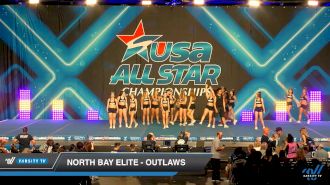 North Bay Elite - Outlaws [2019 International Open - Non Tumbling 5 Day 1] 2019 USA All Star Championships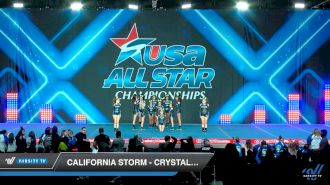 California Storm - CRYSTAL ICE [2019 Youth - D2 1 Day 1] 2019 USA All Star Championships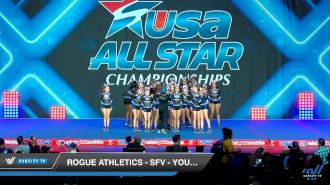 Rogue Athletics - SFV - Youth Ops [2019 Youth 1 Day 1] 2019 USA All Star Championships