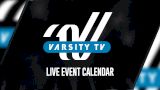 Varsity TV Season Calendar
Oct 1 - May 13
Austin, TX
Sign up for a PRO account to watch all of the live and on-demand competitions and events listed in the schedule tab above.
Live streaming coverage available in the United States, Canada & United Kingdom only due to music rights. However, all other content including competition routine videos, documentaries and premium content is available worldwide.
Schedule is subject to change. Check back often as new events are added!
2018-19 Varsity TV Live Streaming Competition Schedule
| | | | |
| --- | --- | --- | --- |
| EVENT & COVERAGE DETAILS | DATES | LOCATION | LIVE STREAM |
| NCA North Texas Classic | Nov. 4, 2018 | Arlington, TX | Watch LIVE |
| UCA Bluegrass Championship | Nov. 10-11, 2018 | Lexington, KY | Watch LIVE |
| UCA Northeast Championship | Nov. 10-11, 2018 | Toms River, NJ | Watch LIVE |
| UCA & UDA Mile High Championship | Nov. 10-11, 2018 | Denver, CO | Watch LIVE |
| UCA Smoky Mountain Championship | Dec. 1-2, 2018 | Sevierville, TN | Watch LIVE |
| The Cheer Alliance | Dec. 7, 2018 | Louisville, KY | Watch LIVE |
| WSF All Star Cheer & Dance Championship | Dec. 8-9, 2018 | Louisville, KY | Watch LIVE |
| America's Best National Championship | Dec. 15-16, 2018 | Kansas City, MO | Watch LIVE |
| London New Year's Day Parade | Jan. 1, 2019 | London, UK | Watch LIVE |
| UCA & UDA College Cheerleading & Dance Team National Championship | Jan. 18-20, 2019 | Orlando, FL | Watch LIVE |
| The MAJORS | Jan. 18, 2019 | Indianapolis, IN | Watch LIVE |
| JAMFest Cheer Super Nationals | Jan. 19-20, 2019 | Indianapolis, IN | Watch LIVE |
| Feel the Power East Coast Championship (Canada) | Jan. 19-20, 2019 | Mississauga, Ontario | Watch LIVE |
| NDA All-Star Nationals | Jan. 25-27, 2019 | Grapevine, TX | Watch LIVE |
| NCA High School Nationals | Jan. 26-27, 2019 | Dallas, TX | Watch LIVE |
| UDA National Dance Team Championship | Feb. 1-3, 2019 | Orlando, FL | Watch LIVE |
| Spirit Sports: Duel in the Desert | Feb. 2-3, 2019 | Palm Springs, CA | Watch LIVE |
| Pac Battle of Champions (Canada) | Feb. 2-3, 2019 | Calgary, Alberta | Watch LIVE |
| UCA National High School Cheerleading Championship | Feb. 8-10, 2019 | Orlando, FL | Watch LIVE |
| CHEERSPORT Nationals | Feb. 22-24, 2019 | Atlanta, GA | Watch LIVE |
| USA Spirit Nationals | Feb. 22-24, 2019 | Anaheim, CA | Watch LIVE |
| USA Collegiate Championship | Feb. 22-24, 2019 | Anaheim, CA | Watch LIVE |
| NDA High School Nationals | Feb. 22-24, 2019 | Orlando, FL | Watch LIVE |
| NCA All-Star Nationals | Mar. 1-3, 2019 | Dallas, TX | Watch LIVE |
| UCA International All Star Championship | Mar. 9-10, 2019 | Orlando, FL | Watch LIVE |
| PacWest DI & DII Nationals | Mar. 9-10, 2019 | Portland, OR | Watch LIVE |
| USA All Star Championships | Mar. 16-17, 2019 | Anaheim, CA | Watch LIVE |
| Reach The Beach Nationals | Mar. 23-24, 2019 | Ocean City, MD | Watch LIVE |
| One Up National Championship | Mar. 30-31, 2019 | Nashville, TN | Watch LIVE |
| 2019 NCA & NDA Collegiate Cheer and Dance Championship | Apr. 4-6, 2019 | Daytona Beach, FL | Watch LIVE |
| The U.S. Finals: Louisville | Apr. 13-14, 2019 | Louisville, KY | Watch LIVE |
| The U.S. Finals: Chicago | Apr. 13-14, 2019 | Chicago, IL | Watch LIVE |
| The U.S. Finals: Kansas City | Apr. 27, 2019 | Kansas City, MO | Watch LIVE |
| The Cheerleading Worlds - LIVE on FloCheer.com | Apr. 27-29, 2019 | Orlando, FL | Watch LIVE |
| The Dance Worlds - LIVE on FloCheer.com | Apr. 27-29, 2019 | Orlando, FL | Watch LIVE |
| The Summit | May 2-5, 2019 | Orlando, FL | Watch LIVE |
| The U.S. Finals: Providence | May 4-5, 2019 | Providence, RI | Watch LIVE |
| The U.S. Finals: Virginia Beach | May 4-5, 2019 | Virginia Beach, VA | Watch LIVE |
| The D2 Summit | May 10-12, 2019 | Orlando, FL | Watch LIVE |