That's right, YOU decide the All Star programs featured this season on Varsity TV. Fans will choose the FIVE fan-favorite gyms who will be highlighted in exclusive in-depth features—and possibly an original documentary!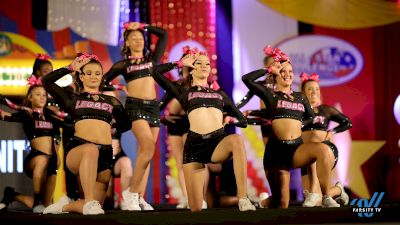 Building A Legacy: Infinity Allstars
Dec 13, 2020
Infinity Allstars is no stranger to championship success but their newest World's level team, Legacy, is working on building their own history within the talented Florida program.
In their second season as a team, Legacy is taking on the highly competitive International Open Coed Non Tumbling Level 6 division with the majority of their athletes all being new to the elite level of competition.
Legacy started their season at the 2020 All Star Challenge: Battle Under The Big Top in Atlanta, Georgia, and the team put on a show earning two zero-deduction routines.
In Building A Legacy: Infinity Allstars, Varsity TV takes you behind the scenes with Legacy as they take on their first competition of the season.
Watch Infinity Allstars Legacy full Day 1 performance
Watch Infinity Allstars Legacy full Day 2 performance
---